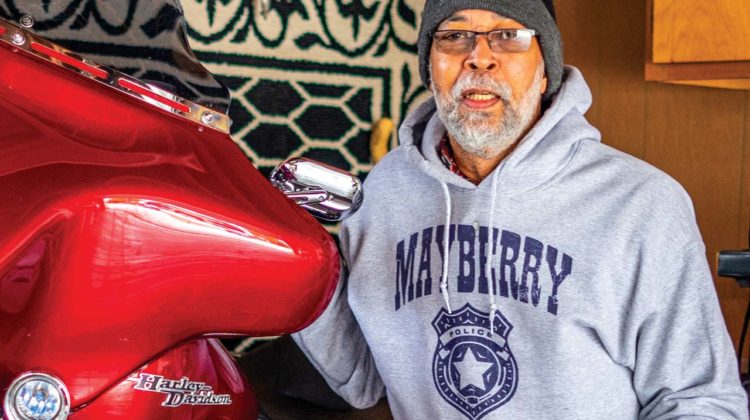 Clearly, Gene Bell does not know how to retire.
At 73, he still works part-time for the organization he headed for the past 14 years, the Housing Authority of the City of Asheville. And he's heavily involved in founding a new charter school in Asheville, PEAK Academy, which will focus on low-income, African-American students.
The acronym stands for Prepare and Empower to Achieve through Knowledge, and that's a good summation of Bell's life. For more than 50 years, Bell has learned the intricacies of the business world during a 20-year career at IBM, the ins and outs of the contracting business after he bought a company in Charlotte, and the labyrinthine world of public housing during the last 25 years.
He's also continued to learn about himself by riding motorcycles.
A Kentucky native who grew up working tobacco and hogs on his family's farm, Bell got fascinated with motorcycles in the 1970s when a couple of his cousins got bikes. It's been a lifelong love affair ever since, with Bell starting out on a Honda 750, then moving to Harleys and culminating in his purchase of Harley-Davidson Street Glide in 2013. Bell has customized it with plenty of chrome, including a matching horn and air intake, as well as a motor upgrade and a special razor seat to keep his wife, Patricia, comfortable when she rides with him. It also has a custom faring, complete with a satellite radio system.
"If I told you how much money I have in that bike, you'd have to take me to Mission," Bell said with a laugh, referring to a mental health evaluation. "But if that's the worst thing I do with my money, I think that's OK."
He's also self-deprecating about that stereo system.
"Twenty-five, 30 years ago, I would've said, 'If you're going to listen to the radio and ride, why not get a car?" Bell said, allowing that while he loves the radio, he also turns it off sometimes. "I like listening to the motor. I just really like that sound of a Harley-Davidson."
It tickles the brain's pleasure center in a way non-riders won't get, Bell says.
"It's like that saying, 'If I have to explain it to you, you wouldn't understand,'" he said. "It's just pleasurable."
It's also been pleasurable for Bell to get out and meet fellow riders. An African-American, Bell said differences of race and background melt away when you pull up on a chrome-laden Harley.
It's a conversation starter, whether you're in Maggie Valley or Atlanta.
"I've always found that if there's a common denominator among a group of people, there's less likely to be conflict," Bell said.
Working at Asheville's Housing Authority for 25 years, Bell knows conflict. But he also prides himself on having maintained strong relations with residents' councils over the years, and on having had all of the city's public housing developments renovated during his tenure.
Bell is still working part-time with the Housing Authority, determined to see through a project that has involved razing Asheville's oldest public housing development, Lee-Walker Heights, as well as the former Matthews Ford on Biltmore Avenue in Asheville. Plans call for building 221 replacement units for mixed income levels.
Bell said he hopes it will be transformative for public housing in the city.
Before joining the Housing Authority 1994 as the director of maintenance, Bell ran his own contracting company in Charlotte.
A graduate of Xavier University, Bell initially put his business management degree to work for IBM, with tenures in Lexington, Kentucky; Cincinnati, Cleveland and New Jersey. The last stop brought him to Charlotte.
Wanting to work for himself, Bell bought the construction firm, then took a job with Charlotte's Housing Authority as maintenance director. Bell and his first wife, Sharon, had been regular visitors to Asheville and the mountains, and when then-Housing Authority Director David Jones sought Bell out for the director of maintenance position in 1994, they decided to make the move to the mountains.
He stresses that he's always been a safe rider with a healthy respect for the machine, but Bell also grew up in a no-helmet state.
"I absolutely insisted on riding without a helmet," Bell said, shaking his head now at that younger version of himself.
As a married man with two young kids, he decided — with some persuasion from Sharon — to stay off the motorcycles for a few years.
While Bell has never had a serious accident, he's had two minor drops in gravel. And he was shaken up a few years back when he and a friend were stopped at a light in Brevard, and a driver on her cell phone and sipping a soda plowed right into the back of Bell's riding partner.
His friend wasn't hospitalized, but he's had lingering back issues. The incident reinforced to Bell the notion of safety and wearing good gear.
Bell also well knows that his nearly 800-pound Harley is a powerful beast that commands respect, and your full attention.
"I'm afraid of the motorcycle," Bell said. "Well, let me correct that — I have a tremendous amount of respect for it."
He always wears a good helmet, boots, jeans, motorcycle glasses and usually a good jacket.
Like a lot of riders, Bell finds peace from the low rumble of his Harley, and the never-ending curves of these mountain roads. He's a recreational rider, heading out most Sundays on back roads to Brevard, Hendersonville, or maybe Hot Springs over to Fines Creek, or he might hit the doglegs in Sandy Mush.
He's ridden the big bike to Memphis, Tennessee, and trailered it to Sturgis and other bike rallies, including one in Biloxi, Mississippi.
The rides bring him a sense of peace, and with stressful jobs and a long history of volunteer service in the community on a range of boards and with various civic groups, Bell needs the tranquility of the open road.
A naturally upbeat man who prizes good relationships over anything else in life, Bell could easily dwell on the losses he's suffered. He lost Sharon in 2015, and their daughter, Angela, died from an aneurysm in 2013 at just 40 years old. Last year their son, Shannon, who was partially disabled from a stroke, also died.
Going back to childhood, death has been a frequent presence in Bell's life. His mother died when he was just 11. In the past two decades, Bell has also lost his father, his mother-in-law, six aunts, two uncles and eight first cousins.
But as Bell said at his son's funeral service, he's able to go on because of the people who remain in the room — and the room was packed with friends, family and admirers.
An avid runner who got serious about his own health in his 30s, Bell has also had his own brush with mortality of late. On Thanksgiving Day, he lost sensation in his left arm and was having trouble with the peripheral vision in his left eye, the tell-tale signs of a stroke.
His wife got him to the hospital quickly, and medical staff administered medication that busted up the clot. He's recovering well, other than a little trouble with balance.
"I'm good physically," Bell said. "I still work out."
Bell expects to get clearance from his doctor this spring, and that means he'll be back on the bike. But he won't push his luck.
For instance, a bike rally in Atlanta this year sounded tempting before the stroke, but he's ruled that out now.
"I've been to Atlanta twice on a motorcycle, and I don't want to do that again," he said.
At a rally in Biloxi a few years ago, Bell met an 85-year-old rider, and that, too, resonated with him. If he can do it safely, he'll stay on two wheels for as long as he can – within reason.
"It's just a fact — your reflexes slow down as you get older," Bell said, "and you want to be as quick as you can when you ride a motorcycle."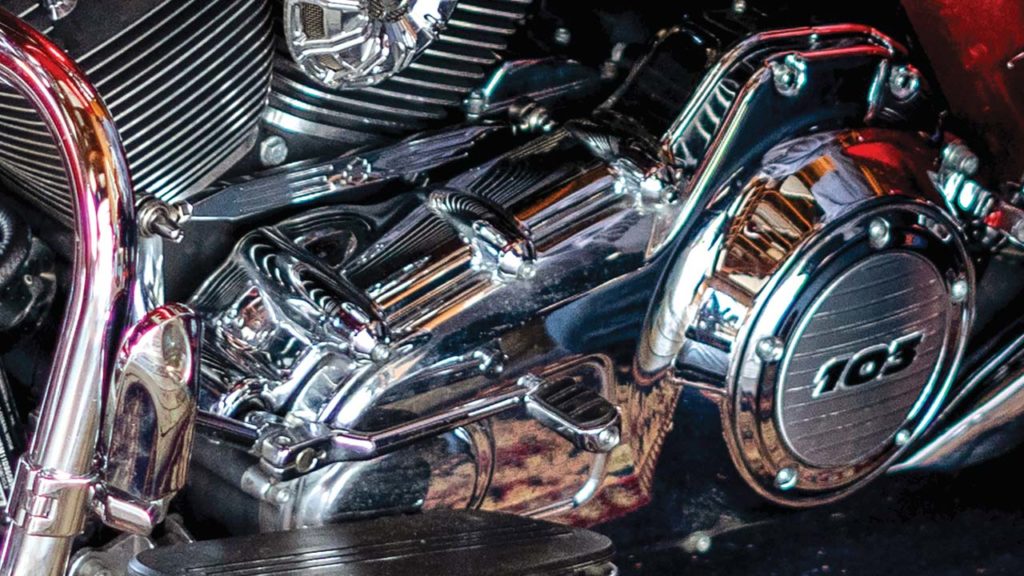 Every other year, Bell attends the Motorcycle Safety Foundation's Experienced Rider course to make sure his skills are still sharp, and he plans to do that again this year before hitting the curves.
So Bell will keep riding, and he'll keep working.
Patricia Bell knows he needs both. They've known each other for 28 years, and they married in December 2018.
Patricia Bell has always been impressed with Bell's calm demeanor, and his resilience after so much loss. Her husband concentrates on the positives in life, and while she knows the passing of so many loved ones has left scars, she also knows her husband is here to build those relationships with the people who remain.
He's here to help — and, of course, to ride.
Patricia Bell rode motorcycles herself in her 20s and "really enjoyed it," she said, sitting in the Bells' comfortable home not far from A-B Tech Community College and the Livingston Apartments public housing complex. Now, she rides on the back of Gene's Harley in a custom seat.
"He's good to ride with," she said. "We don't take chances with the motorcycle."
She's also fine with Bell heading out most Sunday afternoons to feel that lean on the mountain byways. It's a form of therapy for her husband, and she gets it.
"It's good for him," Patricia Bell said. "It's a good outlet for him. I don't worry about Gene."
Patricia loves riding the Blue Ridge Parkway for its spectacular scenery, but Gene Bell, being the one dealing with inattentive drivers, has a different perspective.
"On the Parkway overlooks, you're taking your life into your own hands," he said, laughing. "There's always an element of caution for me — I think when you're an experienced rider, it just resonates in you."
The irony of all that caution — a type of hyper-alertness, Bell acknowledges — is that he finds peace on the road.
"You can block out everything else," Bell said, but he also says he's doesn't do "the young boy stuff — the speed, the curves — I don't do any of that."
A longtime member of the Asheville City Schools board, Bell is also heavily involved in getting PEAK Academy up and running, with a target opening date of August 2021. Bell has always been a staunch advocate for the value of education, but he's also been frustrated by the persistent achievement gap in Asheville between minority students and whites.
He's determined to make the school successful, and it's a labor of love to get it going.
So he'll stay involved with the school, with public housing, with all of the friendships he's cultivated over the years. And he'll still make time to get his baby out on Sunday afternoons.
"I'll ride as long as I can," Bell said. "Until I see it's just not practical."