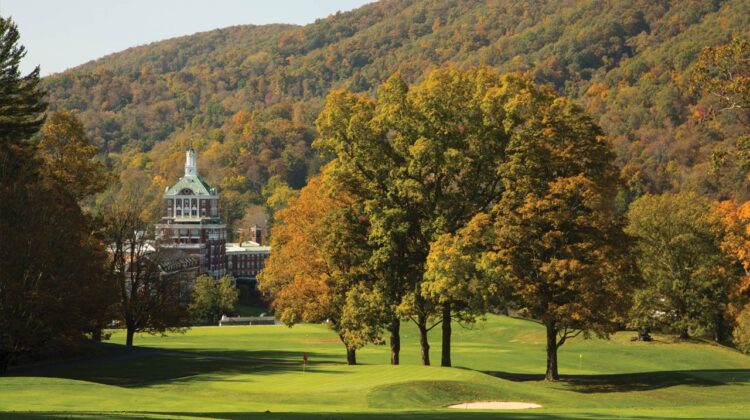 Ingalls Field isn't in any of the tourist guides of Bath County, but go there anyway. What could be more fun and interesting than a mile-long runway painted in a strip of asphalt on the top of a 3,792-foot mountain, the highest public use airport east of the Mississippi?
Getting there is half the fun. SR 606 out of Clifton Forge, Virginia, feels more like a goat trail than a road, with switchbacks so tight I could read my own BMW R1200R's license plate. It snakes its way to the top of Warm Springs Mountain, where I intersected the spur road, SR-701 for the mountaintop run over to the airport. It's a six-mile, dead-end run, sort of a poor man's Blue Ridge Parkway.
You won't see another vehicle and can pick any speed you want. Warning: 10 years ago, I was leading a group ride of six when a deer ran in front of the fifth rider and sent him to the hospital with cracked ribs. But I digress.
At the airport, I found Jim White, the volunteer director. Most airports feel forbidding, but this one was as informal and welcoming as he was, inviting me into the hanger for a chat.
"Ingalls Field was built by the Ingalls family in about 1930, as a grass field," he told me. "They were the owners of the Homestead at the time. One of the brothers was a fighter pilot in World War I. He became the Secretary of the Navy."
Jim said the Homestead Resort dates back to the 1700s, and in the early days and even into the 20th Century, it was a significant journey from just about everywhere. Many visitors arrived on a railroad spur off the C&O Railroad from Covington that ran from 1891 until 1970.
But rich patrons wanted to fly, so PanAm Ford TriMotor airplanes were arriving from New York, carrying 10 passengers at a time. In 1961, the current paved strip was laid. Passengers were primarily vacationers and conventioneers, but also included executives of several local industries. Commercial traffic on Piedmont Airlines continued into the 1970s.
The airport is now run by a local airport authority to which Jim is a volunteer director. While they still get traffic — if you can call it that — from vacationers, their biggest customer is the military, which uses its unique configuration for training runs for Ospreys, helicopters, and other planes.
"Our only source of revenue is selling fuel. We get two fuel tanker loads per year. Other than military planes, we may average only 30 airplanes a month. That's one per day.
"People can fly here from the DC area in an hour. Some folks just fly here for the day, take a hike, have a picnic, and then fly home.
"Motorcyclists are welcome here. Come on up!" he said.
On my way back down SR-701, I stopped at the sole overlook and watched the shadows of clouds drift lazily over the endless ridges to the north, like petrified waves over a vast green sea. Warm Springs Mountain hosts one of the largest, most intact forests in the eastern United States.
I joined U.S. 220 North into Carloover and Hot Springs, home of the Omni Homestead Resort, the county's major employer and best known landmark. The county's busiest road, U.S. 220, the Sam Snead Highway (named for the local hero, a professional golfer who was one of the top players in the world for over five decades), is entirely two lane, and there are no traffic lights in the county. With 4,300 people, Bath is Virginia's second-least populous (next to neighboring Highland with its 2,210). Multi-hued green golf courses began appearing on both sides of the highway and pedestrian signs with golf carts marked road crossings. Men in collared polo-style shirts, Dockers-style shorts, and white shoes walked the grass.
Early for my appointment with the director of sales at the Homestead, I took an old-fashioned country drive into the Jackson River Valley, first into Bacova Junction and then the picturesque village of Bacova. A portmanteau of "Bath County, Virginia," Bacova is the former home to the Bacova Mailbox Company that laminated artwork to traditional hooped mailboxes. At the time of their operation until the mid-'90s, they gave a hand-painted mailbox to every resident of the county. The valley is still populated by these beautiful mailboxes, adorning posts at many of the county's addresses. Now, the former factory sits vacant near the village sporting weathered "for sale" signs.
I headed over to the edge of the county seat at Warm Springs and stopped to take some snapshots of my BMW at the Waterwheel Restaurant. It's one of Bath County's premier eateries. It was established in 1972 and is housed in a circa 1900 gristmill, still featuring its nearly 20-foot diameter Fitz water wheel.
I continued on to the Jefferson Pools, one of the state's most revered and unusual landmarks. Featuring two octagonal white-painted wooden structures, one each for men and women, the interiors house crystalline 98-degree Fahrenheit mineral spring water. The men's pool house was built in 1761 and is considered the oldest spa structure in the country. The women's pool house, smaller but with similar construction, was built in 1836.
I remember from a visit years ago an amazing experience there. Bathers are given a cotton robe and sent to a tiny dressing room from which they emerge, hang the robe, and descend in the nude into the deep water. The water is odorless, silky sensual and so clear I could see tiny bubbles continuously trickling upwards from the bottom.
Due to the deteriorating condition of the buildings, both were ordered closed in 2017. Happily, plans are underway to have them rebuilt and opened by late summer 2021.
I turned east on SR 39 for the rapid ascent back up Warm Springs Mountain. There at the top, I stopped at the Dan Ingalls Overlook, which affords a splendid view to the east, again, with another endless sea of mountain ridges. The enormity of Bath County spread out below me with its enveloping mountains, like a warm embrace, a bucolic hug. With 50 percent of the county being state or federally owned in national forests and other preserves, it is likely to stay that way in perpetuity.
U-turning, I descended to Warm Springs and took U.S. 220 back toward Hot Springs, passing the Garth Newel Music Center. Named for a Welsh phrase meaning "new home" or "new hearth," the property was established 100 years ago by William Kendall, a well-known painter who resigned his position as chairman of the School of Fine Arts at Yale University to found the center with his wife Christine. During the intervening decades, Garth Newel has emerged as one of the world's premier concert halls, especially known for hosting chamber orchestras numbering 50 or more per year. The property now houses lodging at the Manor House and exquisite food. Your evening there will feature afternoon cocktails, fabulous chamber music in an acoustically renowned refurbished barn, and then a gourmet meal.
The entrance road to the magnificent Homestead takes a bend through a residential area of palatial houses and churches affording a breathtaking view of the tower edifice. With eleven stories and topped by a green roof, grand analog clock, and white columned cupola with wind vane, the tower is by far Bath County's tallest and most imposing building.
Maintaining appropriate six-foot physical distancing in the growing pandemic, I sat outside across from John Hess to discuss the hotel, its history, business model, and impact on the community.
"I've been here only for just over a year," Hess said. "The resort dates back to 1766, even before the USA was a nation, and we've been hosting guests ever since.
"The hotel was developed out of the hot springs. This county has some of the few natural hot springs on the East Coast. In several of the valleys of this and surrounding counties little hotels opened to serve people coming to bathe in the mineral waters."
The central Appalachians in Virginia and West Virginia had a burgeoning business in that era as urban dwellers of the growing coastal cities came into the mountains, especially during the summer months, to "take the waters," at mineral springs for drinking and bathing. Remember, most cities of the coast didn't have centralized water systems, so homes were not equipped with running water. There was no air conditioning. And worst of all, swarms of mosquitoes flew from nearby swamps, clouding the air.
Wealthier people often spent the entire summer moving from resort to resort, and the region is still populated by place names like Salt Sulphur Springs, Sweet Springs, White Sulphur Springs, Blue Sulphur Springs, and many more. The two grandest resorts of the era, The Greenbrier in White Sulphur Springs, West Virginia, and this Homestead, are still in operation. 
"This has never been an easy place to get to," Hess continued. "The roads over the mountains were so steep, horse and buggy drivers would tie a log to the back of the buggy coming downward to act as a brake. Some visitors came by a train that came up into Hot Springs from the C&O main line in Covington. And some came by airplane to Ingalls Field in the 20th century.
"Everything you see now was constructed after the original hotel was destroyed by fire in 1901."
It is built in the Queen Anne, Greek Revival, and Colonial Revival architectural styles, mostly of brick and wood. As we spoke, a gaggle of landscape workers swarmed the gorgeous gardens across the palatial entrance drive.
"So tourism has developed the valley. There are other smaller hotels and B&Bs, but none host near as many as we do. We have 483 guest rooms and we host around 200,000 guests per year, at least until this year."
Preparing to reopen within a few days, the hotel had been totally closed for 120 days due to the pandemic.
"We've seen many different perspectives from our guests on (the pandemic). Some don't believe it is even a thing, while others are terrified that everybody is infected and a carrier. And everything in between.
"We do lots of group sales for conventions. These were all curtailed. But we're beginning to come back to life (in July). We have a staff of over 700 people, making us by far the county's largest employer. Most are low-wage positions like maids, waiters, and housekeepers. We've only been able to keep around 50 employed during the shut-down, but many have been furloughed."
Over the decades, the storied resort has hosted and entertained many of the nation's and world's wealthiest and most powerful people, including 22 presidents. Golf is a major component of the resort's attractions and is the sport for which the resort is best known, but not its sole activity. The resort also offers mountain biking, hiking, tennis, birdwatching, swimming, archery, movies, zip-lines, horseback riding, Alpine skiing (at the South's first downhill ski area) and of course bathing in the hot springs. "It's a slower pace, and people flow into that pace quickly," he beamed.
"We have lots of repeat business. Virginia is by far our largest market, followed by North Carolina. We serve an upscale clientele. Richmond. Washington. Greensboro. Charlotte. We attract people who want a high-end experience in a mountain setting. There is a connection with history here. People fall in love with it. It takes you to a time gone by. Now it's something people long for, more than ever.
"We get a lot of families here. There is not as much group business (as in years past). It's not just couples that come to play golf, but families bring their kids. We get multi-generational families that come and rent multiple rooms. Many people come several times each year. The holiday tradition is wonderful, a beautiful experience.
"In our kitchens, we make our own donuts, ice cream, and pies. We have a laundry that is a significant building. We own our water system and we supply water to the entire valley. We are truly the lifeblood of this valley in more ways than I can describe. I plan to retire here; I love it here," he said.
"We will be at about half last year's occupancy this year. People are coming out cautiously. We want people to feel safe, and that means fewer guests; 500 people may be manageable. We have over 2,000 acres of land, so people can get away from others.
"Our team is here to do what they love, and that's to host people. They can't wait to get started doing it again. We want you here; we need you here. For our guests, our employees, and our community, we need to be open. We are a significant revenue generator for the county and its citizens, and even at sub-break-even level, we need to be open.
"We are motorcycle friendly; we love having motorcyclists here. We are in the breadbasket of great riding. You can do loop rides here for days. We're also great for adventure riders. The East Coast's Backcountry Discovery Route runs right by here. I am a rider myself; I have two KTMs.
"We're a great place to stop and grab a bite to eat and have a beer. We get lots of day visitors. The front edifice is intimidating to some and sometimes people drive down and are scared to walk inside. That's a shame. It's a welcoming and friendly place. Leathers? Tattoos? Mud? We're not put off by that. We're open to people of all flavors.
"We understand true Southern hospitality. It's one of the things I love about this place. We love to host people. It really is different here."
I hopped on my BMW and set a course for home, playing Springsteen in my Bluetooth in-helmet speakers. A vast, achingly beautiful valley of rolling, tall grass farm fields opened before me, populated by dozens of white-plastic wrapped hay bales in long lines, looking like overgrown marshmallows. Hess' sentiment and the pastoral Warm Springs Valley kept circulating through my mind's eye. Bath County. It really is different here.