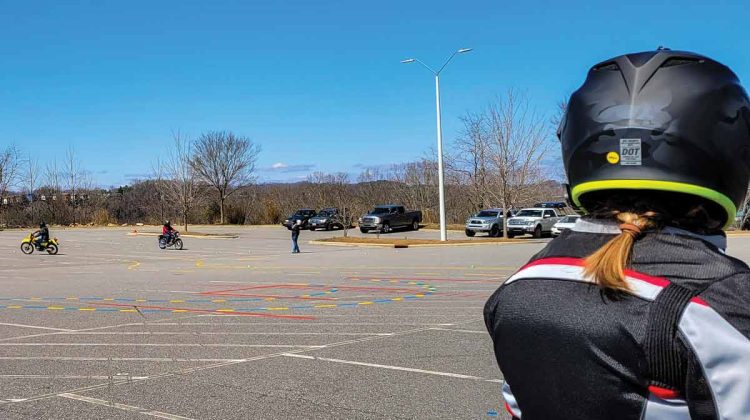 For almost a year, I thought about enrolling in the Motorcycle Safety Foundation's Basic Rider course taught at a local community college. A friend, who is exhilarated by the prospect of riding a motorcycle, asked me to join her. After little consideration and more of a sense of adventure, I told her I would.
I knew this decision would please my husband, a long-time rider, since I join him on rides as a passenger. He was very careful not to push me to take the course, telling me many times that I should enroll only if I truly had an interest in pursuing riding. He was quick to tell me stories of couples in his rental shop where it was obvious to him one partner had pushed the other into riding when they were uncomfortable with it. Do this for you, not for me, he would say.  
Between managing busy schedules and finding a weekend course with available spots, my friend and I finally had a weekend booked. Before the class began, I mentioned to a few people that I had registered for it. Several were excited for me to learn such a fun new skill — as I was — though I was surprised when one said to me, "Is it responsible for a woman at your age to begin something so dangerous?"
I replied that taking a motorcycle safety course seemed like the most responsible thing to do. At age 45, I felt as capable as I have ever been.
Two weeks before the course, riders had to complete a five-hour online course covering everything from pre-riding checklists (tires, controls, lights, oil, chassis, and stands) to everything a rider may or may not consider on road, from distractions and escape routes to set-ups for curves and corners. It was an overwhelming amount of information for someone who has no experience maneuvering a motorcycle.
Despite this, the online course seemed designed to convey — successfully — that choosing to operate a motorcycle is no small feat. They are powerful machines and any rider operating one should understand what may happen on the road so that she can make good, safe decisions. Though I felt a little intimidated by the information from the online course, I felt that I had no real expectations going in. My investment amounted to $200 and a weekend. If riding isn't for me, I could chalk it up to an interesting experience. If I loved it — well, that could be a door to a whole new passion.
On a cold, windy Saturday morning, I collected my friend and headed to the class. On the way, she confided she no longer felt that this was going to be for her. When I probed her for the reason why, she said the online course information had overwhelmed and frightened her, "but, I am here and willing to give it a try."  
Saturday began in the classroom where we introduced ourselves. Scott Davis and Brent Carroll from Motorcycle Safety Foundation were our rider coaches, both of whom have decades of experience and hundreds of thousands of miles behind them.
Our class was made up of four women and seven men; only one of the participants had on-road experience, many of the others had ridden dirt bikes off-road and each of the four women in the class had ridden only as passengers.
I looked at the other two women in the class and wondered if — as my husband had suggested — their significant others had urged them to take this class and pursue a future in riding. At the same time, I was struck that nearly 40% of the class were women. Though my connection with the motorcycling community is limited and primarily through my husband, I do get the sense that it is still very much a pastime dominated by men. Scott and Brent described how the weekend would proceed and then herded us all up to an open parking area, known as the range, where we would choose the bikes we were to ride for the next two days.
Deciding between a Suzuki VanVan 200 and TU250, I chose the VanVan purely for aesthetic reasons, tending to be attracted to a more retro style. It also happened that the bike is fuel injected, immediately alleviating my fears that I would have to negotiate a choke and fuel petcock.
Instruction began easily enough with Scott asking us to identify certain parts of the motorcycle. Point to the clutch lever, the gear shift, and front and rear brakes. Does your bike have a choke? Where is the engine cut-off switch? And so on until the main controls were identified and we could tell him where a specific control was on our bike and how to use it.
We then mounted and dismounted multiple times — repetition is how we learn, we were reminded. Eventually, we worked up to turning on the bikes and finding the friction point with the clutch lever. In doing so we were instructed to roll back on our heels and then use only the friction point to pull us forward. Practice and repeat. Scott and Brent spoke a lot about building blocks, each maneuver provided a foundation for the next one. In this vein, we continued with a combination of monster walking and clutch control to finesse our bikes along a track until comfortable enough with our handling and balance to lift our feet to the pegs. I'll admit, at the point of lifting my feet to the pegs I did get a bit of a thrill even though I was traveling at a walking pace and only in first gear. I was actually riding a motorcycle!
The exercises soon began to encompass greater distances as well as corners and curves, each one slightly more complex than the one before it. As we progressed in our learning, cones were used to designate stopping points, corners, and parameters within which we were directed to keep our motorcycles.
At one point about an hour before our day ended, we were riding a circuit when the signal for all riders to stop was given. My friend and her bike were on the ground. Speaking with her later she told me that the cold weather (the high that day was just over 40 degrees with relentless wind) was playing havoc with her bike and she was having trouble with the choke. In this instance it stalled, and she could not hold it steady. During the break, we sat in my car, and she teared up in frustration stating that she did not want to continue, repeatedly saying this was just not for her. Falling had scared her, understandably, but to her eternal credit she rejoined the class to finish the day.
On my drive home, I reviewed the day in my mind. I was having a blast. I had ridden a motorcycle! I got it into second gear, with some misfires to be sure, and up to a steady 12 mph. I also was receiving some praise from Scott and Brent. Who doesn't love compliments on a job well done? This class was exceeding my expectations in every way. I was ready for day two.
I had expected my friend to decide against joining for the second day but was delighted to see her waiting for me when I arrived at her place. Sunday proved to be challenging before we even began. Temperatures dipped dramatically, meaning that we were going to be riding all day in temps hovering right at freezing. With the windchill, the temps dipped into the 20s. Maneuvering the bike in any way became almost impossible. With numb fingers I could no longer feel the clutch's friction point leading me to become jerky and unsteady. I had also begun to seriously doubt myself in everything I was doing and all I had accomplished the day before.
Early on, in an exercise where we were asked to make U-turns within a boundary, my friend inadvertently pulled on the throttle sending her toward a line of other riders. She was able to stop the bike quickly enough, but it was the event that ended this experience for her. She parked her bike, called a ride, and told me with an apology that she wasn't continuing. I caught some of the conversation she had with one of the rider coaches before leaving. He was gracious and gentle with her, also unequivocal in getting her to understand that in no way was this giving up nor was she a failure.
After her departure I felt a little adrift. We had been partners in this idea for almost a year, and now I was alone. I was cold. I was performing poorly. I was no longer having a good time. On top of my physical discomfort, I became increasingly frustrated with myself. I recalled part of the classroom session the day before where we had talked about distractions. Distractions had been defined as anything from inebriation to an emotion that takes attention away from riding. The topic came up frequently on the range before and after certain exercises. It dawned on me that my frustration was a distraction.
The exercises became more multifaceted with emergency stops, swerving, and riding over obstacles, each one trying to prepare future riders for any one of endless scenarios that may play out on the road. I began to appreciate the work involved in making such courses enjoyable while instilling respect for safe practices. The pinnacle of our work over two days on the range culminated in a five-part skills test that included weaving between a series of cones, making a sharp right turn from a stopped position to a U-turn within a boundary, coming to speed on a straightaway before entering a series of curves showing you can utilize your brakes for control, making an emergency stop and swerving.
We were scored on our performance with a series of points deducted for various infractions like riding outside a boundary, riding over cones, or using your feet on turns. The second part of the skills test was the U-turn, which I performed dismally, going over the line, dropping my foot in the turn, and ending up several feet from the stop box. I was sure I failed and felt discouraged and embarrassed when tears slid down my cheeks. I took a few deep breaths and tried to finish the remaining tasks with some dignity, reminding myself that the stakes were low. Failing the course would be OK.
Scott and Brent gathered us around where we parked our bikes after the skills assessment.
"Do you want the bad news or the good news first?" Someone requested the bad news first. "Well, the bad news is that two of you failed, the rest of you passed."
There it was, I thought, the proof that riding just isn't for me.
"It's Brent and me since we didn't take the course!" Scott yelled. "A little rider-coach humor for you."
I was surprised and then realized at that moment that I did, after all, have expectations for the course. I expected to feel competent and confident enough to take to the road straight from class, to have mastered the maneuvers needed to operate the bike smoothly. I believe I expected it to be as easy as riding a bike. Instead, the skills test showed me that I needed much more practice time.
The written test followed back in the classroom, questions more reminders of principles and practices we spoke about or performed on the range. After the tests were collected, we received our official MSF course cards — one for the DMV, the other for our insurance companies — and spoke about what passing this course means.
Riders in the group spoke of the convenience of bypassing the North Carolina DMV road test and getting discounted insurance, but only one rider, a young man from Germany, put voice to what I was thinking. Despite learning the basics this weekend, he said he did not feel adequately safe to go out on the road.
I thought of our process in this country where anyone who can sit and pass the DMV's written test can turn around the same day, purchase any motorcycle and ride it away from the dealership. In Europe, the standards for obtaining a motorcycle license are stringent, requiring many hours of classroom and on-road training. Their initial licensure is only for small-engine bikes — around 200cc's or so — which they must ride for up to a year before re-licensing for larger bik