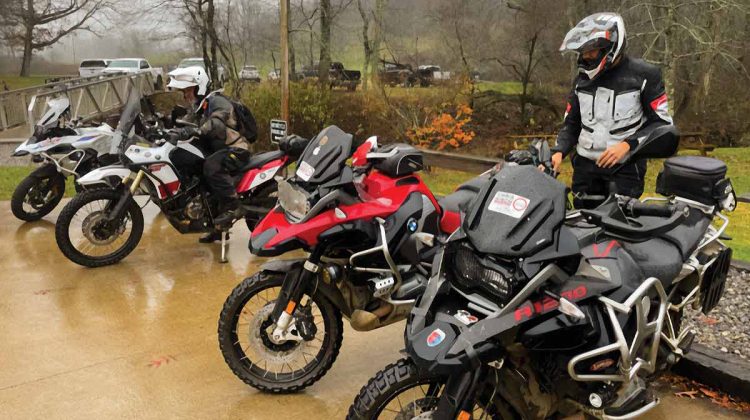 It's dark and raining. Nearly 333 miles into this trip, I'm 12 miles east of Suches, Georgia. As elevation increases, the rainy drizzle intermixes with fog, diminishing the usually excellent head lamp and fog lights to less than what my tired eyes need.
Adding to the challenge, earlier rain and wind has stripped most of the already waning fall color from the trees, creating a mat of wet slippery organic material on the road, effectively reducing the coefficient of friction to near zero and causing the big BMW R1250 GSA's back tire to occasionally step out.
Elevated adrenaline levels exaggerate my reactions. How did I get here? Slick road, poor visibility and tired rider are all variables converging to steer me toward a detrimental outcome.
No matter, despite the circumstances, I'm happy.
Eight hours earlier I was home in Tallahassee, Florida, having a disagreement with my spouse about how to handle multiple stressors that threaten to overwhelm us both. Elderly infirm parents, needy children and grandchildren, demanding jobs and opposing opinions on how to manage it all creates conflict. Conflict leads to stress. Stress leads anger. Every one of a certain age knows anger leads to suffering and the dark side. The verbal crescendo was my wife telling me to get on my bike and go sort my frustrations out. I didn't need to be told twice.
A month earlier, Elio Dimacali — my most willing riding partner — and I had to cancel a trip to Two Wheels of Suches because of family responsibilities and a tropical cyclone that early forecasting models indicated risk to our homes. With the end of November approaching, we were in jeopardy of losing the deposit on the reserved cabin since TWoS will shut down for the season. To be honest, the deposit is just a convenient excuse. I would not really miss the lost cash, nor would I go without any necessity. No, money is not the issue, but the potential loss of it helped rationalize riding back to a place that makes happy.
An old cliché asserts one never sees a motorcycle outside of a therapist's office. This is undoubtedly not true, but the implied mental health benefits that motorcycle ownership offers is at least in my case very true. Forty minutes into a six hour trip, my frustration is noticeably lower. Three hours in and my only concern is riding. Mental energy now focused on roads and caged drivers not personal problems. Instead, I am engrossed in directing my BMW constantly northward toward my happy place, the Blue Ridge Mountains.
Door-to-door, my trip to the tiny hamlet of Suches, Georgia, is 345 miles. Once there, I'll my head the next two nights at Two Wheels, a lodge and restaurant surrounded by a campground and abundant riding in every direction. Superlative pavement, gravel and dirt roads offering varying levels of difficulty are instantly accessible. This geographic wonder is rider bliss.
The resort offers campsites, rustic cabins, clean facilities and good food. I have been visiting the resort since the early 1990s and have never been disappointed in the resort or the riding. When I ask the mighty oracle, Google, "moto happy place north Georgia," Two Wheels of Suches is the second result. Admittedly that may be biased by my previous searches and the insidious nature of Google algorithms, but I certainly can't argue with the search results.
The previous day's foul weather continues. A slate gray sky, blustery wind and sporadic rain squalls will be the prevalent conditions all weekend.
"Sorry you came all this way to get wet," Elio offers as an apologetic statement about the poor weather.
"Dude, this is the first morning in weeks I don't have anything to do for anyone other than myself. I'm all good bro," I respond.
On Saturday, inclement weather has not kept other riders indoors, as they arrive to take a break and eat breakfast.  
TWoS, only 80 miles from the densely populated Atlanta metro area, not surprisingly attracts several riders this morning escaping that sprawling urban hellscape. The arriving patrons are one of my favorite features of staying in Suches.
Borrowing from marine sciences literature, TWoS is what I euphemistically refer to as a "RAD" or Rider Aggregation Device. Motorcyclists congregate at this spot like fish on an ocean reef. Artificial reefs are sometimes referred to as Fish Aggregation Devices (FADs). Hence the analogy.
Over the years, the rider demographic has become an increasingly diverse population of moto-enthusiasts. People from various occupations, income brackets, and backgrounds with nearly all the moto-flavors and cultures arrive at this point on the map with the commonality of passion for motorbike ownership. For me, this is both stimulating and relaxing. Conversations between perfect strangers inevitably start with one of the best ice breakers in western civilization, "Hey nice bike."
That is exactly how the morning's conversation started with BMW rider Demis Leon and his moto-compatriots. They had been enduro riding big bikes in the area. After I complimented his GSA, Demis directed my attention to a modification that one of them performed on the trail. His friend had zip tied a block of scrap wood to his rear brake pedal because he was having trouble trail-braking. All I could do was chuckle at the "upgrade" to his $27,000 adventure bike. That single moment and conversation alone would make my day, and it was still before 10 a.m. What drew him to Suches on a rainy, slippery, basically gross day?
"Suches is a nucleus starting point and in any direction is great riding," he said. No argument here.
We waited a couple hours watching the radar. Mercifully, the weather improved to the northwest. Elio and I headed out on Highway 60 toward McCaysville, a town on the border of Georgia and Tennessee.
Founded in 1904, McCaysville was the site of copper mining operations. Along with is Tennessee neighbor of Copper Hill, the two have transitioned to service sector economies with several retail shops, restaurants and a seasonal short track train ride. As you might surmise, one can straddle the border and simultaneously have a foot in both states. A photo doing just that seems mandatory. After a late lunch, the ride back to TWoS was just as rewarding as the outbound trip. The round trip was 3.5 hours with little rain. The happy place delivers again.
Unfortunately, I was forced to return home the next morning. Before I headed south, I was genuinely surprised by the gathering of riders before 8 a.m. on a rainy Sunday to watch the final Moto GP race of the 2022 season together. I would guess there were 20 fans who got up early and rode in the rain to watch what turned out to be an exciting race. Very cool!
The 345-mile marathon back to Tallahassee is not my favorite, yet my stress level is notably lower. By the end of this tour, I will have ridden more than 700 miles for 3.5 hours of riding in the mountains. In retrospect, that seems like a long way to travel for a short mountain ride.
Totally worth it.
I spent time with an old friend and met new people with similar interests. I arrived home feeling calm and grounded. I nedded this.
A lesson learned is I must prioritize time for similar experiences at least every six weeks. Life is demanding. Managing stress is more important now than ever before. Just as important as diet and exercise. The dark side is abated for now. Riding the Blue Ridge Mountains is my happy place.