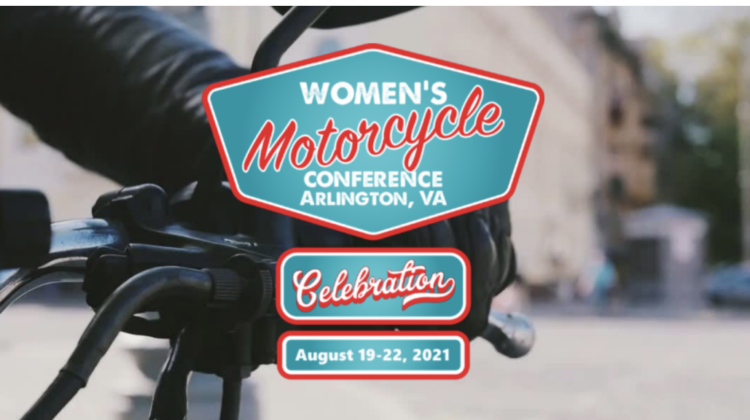 Alisa Clickenger Announces Dates and Location for Inaugural Women's Motorcycle Festival and Conference
This conference is scheduled for Aug.19-22, 2021 and will be held in the Crystal City district of Arlington, Virginia.
NORTH CAROLINA, MARCH 25, 2021: After three highly successful online conferences for lady motorcycle riders, Alisa Clickenger is producing her first LIVE Women's Motorcycle Festival and Conference on August 19-22, 2021, in Arlington, VA. The theme for this event is CELEBRATION. This conference is specifically for female motorcycle riders, motorcycle passengers and women interested in learning more about the motorcycle lifestyle.

The Motorcycle Festival and Conference is the final and culminating event at the end of the Suffragists Centennial Motorcycle Ride – a cross-country women's motorcycle ride event from July 31- August 20, 2021. Learn more about the ride and how to participate at http://bit.ly/3caq3Rj.
 
This is the first Women's Motorcycle Festival and Conference hosted by Alisa Clickenger and Women's Motorcycle Tours. The event kickoff is Thursday, August 19, 2021, with Clickenger hosting a morning of professional development for Women in Powersports. Thursday afternoon the cross-country Centennial riders and New York Historical Route riders, plus conference attendees arrive and join in a celebratory dinner. Interested participants can learn more about the conference and how to get tickets from http://bit.ly/wmcLIVEtix. 
"I am incredibly excited about hosting my first live Women's Motorcycle Festival and Conference," stated Clickenger. "Before Covid-19, Tigra Tsujikawa and I traveled around the USA scouting and promoting the Centennial Ride, and talking to other female motorcyclists. The idea for a LIVE Women's Festival and Conference grew out of those conversations. Even then women were craving the opportunity to connect with other women passionate about the motorcycle lifestyle in a meaningful way. I am convinced that the need for this sense of community and connection has only gotten stronger over the past year. And now that the world is opening up once again, we are perfectly poised to deliver a memorable event in the perfect time and place.
"The evolution of this event has been such a wonderful process, with Tigra and I building upon each others' ideas and inspiring each other to generate more and more colorful ideas for the conference. By sharing our mutual enthusiasm for supporting lady motorcycle riders and the sport of motorcycling, it's been an absolutely amazing experience crafting this innovate and inclusive event. This event is a great example of the magic that can happen when passionate women motorcycle riders come together and share ideas…which is the exact reason why the both of us create and lead these experiences for women," said Clickenger. A full itinerary for this event and information on conference accommodations can be found online at
http://bit.ly/wmcLIVE
. 
About Alisa Clickenger
Alisa is a motorcycle traveler, bestselling author, speaker and community builder. Alisa started her company Women's Motorcycle Tours in 2011, and the Women's Motorcycle Conferences in 2020. Alisa's book Boost Your Confidence Through Motorcycling: A Woman's Guide to Being Your Best Self On and Off the Bike became an
Amazon.com
#1 Bestseller. In 2019 Alisa was named a Dealernews Top 100 Leader in Powersports and was also named to the Women Riders Now Leadership Board. Alisa's personal mission is to support and empower other riders, particularly women, to become their best selves and create confident, kickass lives they love.
About Tigra Tsujikawa
Tigra Tsujikawa is a Powersports Marketing Consultant, highly skilled technical off-road rider, seasoned on-road rider and community and experience marketer in the Powersports industry. Tigra has two decades of marketing leadership working with OEMs, aftermarket manufacturers, rider associations and clubs, as well as show production and race program marketing. Tigra is a leader in women's motorcycling in the United States as the driving force of both the 2009 and 2012 AMA International Women and Motorcycling Conferences, as well as the AMA Hall of Fame Induction Ceremonies (2009-2012). More recently she brought gains to the Sturgis Motorcycle Museum & Hall of Fame, managed world product press launches and customer experiences and events. Well respected throughout the leadership ranks of the Powersports Industry, Tigra's passion for the sport and deep understanding of the needs of riders is widely known. Her keen insights into the concerns of motorcycle brands, aftermarket manufacturers and motorcycle dealers has helped her myriad clients build successful marketing campaigns and creative customer activation and programs.
About Women's Motorcycle Tours
Women's Motorcycle Tours (WMT) is a female-owned motorcycle experience company exclusively focused on women. WMT offers life-changing motorcycle experiences, moto mindset coaching and bespoke motorcycle tours throughout the United States and the world. With years of event planning experience and hundreds of thousands of miles behind them, the team at Women's Motorcycle Tours understands the power and excitement that epic journeys offer. The camaraderie and friendships that form over the course of their tours have proven to change lives, establish life-long friendships, and bring families together in a way that only riding motorcycles can.  
www.womensmotorcycletours.com
#ByWomenForWomen