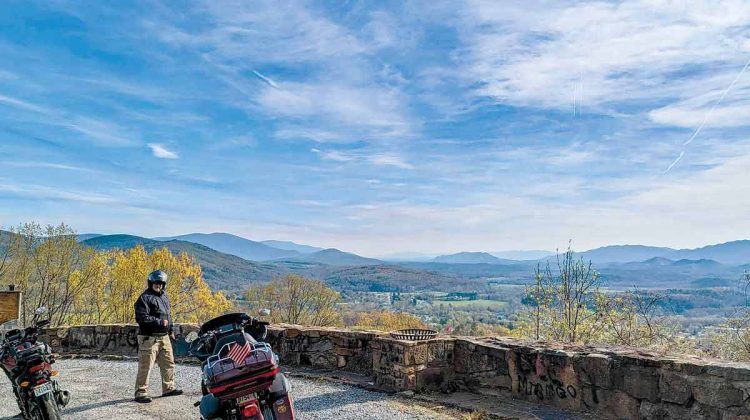 We weren't 30 minutes into our ride before the first deer tried to kill me. She jumped over the fence on the left side of Virginia Route 42, which slowed her down before she bolted across the highway in front of me, otherwise we may have collided. Nick, my riding partner for the day, watched it all from the perch of his Harley Road Glide. He asked me later if my little Honda had ABS. No. Regular old brakes.
I'm convinced if I die prematurely, it'll be the result of a collision with a deer. They're everywhere, far too numerous, they don't look both ways before crossing the street, and they're big.
Nevertheless, I was determined not to let the real fear of impending death dissuade me from riding on this glorious spring day. Eastern redbud trees (cercis canadensis, for all you Linnaean taxonomy name fans out there) are a sure, beloved sign of spring here in southwest Virginia, and they were in full splendor. The day was bathed in bright sunshine, cool and fresh, with long, glorious vistas.
My immediate goal was to reach the Wilderness Adventure at Eagle Landing, just northeast of New Castle, then see where the day led us.
In an area of superb valleys, the Sinking Creek Valley is particularly scenic. The long, cucumber-shaped valley sandwiched between Johns Creek Mountain to the north and Sinking Creek Mountain to the south has a watershed divide. Sinking Creek, a tributary of the Ohio River, is bound for New River to the west. Meadow Creek is a tributary of the James River to the east.
My second deer (odocoileus virginianus) encounter was 20 minutes later, this little guy running right to left but far enough for me to watch him stumble and tumble into the ditch. Did I have sympathy for this devil?
Kamikaze deer notwithstanding, the road is everything you'd ever want under your two wheels. It has straight and curvy sections, smooth-as-a-baby's-behind pavement, pastoral views of farms, pre-Civil War houses and churches, and scant traffic. The eastern end of the valley announces its arrival with a grand overlook of New Castle and the Craig Creek Valley before plunging into New Castle, Craig County's seat. Where Route 42 enters town and intersects Route 311, there's a stop sign; the county has no traffic lights.
My interest at the Wilderness Adventure was spurred by the announcement that my motorcycle club, Twin Valley Riders (Roanoke and New River Valleys) was moving its annual fall campout there for the first time this year. The former site was a motorcycle camp at Meadows of Dan, but for a variety of reasons, a new venue was necessary.
Nick and I pulled into the gravel parking lot to find several vans belonging to Canadian bicycling teams. The lawn was ablaze in colorful trees. On the porch of the main lodge were scattered some of the most beautiful, modern, and certainly expensive bicycles I've ever seen, along with lots of thin, athletic people wearing spray-on Lycra clothing mulling around, speaking French.
Inside the log structure, I found Jamie Nervo, daughter of the founder, Marine Col. Gene Nervo, who followed his dreams to this bucolic location. Jamie, Nick and I sat outside on the porch, tiny wood shavings from carpenter bees drifting from the wood and tin roof above onto the table like snow.
Jamie told me the lodge is open to all who seek adventure.
"We get lots of motorcyclists who are riding the Mid-Atlantic Backcountry Discovery Route which crosses over Bald Mountain right here," she pointed behind the lodge. Some riders make reservations and some don't, but they're looking for a place to camp or spend the night in the lodge.
"Dad started it in 1990 as a summer youth camp. He retired from the Marines and then bought this place. There was one small cabin with logs under the clapboard. He built everything else you see. We're alongside Craig Creek. We're surrounded by mountains. It's beautiful and serene," she said.
The colonel was a Boy Scout leader and wanted kids to go backpacking. It started small with Boy Scout groups, but then school groups began coming. He led them on trips doing kayaking, rock climbing, canoeing, and caving, in addition to backpacking. Now they have corporate groups and others staying at the lodge.
"Now we have bicycling groups that ride our quiet roads. We have indoor lodging and primitive camping. We have a dining room and kitchen. We host live music outside on weekends. Dad is mostly retired now. He's 83," she said.
"Now we have music workshops, yoga retreats, and knitting events. We host all kinds of events where people are seeking quiet and serenity. There are beautiful, quiet niches here. You can just wander and be in nature. We have a meditation labyrinth. We can host around 80 people in our lodges and cabins, and then more in the campground, and can feed 300 people.
"This bicycling group is from Quebec, Canada. Some in the group stay for a month. Some stay a week or two. It's warmer here – there's still snow in Canada. They may ride 70 or 80 miles each morning, then relax in the afternoon."
I looked over the verdant lawn framed by blooming trees, shrubs and flowers. It smelled fragrant, with the earthy scent of petrichor from the prior day's rain.
She said the recent pandemic presented many challenges but they're doing well now. They have about 45 on staff in mid-summer, making them the largest employer in Craig County.
The Twin Valley Rally is scheduled for Sept. 29-30 and Oct. 1.
It was far too pretty a day to head directly home, so we plotted a course back to New Castle to explore its two-block downtown. The courthouse has Virginia's ubiquitous red brick with white columns, red roof and octagonal cupola. And there is the seemingly mandatory Confederate soldier on a pedestal out front.
From there, we headed due north over Potts Mountain into Paint Bank.
Motorcyclists (and bicyclists, too) talk about Route 311 over Potts Mountain in hushed, reverential tones, it being one of the most spectacular roads in the state. Cresting the ridge at almost 3,500 feet, the road is sinuous, beautifully banked, clean and vacant. Don't tell the local constabulary I said so, but nobody will watch you go whatever speed you wish, governed more by the ever-present deer than anything else.
Before entering Paint Bank, named for the red clay on the creek's embankments that Native Americans used to make paint, stop at the Paint Bank Fish Hatchery, managed by the Virginia Department of Wildlife Resources, where you can watch thousands of hatchlings splash in 32 long, narrow raceways, awaiting their release into nearby streams.
Paint Bank itself is a tiny, appealing community of some 42 people, founded by the Potts Creek Railroad, then lost when the railroad ceased operation, and then found again and resurrected.
A brief history goes something like this: Way back in 1892, a rail line began from the New River in Giles County up Big Stony Creek. By 1910, it crested a low pass at Waiteville, then down Potts Creek, terminating in Paint Bank. It served as a lifeline to the community, hauling some passengers but mostly timber from the forest-clad mountains and ore from small mines. It was eventually acquired by the Norfolk and Western Railroad, which shut it down and abandoned it by 1934. Several buildings remained, but many fell into decrepitude, including the hotel and depot. The general store hung on by a thread, selling eggs, Campbell's soup, some hardware, and gasoline.
And then an economic miracle happened. Starting back in the 1990s, financier John Mulherin and his wife, Nancy, who'd met at nearby Roanoke College in Salem, bought just about everything. With significant infusions of cash, and under Nancy's careful supervision, they renovated the store, built an addition to house the Swinging Bridge Restaurant, then renovated the depot turning it into a lodge, and did the same with the hotel rebranding it as the Lemon Hotel. There's more: their business enterprise also includes a farm where they raise both beef and bison, and their own construction company.
On pretty weekends, the motorcycle-designated parking area across the highway (don't worry crossing the street, there's seldom anyone coming) is filled with cruisers, sport bikes, and adventure bikes, all finding Paint Bank to be the ideal destination, especially in the fall where the leaf change is gorgeous. Wintertime jaunts over cold Potts Mountain can be slick, icy and treacherous — ask me how I know.
We turned westward where Route 600, Waiteville Road, was superimposed over the old railroad grade. We passed the buffalo pastures where these massive beasts lounged incongruously out of place.
Like Paint Bank, Waiteville is shadowed by Potts Mountain to the south and Peters Mountain to the north, but it has an interesting geographic quirk: It's in West Virginia. The Virginia/West Virginia line rides the ridge of Peters Mountain for about 50 miles from the New River to near White Sulphur Springs, but near Waiteville, it drops off Peters, skirts across the valley and back up to Potts, and then 10 miles later back again to Peters. Nobody I've ever spoken with seems to know why. Bottom line: the only road linking Waiteville with the rest of West Virginia is a gravel road over Peters Mountain, cresting at the trailhead for the Hanging Rock Raptor Observatory, where in October you can watch migrating hawks and eagles ride the thermals.
A short stretch of the road leaves the rail right-of-way, the latter being converted into a rail-trail and the former becoming far curvier and more fun, some loose gravel notwithstanding.
Eventually Big Stony Creek Road led us to busy U.S. 460 where we crossed the New River into Pearisburg, county seat of Giles County. Although Giles' 17,000 or so population dwarfs Craig's 5,000, it still feels quite rural other than its U.S. 460 corridor. Giles Countyboasts 50 miles of the Appalachian Trail — Pearisburg is an official Appalachian Trail Community — and 37 miles of the New River. Hiking, canoeing, caving, fishing, bird watching, camping, hunting and more are all on the Giles County recreational palette.
Sadly, while quaint and pretty, downtown Pearisburg has fared poorly in the modern economy, with more vacant than full storefronts. Most of the occupied buildings had some link to the courthouse. Speaking of which, the courthouse is red brick (even redder than Craig's), white columns, an octagonal cupola (this one with a green copper top), and yes, you guessed it: a tall pedestal honoring "The Confederate Soldiers of Giles County," with "OUR HEROES" chiseled at the base.
Nick and I found an exception to the decaying buildings in the Happy Hog restaurant, smack dab on the  intersection of Main Street and Wenonah Avenue.
We spoke with owner Matt Mitchell, who told us he'd only been in business for two weeks. He's managed restaurants for others for years and decided to follow his dreams and do his own.
"This space came up at an affordable rate. We'd been looking for a place to open something on our own. We went all-in on and here we are. There was a lot of chaos on the way. The biggest challenge is bringing old buildings up to code," Mitchell said. "We specialize in Southern cooking, with pulled pork and pork rinds. We want to add ribs and brisket and other barbecue fare. We cook everything we serve from scratch, even our salad dressings and soups."
Lunch is popular here with a clientele associated with the courthouse. Downtown is largely empty, but the owners of this building are working on other projects to bring back businesses and make it lively again. For such a small town, there's plenty of traffic through this intersection.
Heading out of town and through the even smaller town of Pembroke where picturesque cliffs loom over the New River, we were drawn off the highway by a full-size cargo trailer with Royal Enfield emblazoned on the side, a rolling billboard for that Indian marquee, parked in front of the area's only motorcycle shop, Gearhead Junction. Inside, amidst dozens of new Enfields, we found owner Terry Rafferty. To our astonishment, he informed us that his store, on the outskirts of tiny Pembroke, was the third-largest-by-volume Royal Enfield dealer in the eastern United States.
Sporting a thick multi-color beard and mischievous grin, Rafferty told us that the store was a manifestation of his personality and desires.
"Motorcycling has been a passion of mine since I was a young kid. I'm transplanted from the Middle East where my dad worked for Exxon," he said. "I'd had motorcycles, mostly dirt bikes, but got into street riding. I always wanted to own a motorcycle store. Life is too short to be doing things you don't enjoy. So we said, 'Let's try it!'"
Gearhead Junction started doing service, but then got dealerships in GPX Moto and Reiju, but now mostly works with Royal Enfield.
"We service all types of motorcycles," he continued. "We move around six or seven bikes per week. We had 78 Enfields on the floor two weeks ago. These are motorcycles that every man or woman can own. Enfield's most expensive bike, a 650cc twin, is $7,800 out the door with a three-year warranty. Most people here in the heart of Appalachia can't afford a $20,000 or $30,000 motorcycle. These bikes are perfect for those who just enjoy the sport. These bikes don't have traction control, ride modes or cruise control. Back in the day, it was you, the wind, the clutch, the gearbox, and the road. We sell quality motorcycles that everybody can afford. I'm a purist when it comes with that. These bikes have fuel injection and ABS, but that's it. Basic."
Rafferty said his customers were coming from metro areas like Atlanta, Norfolk, Washington D.C., Richmond or Baltimore. He's created a niche through social media.
"I'm passionate about motorcycling, passionate about this brand, and passionate about this area and what it offers for the sport. I designed the shop the way I wanted to be treated if I came into a shop. There's no pressure on our customers. City folks enjoy coming here. We bend over backwards to satisfy our customers."
Nick had to head home, but I set my sight on one of Virginia's most renowned, wonderful, and curious places: Mountain Lake. It's renowned as one the locations for the 1987 blockbuster film "Dirty Dancing" along with Lake Lure, North Carolina. It's wonderful because it sports a magnificent sandstone hotel, built in the 1930s from local sandstone, surrounded by Appalachian forests.
It's also curious because its namesake lake almost doesn't exist. The geologically natural lake (one of only two in Virginia) has now shrunk from 50 acres to around 5 muddy acres. Its formerly pristine waters drained away by natural sinks in its bed. When it began draining away, tens of thousands of dollars were spent attempting to plug it, to no avail.
The hotel, now branded the Mountain Lake Lodge, must now emphasize other assets, of which there are many.
General Manager Heidi Stone, who I'd met 10 years earlier when she began the process of refurbishing and enhancing the hotel to appeal to a younger demographic, has steered it through all manner of intense mountain weather, economic downturns and a global pandemic.  
 "This used to be a pretentious — if-you-weren't-a-guest-you-weren't-welcome — place," Stone said. "The doors were not open to the community or casual visitors. Now we've flung the doors open and we want everyone to visit, regardless of their stay or whether they step into the lodge at all. We have 22 miles of hiking trails, and they are open to all. We want people to have authentic southwest Virginia experiences where they find a level of friendliness they've never experienced. We want our lobby to be your living room.
Visitors don't expect the beauty that's here, she said. The drive up the mountain is its own experience — six miles of curves and overlooks. There's nature all around, with birds, especially the hummingbirds, flocking to our feeders and flowers. She said the lodge had not seen a down year since her arrival.
"We're getting bigger and better every year, even during COVID and without a lake. We talk now about what we do have. Since COVID, people have a renewed sense of connecting with the out-of-doors. And our guests enjoy connecting with each other. This environment encourages people to be friendly," Stone said. "We get all types of motorcyclists. People come to explore but we hope they'll come back to stay. We have lots of guests who come year after year over generations."
The vanishing lake is still interesting and something to talk about. Even without it, they offer water sports like canoeing, tubing and kayaking in the New River.
"We have so many things here, but above all for the ladies is the 'Dirty Dancing' connection. We have theme weekends that fill a year in advance. The locations from the movie are marked and people can take self-guided tours," she said. "I hope to retire here. You can't be here for a decade and done everything we've done, with a vision for still more, and not want to stay. We have more exciting stuff in the works.  
There's a deep, passionate place in people's hearts for Mountain Lake, she said. People throughout the New River Valley feel like it is theirs, and they're very proud of it.
"When friends and family come to visit local people, this is the showcase where they take them. Everybody has a story here. It's a one-of-a-kind place," Stone said.
On the way down the mountain, dodging the third deer that tried to kill me, I rode through Newport and made my last stop of the ride at the 1916 covered bridge over Sinking Creek. My heart filled with gratitude that the deer haven't got me yet, that I have fine motorcycles to ride, and I get to live in such a scenic, lovely and fascinating area.