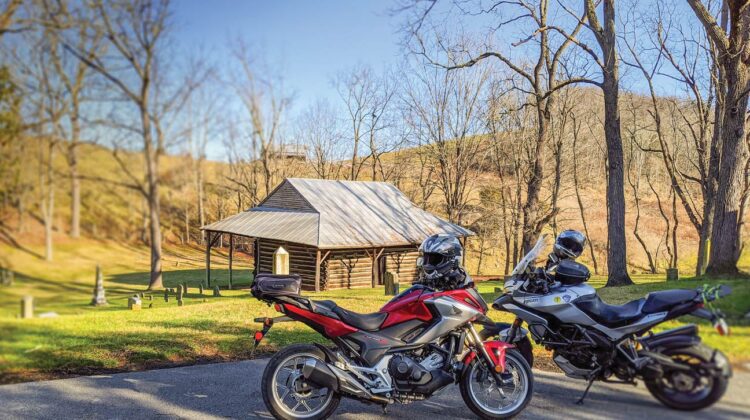 The promise of a mild, sunny Friday was too good for Margie Lee and me to pass up. So our psychic compasses pointed northward and off we went toward Monroe County, West Virginia, just over the border from our Virginia home.
Just as advertised, the day dawned bright and crisp, and being only a dozen days before the winter solstice, the early morning sun skimmed the southeastern horizon. It was cooler than I expected, but my heated grips and electric vest did a good job of taking off the chill through Newport and Pembroke, at least until we turned on Big Stoney Creek Road toward Waiteville. The entirety of that stretch of road was still in the morning shade, and Margie told me later her Ducati Multistrada's dashboard thermometer gave up the ghost, showing an icicle icon once below 32 degrees.
Making matters worse, my breath condensed on the inside of my visor, hampering visibility. My fingertips screamed at me.
The last few days hadn't seen rain, but somehow the country road was wet anyway. Between the chill and a dusting of gravel from the week-earlier snow, it was treacherous and harrowing. On the descent on the north side of Peters Mountain, past the Hanging Rock Raptor Observatory trailhead where birders gather during the hawk migration in the fall to watch the procession, it was slicker than a peeled onion in a bowl full of snot. My Honda NC750X said to me, "I'll roll with you, but you can forget traction."
It seems that most folks come to visit Monroe County not for what it has, but for what it doesn't have. What doesn't it have? Traffic lights. Chain restaurants. ANY chain stores, other than a Dollar General. Four-lane roads. Any railroads (other than a mile or two at the northern border in Alderson). Coal mines. It's a quiet, rural place, mostly farms, fields, forests, and mountains, and it's always been that way. The county's population, of around 13,000, has remained surprisingly stable for over 100 years.
It also doesn't have a Greenbrier Hotel, an Omni Homestead Resort, a Mountain Lake Lodge, a Pipestem resort, or any of the grand destinations of its neighboring counties. The county is roughly triangular in shape, and three superhighways – I-81, I-64, and I-77 form a concentric triangle around it. Visiting Monroe County is less about what you're going to and more about what you're leaving behind.
The quiet charm enticed me to set my first novel there, a book I wrote a dozen years ago. I titled it, "Union, WV," after Monroe's County seat and largest community.
I was shivering when we made our first destination at the Old Rehoboth Church just to the east of Union, where we were joined by my old friends Helen and Rod Graves, whom I met many years earlier while researching that book. Both are long retired now, but Helen was in tourism and Rod did work in land preservation. We were met there by Allison Tomlinson, current tourism director, and Anita Tracy, caretaker of the church.
Dating back to the mid-1880s, Rehoboth is reputed to be the oldest standing church in West Virginia. Rebuilt in the 1920s with chinked logs, it has a permanent metal roof structure above it to protect it from the elements. The cemetery and lawn do double duty, with tombstones sprinkled about.
The interior couldn't be any plainer, with no ornamentation whatsoever. Wooden pulpit. Wooden benches. Wooden 3/4 wrap-around lofts.   
Its setting was a natural depression because in the day, sentries were stationed on the hillsides above to watch for marauding Indians. Frankly, standing lookout seemed more appealing to me, being outside, soaking in the view, rather than packed inside the small, drab church on ridiculously uncomfortable benches.
Eventually the congregation abandoned the historic building and moved into nearby Union, where services continue. Anita said visits to Rehoboth were on the upswing until COVID struck, and it's still used for weddings and special events. "This county has done a wonderful job, better than most, at preserving its history," she said. Admission to Rehoboth is free, by donation only.
Allison said Monroe was a quiet, rural place, moving at the speed of nature rather than economic forces. "People come here to unplug. There are several great loop routes for motorcycling from here."
She had a master's degree from Virginia Tech, my alma mater, and Margie's current employer (Margie is a department head in the Veterinary College), and Allison "worked on the family beef farm." Her pre-schooler and toddler, wrapped against the chill, flitted about as we spoke.
Helen reminded me that the community had undertaken a beautification effort of placing barn quilts on dozens of barns throughout the county, even establishing a Rural Heritage Quilt Trail, accessible via app on your smart phone. "It's wanderful here; come and wander!"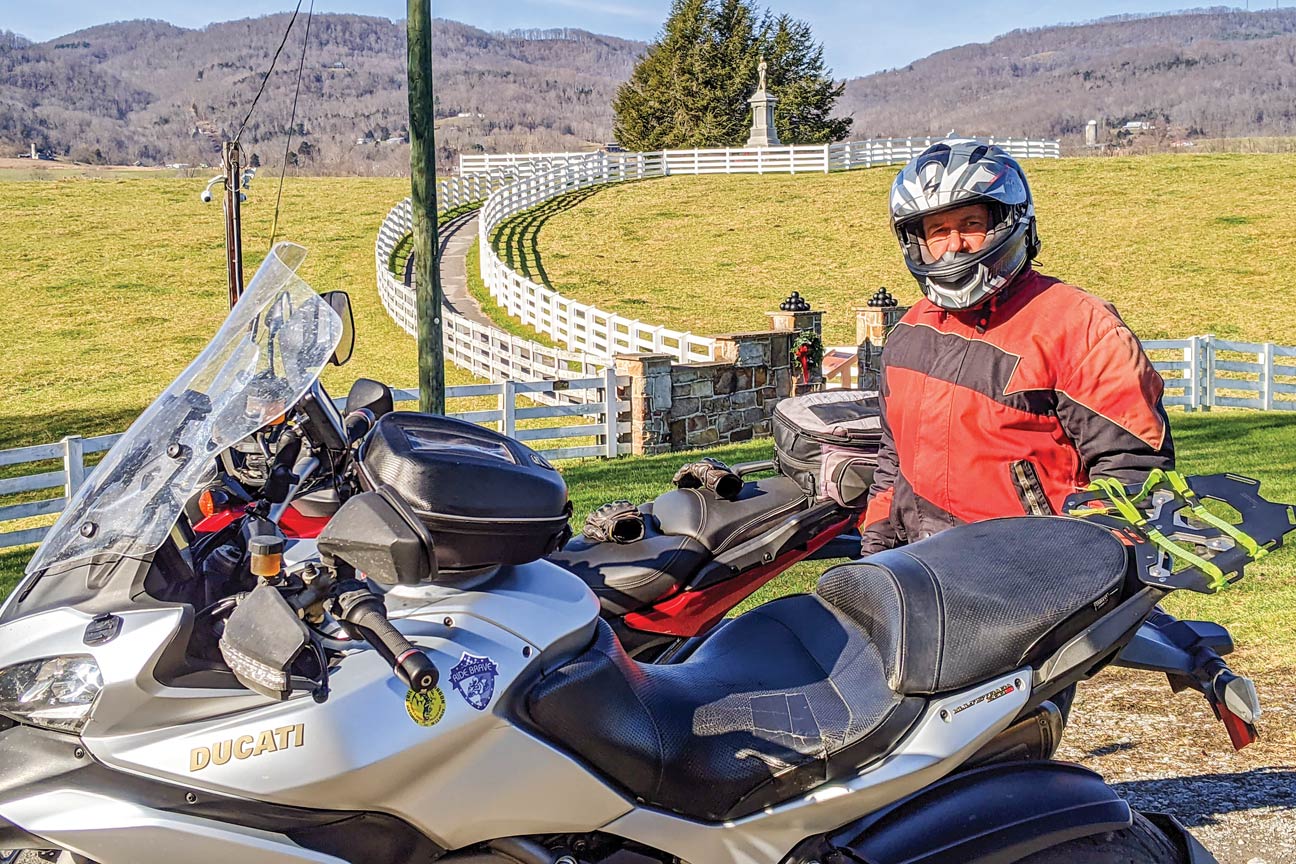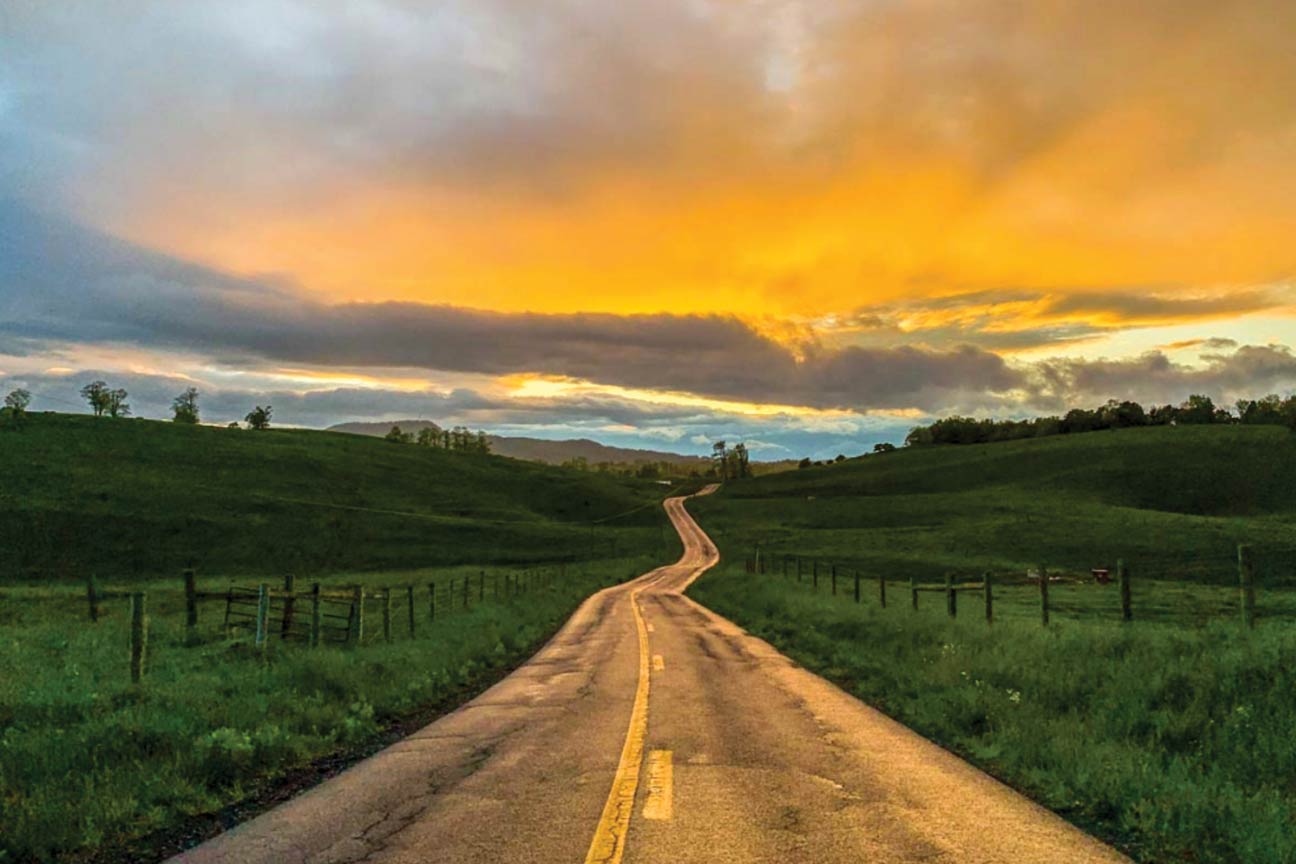 From there, we continued on State Route 3 up to Pickaway (Is that a great village name or what?) and into Alderson. Route 3 is a twisty little road, lined by rolling hills and farms, and devoid of traffic, a worthwhile destination itself.
Situated on the south bank of the Greenbrier River, Alderson has infrequent Amtrak service on those few miles of rail I mentioned. It's also home of the Federal Prison Camp Alderson, which once provided inmate hospitality to luminaries Martha Stewart, Squeaky Froome, and Sarah Jane Moore, the former for insider trading and the latter two for trying to assassinate President Gerald Ford.
We stopped in for a visit at Alderson's Store, clerked by Sarah Alderson, a descendant of Elder John Alderson, who founded the town in 1777. The store opened 100 years later and has been owned and operated by the family ever since. It began life selling general merchandise, but now offers a delightful and eclectic mix of vintage jewelry, clothing, gifts, and books.
I was delighted that the first book I saw when I entered was my very own "Union, WV"! Sarah said her brother learned about it and convinced her to stock it. She said she'd recommend it more often since she just met the author. Thank you, Sarah!
While I was looking about the store, Margie was doing impromptu family genealogy. Turns out she'd recently learned about an obituary of her cousin's grandma. Margie is African American and in the store near me was a Black man who rambled on about the town. I put them in touch and he led her down Main Street to a church, built in 1811, and abandoned after a flood. The funeral was back in 1937.
"When you start doing genealogy, there are lots of details. It was wild being in there," Margie said. "It was quite coincidental to have run into this guy. Genealogy has been a huge grounding for me. I came from a family of workaholics. My people did some of the hardest work people could do and did well at it. I don't think genealogy is more important to African Americans than to European Americans, but it is definitely harder to do because there are fewer records. So every generation you can go back and know more is great! Every new thread of discovery is a victory."
We backtracked to Union on parallel Flat Mountain Road, a West Virginia "layover" road where the center of the road is paved and both shoulders are gravel, forcing oncoming cars to layover their outside wheels to pass by.
Reaching Union, we visited the county's most unusual landmark, the monument to the unknown Confederate soldier.
It was unveiled to great pomp in 1901, with one reporter waxing, "Thursday morning the sun rose in unclouded splendor and its beams had barely kissed the mountain-tops when the first arrivals drove through the entrance to the Reunion grounds. In a minute or two another carriage load came, and then another and then a stream of vehicles, equestrians and pedestrians that flowed on with increasing volume hour after hour until nearly noon." An estimated 12,000 people watched the dedication ceremonies.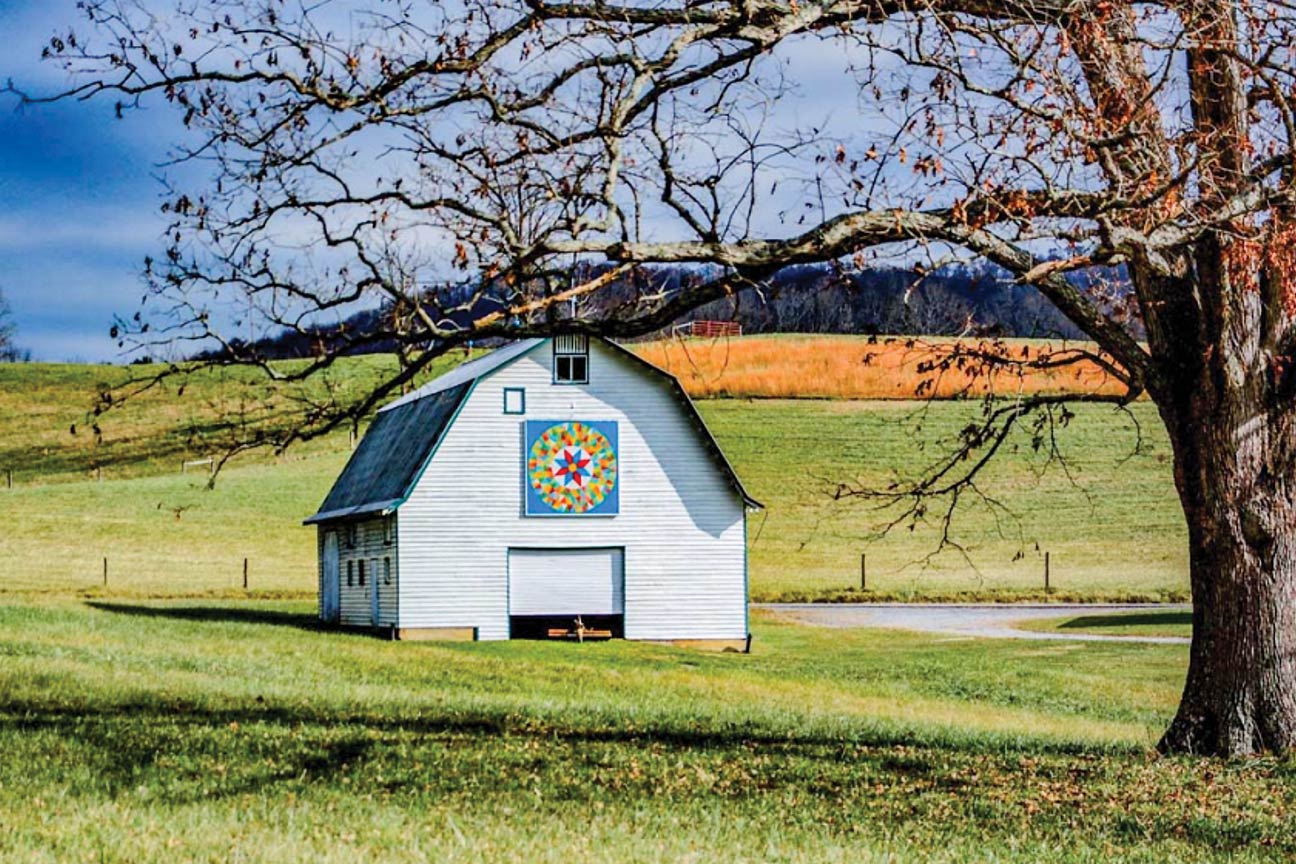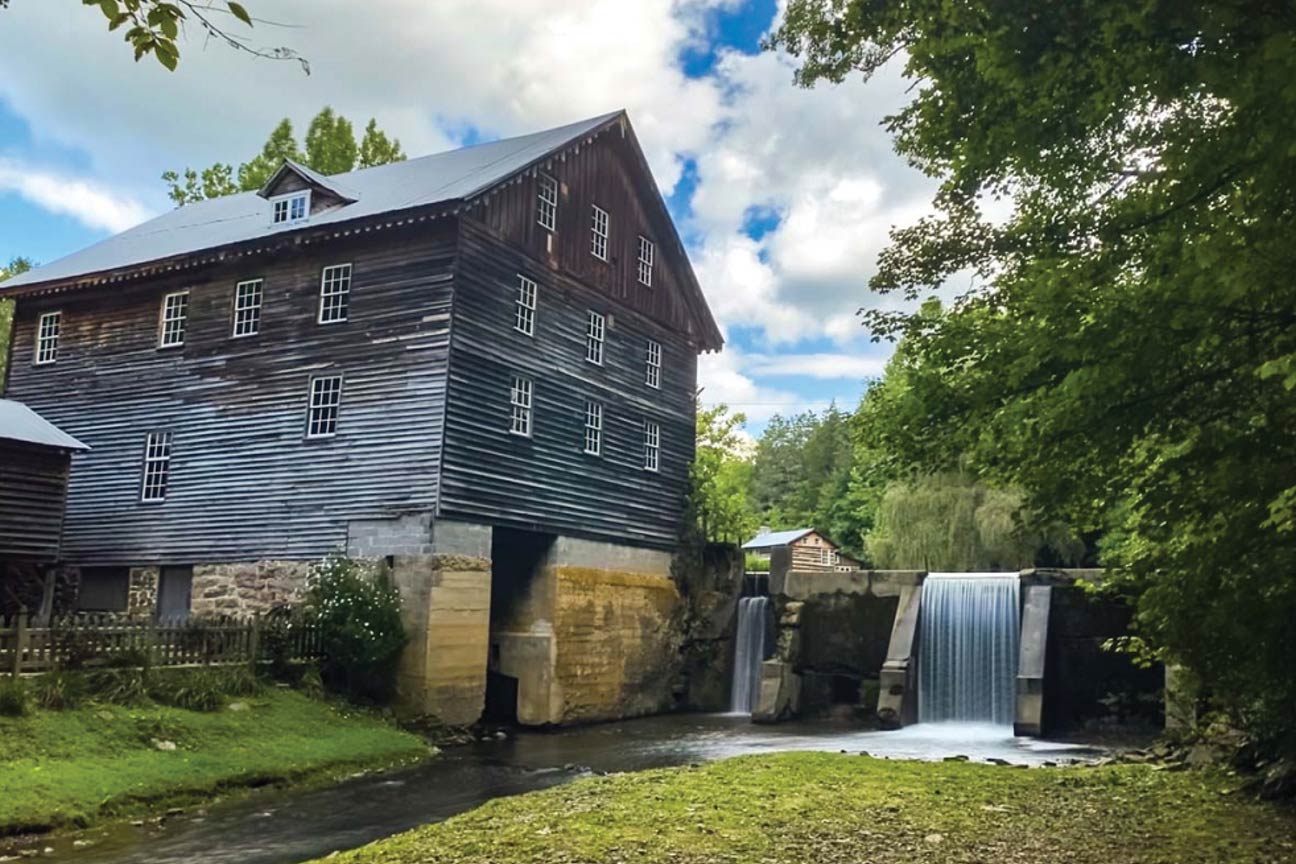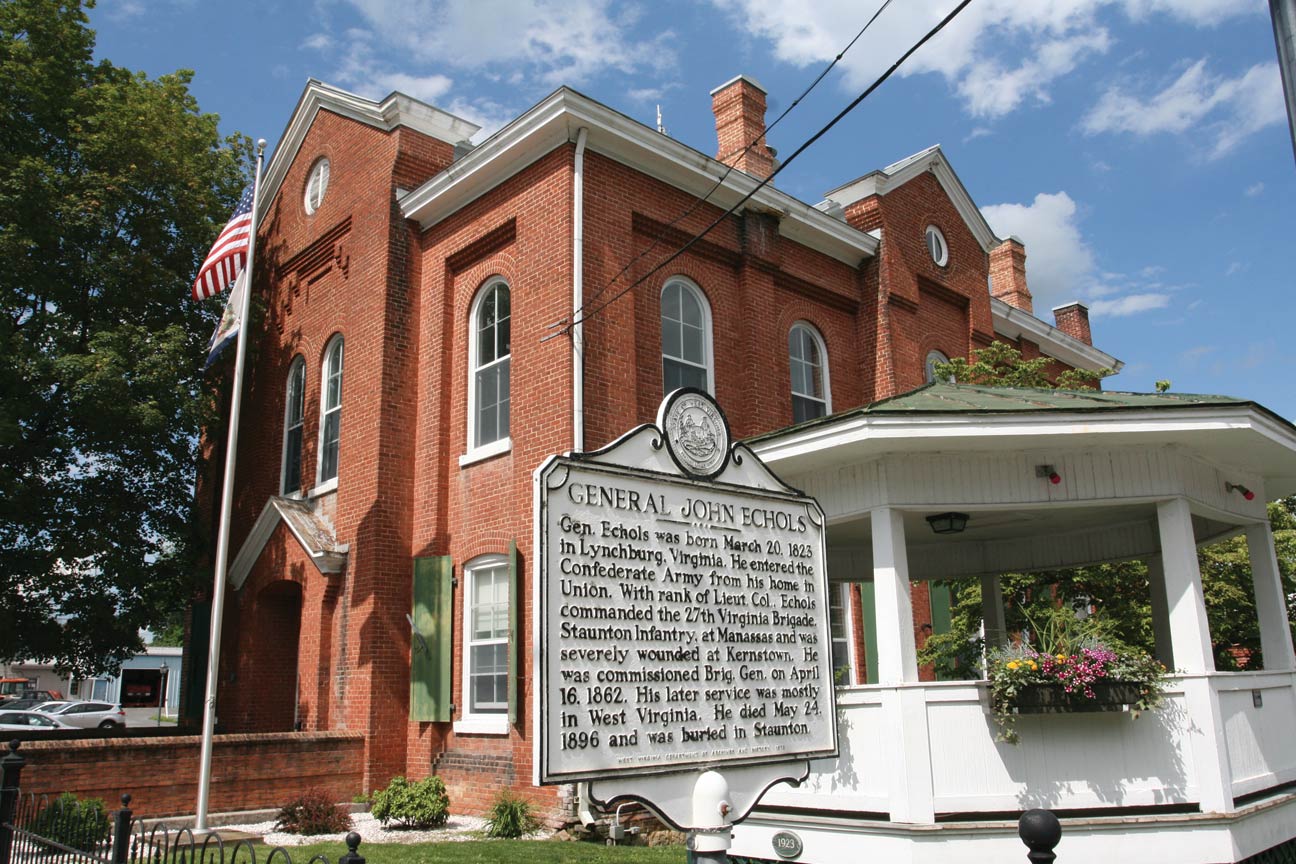 So why is it unusual? Think about it. It's a monument to the Confederate soldiers of Monroe County. By the Civil War's end, Monroe County was in the new state of West Virginia, which was not in the Confederacy. It was a Union state. In a town called Union. What's more, it is 50 yards into a cow pasture.
Turns out that back in 1861, most Monroe County, Virginia, residents had secession sentiments and fought for the Confederacy. Imagine the anguish many of them faced, defeated at Appomattox, wounded and angry, walking home to Monroe County, which was in a new state, one they had no part in creating, with their slaves freed and able to vote (at least the men), while they couldn't because they had engaged in rebellion against the United States.
After taking the obligatory photos, we motored into town where we had a nice (mostly outside – COVID safe, you know) visit with my old friend Craig Mohler, publisher of the county's sole newspaper, a weekly called the Monroe Watchman.
Turns out that he is a veterinarian by trade, and got his degree at the University of Georgia, where Margie spent much of her teaching career before moving to Virginia Tech. Small world.
Exchanging appropriate pleasantries, I reminded Craig of a story from a dozen years prior. I was in Union specifically to take a photo of the Confederate Monument to put on the cover of my book. I wanted the nearby mansion, Elmwood, in the background. But with it some 400 yards away, I needed to put some distance between myself and the statue and use the telephoto feature to photo-superimpose them. Doing so meant that I'd need to jump the fence and enter the pasture with my camera. It was bitter cold that day, 17 degrees if I remember, and as I turned to return to the enclosure, the farmer drove his tractor over and yelled at me, scolding me for endangering myself in his cow pasture.
Twenty minutes later, I had lunch with Craig and described my situation of being roundly reprimanded, to which he laughed and said, "That statue has been there for over 100 years and for the first 70 had no fence around it at all. So every visitor traipsed across the pasture."
Nobody seems to know why it's out there anyway. Most self-respecting war memorial statues have the good grace to be in front of the courthouse. Maybe planners decided the town would one day grow to encapsulate it, but that has never happened, and probably won't.
Craig talked about running a small weekly newspaper in an era when hundreds like it are closing nationwide. He maintains a circulation of around 3,200, down from a zenith of 4,200, and he soldiers on, hoping for better days. Even prior to COVID, small papers were suffering, advertising revenue now going digital.
"When I first started here in the late 1990s, we had an ad every week from every bank, every drugstore, every grocery store, and every insurance agency in the county. That's all gone," he said. "For me, this is a nice area. Woodland. Mountains. Farmland. It has lots of outdoor variety. It still has a small town feel where people know everybody. There's still a working gristmill, powered by water. Things change slowly. I'm proud of the County; most folks are. We like to show it to visitors."
Margie and I motored back to Virginia on U.S. 219, Monroe's busiest highway, to Peterstown and Glen Lyn. Along the way, we passed a number of barns sporting those colorful barn quilts that Helen had told us about. It was all quite lovely, timeless, and pastoral.