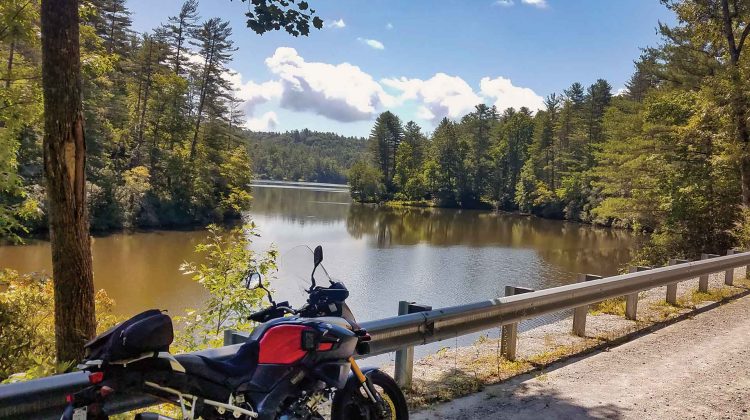 The crunch of gravel beneath my adventure bike grows quieter as I ease the tall bike up to the guardrail next to the tranquil mountain lake. The arrival of summer always lures me to explore unpaved lanes, especially if they lead to hidden waterfalls or secluded lakes.
One of my favorite loops takes me to Cascade Lake in Transylvania County, North Carolina. Not far from DuPont State Forest, this detour down a dirt road hugs the scenic lake and passes some small waterfalls. At least once a year, I make a pilgrimage to this wooded byway. Never have I made it to the end without stopping.
I'm the type of rider who stops frequently to linger, be it on mountaintops, beside streams or, like today, next to a remote lake surrounded by undeveloped hills.  When you're on a bike in the remote woods, you can sense nature slowly at work, too slow for most of us to notice in our busy lives.
Some motorcyclists prefer to attack every corner to enjoy the rush from a sport bike. Some riders prefer to cruise the boulevard and show off their shiny machines. Others aim their touring bikes for the distant horizon and put 500 miles a day behind them. 
Me, I loaf and invite my soul, as the poet Walt Whitman famously wrote.  
The freedom that we all enjoy from motorcycling also provides a freedom to venture into remote corners of the Blue Ridge Mountains or stop along a roadside on a shoulder too narrow for a car or SUV. I pack my tailbag with snacks and refreshments and lose myself in the quiet splendor of a lonely back road.
Sometimes when I ride with others, especially ones that don't know me very well, they become a bit confused at why I often pull over in the middle of nowhere. Usually I just gesture to the scenery around us, which most of the time they've failed to notice as they were concentrating on the road or the next curve.
"I lean and loaf at my ease observing a spear of summer grass."
Motorcycling connects us to nature much more directly than an automobile. That's what most of us love about our two-wheeled lifestyle. Yet, I often see riders fall into the common trap of focusing on the destination instead of the journey. I see them captivated by GPS navigation units instead of the ethereal shaft of sunlight shining on the hillside beyond. 
I sit alone by this small lake, the blue sky reflected in the mirror-like water. The only noise is the ticking of my cooling exhaust pipe and the occasional chirp of a bird from the trees. I study the moss growing on the damp rocks. I admire the bent limbs reaching out over the water to grab more of the sun's rays. Moments like these during my motorcycle travels always bring me inner peace and put a contented smile on my face.
The sound of tires on gravel and the growl of a twin-cylinder metric bike stir me from my roadside reverie. Two BMW GS riders swiftly round the bend. The trailing rider motions to me seeming to inquire if I'm OK or need assistance. That's something I've always liked about motorcycling, the way we look out for each other. I wave and give a thumbs-up as they pass, watching them disappear on their adventure ride. I hope they stop somewhere ahead, even if just briefly, for a quiet reflection on their summer ride through our beautiful mountains. 
Riding a motorcycle at speed is a wonderful sensation. Sometimes the sensation is even more rewarding when you stop somewhere scenic and peaceful to just listen to the whispers of the trees, the rivers or the lakes. Give it a try this glorious summer season.
— Michael E. Gouge, Editor-in-Chief