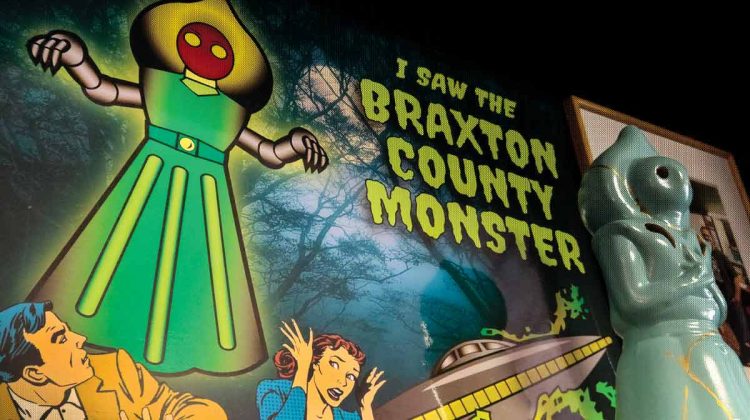 The wall of mountains loomed before me as I headed west on U.S. 33 across the wide Shenandoah Valley. Soon I'd twist my way over them into West Virginia, that mysterious land with epic motorcycle roads and legends about other-worldly creatures.
I'm on a pilgrimage to see a town steeped in UFO lore, but mostly I've traveled here just to ride the seemingly endless two-lane mountain roads and gaze at the verdant hills and ancient rivers.
U.S. 33 grows tighter and climbs higher as your cross the spine of High Knob ridge on the state line. The descent grows even more technical as I toss my Yamaha Tracer 9 GT into each blind curve. I don't need a sign to know I'm in West Virginia. The improved pavement is the giveaway. For a state much maligned as being poor, they've got the best roadways of any of their neighboring states.
Soon I reach the forked headwaters of the Potomac River, where the road turns north. I've traveled this way before and wait with eagerness for the sudden view of Seneca Rocks, gleaming in the sun, on my right. This rocky crag of quartzite looks more like the Italian Dolomites than the heavily forested Allegheny Mountains surrounding it.
The U.S. Forest Service maintains the visitors center at the base of the stunning ridge where riders can take a break and snap some photos. You might even spot a few mountain climbers scaling the rockface.
I stopped for the night in Elkins, my fuel gauge thanking me for finding civilization. Fuel stations here in West Virginia aren't on every street corner, so I made a note to keep a closer lookout for places to top off the tank. The next morning, I grabbed my usual fast-food breakfast. A fully loaded motorcycle with out-of-state plates always seems to spark a conversation between strangers. A local man asks about my destination and route.
Always listen to the locals. He told me I could avoid the stretch of four-lane that lay ahead of me by taking county road 151 outside of Elkins. The road was a dream — lazy, meandering curves with no other vehicles. I ran my other planned roads, namely Route 20, by my new friend for confirmation, and he agreed that would make for a more scenic ride. Something that always impresses me about riding in West Virginia is how long I can ride without ever encountering a stop sign or red light. My feet rarely touch the ground,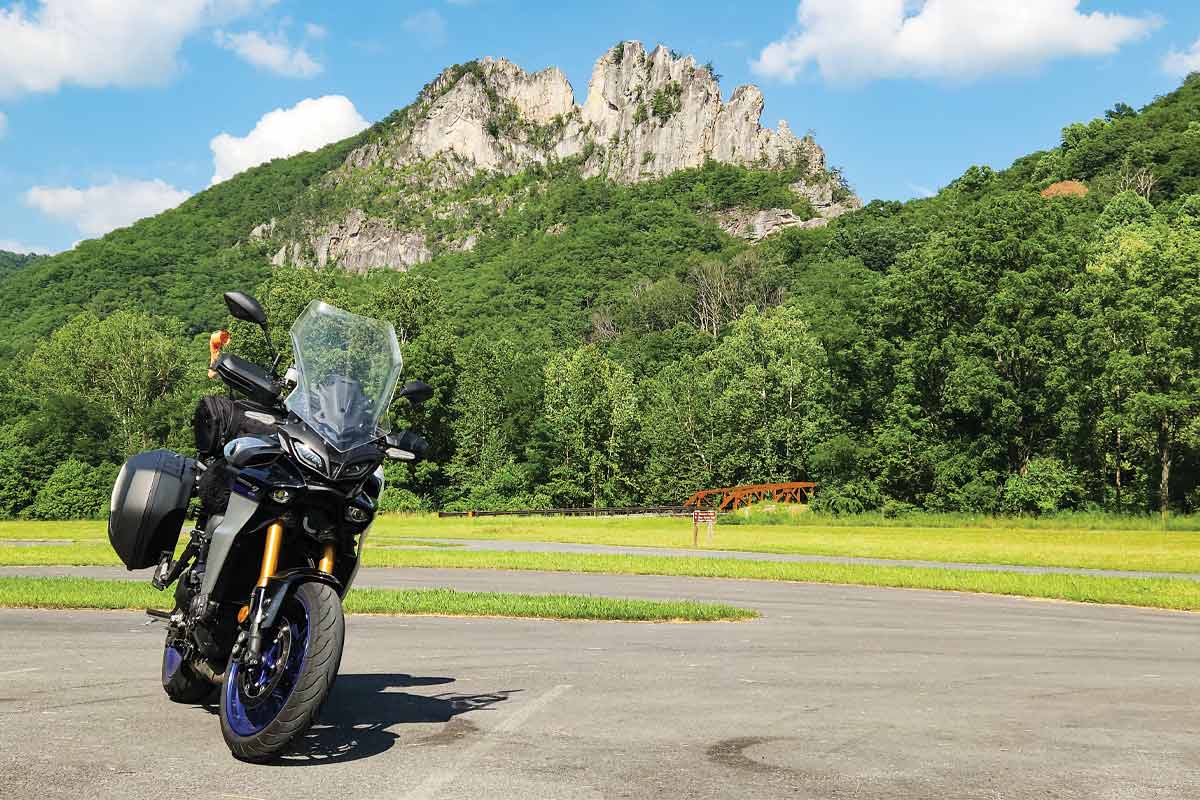 Eventually I had to put a foot down at the intersection with U.S. 19. This highway runs from Florida to Lake Erie, Pennsylvania, right through the heart of Appalachia. It also runs past the site of the strange 1952 sighting of the Flatwoods Monster.
Since I was a kid, I've held a certain fascination with UFOs, cryptozoology, mythical legends and the like. As I planned my motorcycle tour through West Virginia, I knew Braxton County had to be one of my destinations.
The legend of the Flatwoods Monster, sometimes called the Braxton County Monster, begins with some school children playing ball in Flatwoods when they spot a bright object falling from the sky into the hills of a nearby farm. They tell their mother and a family friend, and the five of them hike up the hillside pasture toward a flashing red light to find a strange green-and-red creature, described as a 10-foot-tall robot with glowing eyes, standing in their path. It made a hissing sound and glided toward them, prompting the group to flee. Their fanciful tale made national news in 1952 as the flying saucer craze swept the nation. Witnesses gave media interviews insisting what they saw was real. The Air Force actually investigated the case and came to the (doubtful) conclusion that it was just an owl perched in a dead tree.
"It's always created interest in our area," said Andrew Smith, curator of the Flatwoods Monster Museum and executive director of the Braxton County Convention and Visitors Bureau. "People would come because you know if you get a chance to stand outside the gates of Area 51, you'll do it even if there's nothing there."

The Convention and Visitors Bureau decided to open a museum dedicated to their local piece of UFO lore when they moved into their current building in the neighboring town of Sutton. The monster — dubbed "Braxie" — is now an unofficial mascot for the region.
"There were all these witnesses. The youngest being 9 and the oldest being 32, and they were all together. I think that lends a lot of credibility in that nobody was alone. Then also, it would be such a weirder hoax story if you have 9-year-olds colluding with a 32-year-old mother. That doesn't happen in the real world. They could've all misidentified something," Smith said.
The CVB director said people would often wander into his office asking about the legend.
"It became apparent pretty quickly that folks were interested, but they didn't have a lot to do. The first thing we came up with is the monster chairs," Smith said.
The museum offers maps where visitors can explore the county and find the chairs, each one with a unique design. The tour is perfect for motorcyclists looking for places to ride. The museum features various displays, books, souvenirs and even the original drawing of the monster created in 1952 from eyewitness descriptions.
"The response is mostly curiosity, and I think most folks approach this sort of stuff for the novelty factor and fun factor, which is perfectly fine," Smith said. "That's really where I am on most of this stuff. I find that fun and interesting in the same way you find horror movies fun."

The museum does attract some hardcore UFO buffs determined to find more evidence to corroborate the local legend.
"As far as I know, there is only one surviving witness, and he's not interested in talking to anybody. Everything that could be reported, has been reported," Smith said.
Just down the street from the Flatwoods Monster Museum, visitors to Sutton will find the West Virginia Bigfoot Museum, where another mythical local creature is celebrated.
Laurel Petolicchio, owner of Mountain Laurel Country Store, opened the small museum with her son, David, after seeing the public's reaction to a woodcarving of bigfoot in their country store.
"One of our consigners is a wood carver who lives in one of these hollows. He carves what he sees, owls, bears, deer, whatever strikes him," Petolicchio said.
 One day he came in and offered her a large carving of a sasquatch
"I said, 'Oh you brought me bigfoot.' He said no, bigfoot lives out west. He's mean and nasty and nobody likes him. This is the old man of the mountain. We have a whole lot of those around here. They're kind of nocturnal. They don't bother anybody. They're kind of nice to have around because they keep the bears away," she said.
The statue drew comments from store visitors, who claimed sightings of the mysterious ape men. Some claimed they have some living on their land. Some said they saw one as they were fishing or encountered one when they were a child.
"These were people I knew, not the town drunk," Petolicchio said.
It was enough for the Petolicchios to sponsor the West Virginia Bigfoot Festival in Sutton, which now draws 7,000 visitors to the town. When noted West Virginia bigfoot hunter Less O'Dell approached them about finding a place to display his many plaster castings of possible sasquatch footprints, the country store owners created the free museum in 2021 in a space next to the store and diner.
Many of the 40-or-so casts, each labeled from the region in West Virginia where they were found, look convincing. They even have a hair sample on display. After checking out the exhibits, the attached country store features a café offering sandwiches and hotdogs.
"We're trying to bring a dead town back to life, and it's working," Petolicchio said. "We have the big Victorian down the street, the Elk River Lodge & Café, which is a great place to eat dinner."

She said just outside of town is Sutton Lake with a 44-miles of shoreline, two campgrounds and a marina where visitors can rent boats. Then there are the mountains in every direction.
"The roads around here are perfect for motorcycles because they're so windy. You can open it up and enjoy. The biggest danger is the deer and the wildlife," she said.
I agreed, having spotted three deer and a black bear while cruising along the West Virginia backroads the last two days.
"There's a lot of stuff hidden in the hollows that people don't realize. There's so many gems around here," she said.
With my curiosity only increased by an afternoon exploring the town's monster museums, I jumped back on the bike. I pondered heading west to Point Pleasant 130 miles away, which is home to another West Virginia monster, the Mothman. I decided I needed a future excuse to return to West Virginia, so I decided to save the Mothman for another trip.
I turned east on the backroads past Lake Sutton to eventually connect with Route 20, a road that has become a new favorite since I joined it in the northern part of the state.
The 256-mile Route 20 is the longest state route in West Virginia, cutting a north-south arc through the middle of the state from Bluefield on the southern border to New Martinsville along the Ohio River. It runs roughly parallel to the much-more-traveled U.S. 19, but Route 20 is mostly two lanes and never passes through a large city. The downside of taking Route 20 instead of U.S. 19 would be I'd miss crossing the New River Gorge on the state's most famous bridge. I'd been there and done that, so I decided to stay with Route 20 and see parts of the state unknown to me as I followed it straight down to the state's southern border.
I would encounter the New River near the town of Sandstone and follow it on Route 20 for several picturesque miles on the eastern edge of the New River Gorge National Park & Preserve. I've heard of people saying big panthers still lurk in those woods, but the official word is they're long extinct. Given the many mysteries of West Virginia, I hold out hope the eastern mountain lion still exists.
For much of this trip, I've enjoyed following various rivers and streams, stopping to admire small waterfalls at several of the roadside overlooks, knowing that they all eventually flow into the Ohio and Mississippi rivers.
Seeing the New River flowing far below the hilltop above the town of Brooks pleased me greatly. I'd crossed this river days earlier at its headwaters in Western North Carolina. Somewhere far upstream were familiar hills and streams. The road twisted onward with not a pothole to be found and red lights as rare as monster sightings. I was sad to see the state line sign approaching.
"West Virginia is known far and wide by bikers for being a great place to ride because of all of the curvy two-lane roads," Smith said. "They stay well maintained because they're not heavily trafficked. All of our backroads are almost always in amazing condition. I've found that Braxton County is a great jumping-off point for different rides that take you all over the state, and there's a lot of connecting loops and routes. You don't really have to tread the same ground again."  y