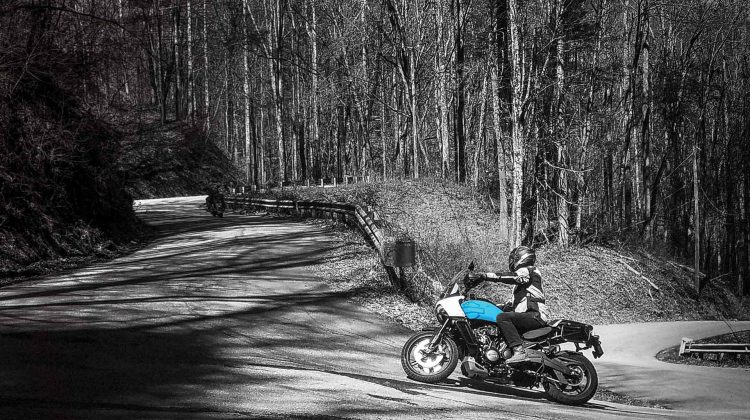 The new Harley-Davidson Pan America was already sitting outside Asheville Motorcycle Rentals when we arrived. Owner Phil Cann wanted to put some break-in miles on the new adventure bike before it enters the rental fleet, which was the perfect excuse for a day trip through the Blue Ridge Mountains.
I gathered a motley collection of cruisers, customs, café and adventure riders — basically anyone willing to join a roundabout route of challenging turns — for a fun Sunday ride-to-lunch at Salty Landing, a great seafood place. I didn't tell them I planned to lead them up the notorious Green River Staircase.
With only one no-show — every group ride has one — we set out from Asheville Motorcycle Rentals toward Hickory Nut Gap on U.S. 74A. This old highway used to be a main road to Charlotte and the piedmont, but now sees mostly tourist traffic heading from Asheville to Chimney Rock and Lake Lure. Heading east, the city recedes as rolling farmland ends abruptly at the sharply rising mountain range. Now the fun begins. A series of nine switchbacks climbs to the narrow gap at the top. 
This route dates back centuries and was a main route for stagecoaches and drovers in the early 1800s. The historic Sherrill's Inn, first established 200 years ago, still welcomes guests for weddings and events. Its entrance sits in the apex of one of the hairpin curves, so I didn't dare take my eyes off the road to admire it for very long.
Soon we crest the mountain at the Eastern Continental Divide, the frontrunners slowing to wait for the string of riders to regroup. This southeastern side of the Continental Divide has a gentler slope, allowing for a more leisurely cruise through the curves. In the mirror, I see Cann riding the new Pan Am, its LED lights making it easy to spot compared to the halogen lights of the other bikes.
Our first stop since leaving Asheville is the lakeshore in Lake Lure. Tourist season is still a few weeks away, so we have the beachfront to ourselves on this spring day. The blue-and-white Harley draws curious looks and comments from the other riders.
"I really like it," Cann said. "It's really light, comfy actually. It wants to rev, wants to go. It feels really light. I think it's going to be popular with people who ride adventure bikes."
His rental fleet includes a couple of BMW GS models and a Suzuki V-Strom 1000. This first adventure bike from the Motor Company has already piqued the interest of his customers.
"I had several bookings for it already. A lot of people want to try it as a test ride. I think there are a lot of people who want to try it because it's a Harley," Cann said.
Soon we finish checking cell phones, smoking cigarettes, rummaging through luggage, sipping soft drinks and prepare to remount. I let the group in on my secret: I'm taking them up Green River Cove to one of the most challenging roads in the area, a narrow less-than-two-lane-wide climb from the riverbed to a plateau outside the town of Saluda. It features a paved 1,100-foot ascent through 17 switchbacks in just under two miles. I feel a bit guilty leading the group here given some of the pack seemed to struggle with Hickory Nut Gap — a much less demanding road. We stop at the river and the faster riders shuffle to the front while those feeling a bit leery of the towering wall of mountains ahead linger in the rear.
Oncoming traffic becomes another challenge of riding this mini-Stelvio Pass as there's not much room in the switchbacks and cars, bikes and even rafting buses tend to swing wide to make the curve. Grabbing a fistful of brakes in these hairpins is likely to toss you to ground, so one must remain confident in their skills and their machine.
A wide spot at the top of the mountain offers a scenic view and a chance for your blood pressure to subside after the tension-filled twists out of the cove. Everyone makes it with both bike and body intact, earning another motorcycling story to share with friends. The Harley tackled the challenge exceptionally well, Cann said.
"It's got an on-road mode, off-road mode, sport, rain. Sport firms it up. It's very responsive. You really notice the difference. The BMW is not as noticeable, but it is on this one," he said.
After a leisurely cruise down the main street in Saluda, past the quaint shops and sidewalk lined with tourists, we head north up U.S. 176. This route drops off the Blue Ridge Escarpment just south of Saluda and attracts a lot of sport riders. Today, that's heading the wrong direction for us, so we climb the less twisty portion toward Hendersonville and make our way through the historic village of Flat Rock and past the namesake Flat Rock Playhouse, the state theater of North Carolina. No time to stop for a play since we're all getting hungry. 
After a bit zigzagging on city streets, we trek west on U.S. 64. This highway runs "from Murphy to Manteo," as the old tourism slogan goes. It's always had a sentimental appeal for me since the section across the Blue Ridge Mountains is one of the most scenic routes in the state, complete with waterfalls, stunning vistas and charming mountain towns. I once rode a motorcycle from Tennessee to the Atlantic Ocean on this road. Not the fastest way to the beach, but certainly a scenic one.
About halfway between Hendersonville and the entrance to the Pisgah National Forest, our group arrives in Etowah and turns into the lower parking lot of Salty Landing, a popular restaurant owned by a fellow motorcyclist. We line our bikes up in the shade between a golf course and the restaurant, eager to get inside and sample their fresh seafood and other offerings.
Mike Wiemers, owner of Salty Landing and its sister restaurant, Surf N Brew in Fletcher, can often be found joking and chatting with his customers. He's an experienced long-distance rider who's covered much of North American on two wheels. Ask him about a region, chances are he's been there. He owns several bikes, and his newest is a Honda Africa Twin.
"There's some great riding around here," Wiemers said. "You come off the Pisgah mountains, come straight down on Brevard Road and hit us." 
U.S. 276 into the Pisgah National Forest is only 8 miles away and takes riders up to the Blue Ridge Parkway and beyond to Maggie Valley. Any given weekend, motorcyclists stop in Salty Landing to enjoy lunch or dinner either inside, on the porch or patio, or in Salty's Cellar, the cozy downstairs lounge. 
"We've got some great motorcycle parking upper and lower. We do some events, live music every Saturday night. Food specials all the time," Wiemers said.
He's tried to infuse both his restaurants with the same charm as the places he's seen during his extensive motorcycle travels.
"We always look for a great place with a good assortment of food. My wife always wanted to find a place in the shade, so she has a cool seat when we get back on, and we have plenty of trees for that," he said. "I always look for the local joints, forget the chains. If we saw the locals hanging out, we knew it was a cool place to go eat. You know you ride to eat and eat to ride."
Our riding group eagerly devours our lunch after looping across 80 miles of winding roads. The menu offers something for everyone: burgers, tacos, shellfish, steaks and fish platters.
"Good seafood around here is hard to come by at a decent price unless you want to go downtown and pay top dollar," said Jesse Annis, who wrestled his custom Harley Sportster chopper up these twisting roads. "I'm from New Hampshire where I'm used to eating a lot of seafood. I'm definitely going to be back here with my wife."
Jim Rodgers, another Sportster rider, often makes the journey out to Etowah for the fresh seafood.
"My favorite is the steam pot. (My wife) Cathy and I come down here on Fridays or special occasions. Everything is freshly prepared, and it comes in a big bucket. It's so good."