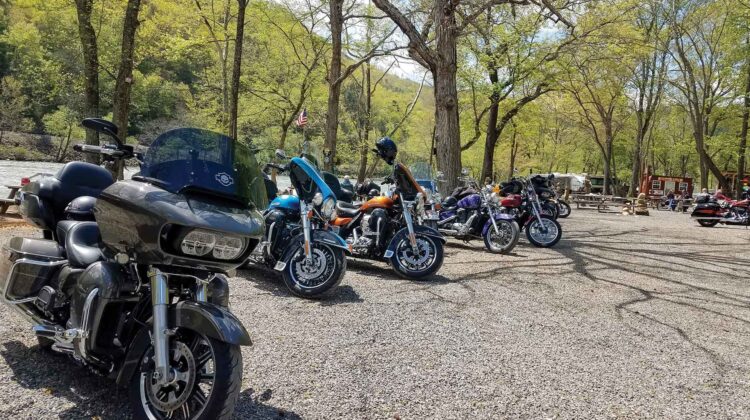 Leaving Newport, Tennessee, U.S. 25 quickly transitions from residential neighborhoods to rural countryside. And just as the road crosses the mighty French Broad River, curving to the right, the ancient Great Smoky Mountains come into view — looming large and stoic above those passing through. 
By the next bend, a sign for the Bobarosa Saloon appears. Gazing down onto the sprawling riverside property in Del Rio, there are hundreds of motorcycles parked side-by-side. Numerous figures milling about the landscape, whether it be sitting along the French Broad, grabbing a meal at a nearby picnic table, a drink at the outside counter or a game of pool inside the barroom. 
"This is a totally different and unique place. There's no other place I've been to that is just like this," said co-owner Bob Recchia. "The only thing we really care about here is having a good time. It's not about anything else. We want people to relax and enjoy themselves — everybody is welcome here." 
Alongside his wife, Jessie, the couple has owned and operated the beloved saloon for the past 20 years. Officially opening to the public in April 2001, the Bobarosa (with its signature motto, "If you haven't been there, you wouldn't understand") has become the stuff of legend and lore in social circles across the country and around the world — this "must visit" location at the intersection of Mother Nature and motorcycle riding. 
"The French Broad soothes everybody," Jessie said. "And it just adds to what we're trying to do here. Biker bars get such a bad reputation. We aren't that kind of place. People might be nervous when they first roll in. But, once you're here? You're family." 
"We don't have trouble here. It doesn't matter what you ride or who you are — it's about adventure and the destination. And we've built this place to be a destination 20 years strong," Bob added. 
Places like the Bobarosa are few and far between these days. And you couldn't recreate such a spot, either. The only way a good-time oasis like this comes into existence is when you have old souls mixing together the most important of ingredients: pure intentions, an inclusive vibe, and a long period of time to let the space grow into itself.
"It's pretty wild to think that this place has been here for 20 years," Jessie said. "And many of our clientele are the same people who've been coming here for years — that means something really special to us, that the Bobarosa has become a spot for them to visit every year." 
A lifelong motorcycle rider, Bob was born in New York and raised in Florida, ultimately retiring from his paint contracting business in 1998. At that time, he and Jessie were riding their bikes throughout the Southeast, often finding themselves on several iconic routes in East Tennessee and Western North Carolina. 
"We had family up north and family down in Florida, so this area was the middle ground to retire and put roots down," Bob said. "Eventually, we came across this property and thought it'd be the perfect place to have as our getaway — a place for family to come, to cookout, to camp, to meet up with friends after a long ride."
That initial idea of a family compound slowly morphed into the Bobarosa as it stands today. Yes, family and friends from all over came to visit, but so did strangers from every corner of the planet who soon became dear friends — over a drink, a ride or a meaningful conversation of tall tales, hearty laughter and genuine camaraderie. 
"When we started the saloon and camping, people from all over started showing up. Bob likes a big party — he's never met a stranger," Jessie chuckled. "We love calling this part of Tennessee home. And the longer we've lived here, the more we've come to learn and appreciate about the people and culture of Tennessee." 
Nowadays? Besides the saloon, there's two live music venues (the massive pavilion and intimate cabin stage), campground, motel rooms and a bunkhouse, amid other amenities onsite, which is constantly evolving — something that has parlayed itself into a longtime reputation as this biker utopia of East Tennessee and greater Southern Appalachia. 
"Riding a motorcycle is complete freedom. When I get on my motorcycle, I don't think about anything — just the road in front of me, the wind in my face," Bob said. "And with the saloon? It's always been about hospitality and friendship. And it's about the golden rule: Treat people the way you want to be treated — or leave." 
Some two decades since its inception, the next generation of ownership for the Bobarosa has been in motion ever since the Recchia's daughter, Rachael, was a little kid running around writing down food orders. Now 32, she's at the helm of the saloon alongside her parents, ensuring the natural beauty and welcoming attitude of the property will remain intact for years to come. 
"It's no drama, no nothing of the sort. It's all about having a good time on the river. Everyone who comes here is family to me — I've grown up with everybody here," Rachael smiled. "When my parents originally built this place, it was just for their buddies to come and hang out. But, these days, we get people from everywhere who have heard of the Bobarosa and make their way here — it's incredible, and we've never taken that for granted."