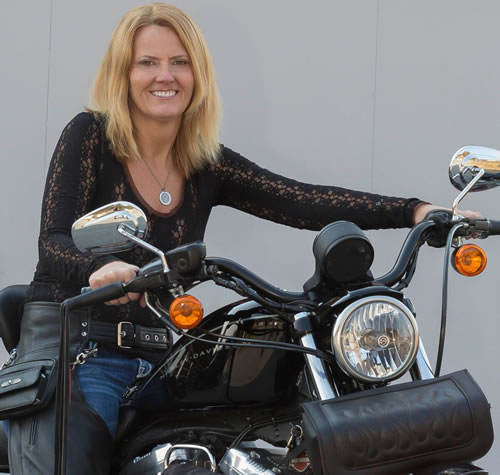 Etched on the left and right side mirrors of Stacy Bowen's black Harley-Davidson 1200, two simple words carry a deceptively deep message: "Prince" and "Charming. Sure, it's a nod to the bike's low-slung, dashing stature, but it's also clearly a reference to a real Prince Charming, a man who lived life to the fullest and regarded Stacy as his princess, Jeff Bowen. An Asheville firefighter who relentlessly courted Bowen after meeting her at a July 4th party in 2003, Bowen died fighting a fire in an Asheville office building in July 2011.
They had been married for six years, and together they'd bought the bike just a month before Jeff died. It's a big bike– 600 pounds or so– and it was set up with low handlebars and even lower drop-down mirrors, a racing-style setup that threw her center of balance dangerously off-kilter. "So after he passed away, here I was with this motorcycle, and I was like, 'Now what?'" said Bowen, 47, sitting in the dining room of her comfortable home in rural northern Buncombe County. "This was something that we were going to do together. So here was another semblance of my life that was destroyed. Another thing I was never going to get to do."
She put it aside for a while, but she kept coming back to it. Or, more accurately, it kept coming back to her, through a voice in her head that sounded oh so familiar. She knew she was at a crossroads, either sell it or learn to ride it– and Jeff gave her a little psychic push. "It was, 'Learn to ride it. Don't you sell my bike!'" Stacy Bowen said with a laugh. "He was a very motivated guy, and he didn't take lightly to people not being motivated."
During their time together, Jeff Bowen had given Stacy many physical gifts, but the ones that meant even more were the intangible ones. "He gave me strength by encouraging me to always be strong and stand up for what I believed," Bowen said. "He gave me kindness by being kind and loving to me and my children, by coming into our lives and filling a role that was way bigger than anything he ever dreamed. He gave me humility by always being humble and not being arrogant." The best gift, though, was a lesson Jeff lived by: "Failure is never an option."
That September, she enrolled in the Rider Safety Course at A-B Tech. "And I thought I learned how to ride," Bowen said. But when she came home after acing the course on smaller 250cc bikes, she still felt intimidated by the Harley. As a temporary solution, she bought a 250cc Honda Rebel as a training bike. But Prince Charming still lurked in the garage. So Bowen called Toby Edwards, an older gentleman and Harley expert she considers a dear friend, and asked if he could tweak the bike's handlebars and mirrors, which he did. "It made the world of difference, but I was still so intimidated by this motorcycle because it held such a special place in my heart," Bowen said. "I was like, 'What if I do something that's going to damage it and destroy it in some way? Then it's gone.' So I still had all this built up in my head."
Slowly, over time, she made the bike hers. She changed the seat, added saddlebags and had those mirrors etched. She also got a personalized plate that says "Charming." "I slowly made the motorcycle mine, and it got rid of all that foreshadowing of, 'I can't ride this bike,'" Bowen said. "Eventually, it was my bike. It wasn't the previous bike that we had together. It started to become my bike." While she says she's "totally comfortable" on the bike now, she still worries because when you "get too relaxed, and when you let your guard down too much that's when things happen."
Sure enough, Bowen did lay it down in 2015 in her gravel driveway, after catching a rut. She scraped one of the pipes, but it didn't devastate her. "When I saw where I scraped the pipes, I thought, 'That gives it some distinction,'" Bowen said. "They say you take two things to the grave with you, and that's scars and tattoos. So that gave him a little bit of scarring." While hers are inside, Bowen too has deep scars. Simply put, losing her Prince Charming yanked the bottom out of her life. Bowen's best friend and frequent riding buddy, Tiffany Rice, said her friend has endured pain that most people will never know, or if they do it comes much later in life. Rice knows it's a cliché, but she can't help but describe Jeff and Stacy as "a perfect couple." "They really were," Rice said. "That's not to say they didn't have their ups and downs, but they were always pushing each other to go further."
Jeff Bowen was a relentless man, in his pursuit of excellence on the job, fitness – and pursuing Stacy. When they met at that July 4th party, he was almost five years younger than Stacy, and initially, she had concerns about dating a younger man. She had been married before and had three children. Jeff was undeterred, though, and he persisted until she agreed to have dinner with him. They began seeing each other regularly. She liked his straight-shooting manner, his strong sense of right and wrong, and his zest for his job and his life. They married in 2005.
The morning of July 28, 2011, they said their goodbyes, and Jeff Bowen went off for another shift at the fire station. The day was fairly routine until the call came in for a fire at 445 Biltmore Ave., a medical office building. Capt. Jeff Bowen was trying to leave the upper floor when he ran out of oxygen. The 13-year departmental veteran died from smoke and fume inhalation. The community outpouring was intense, but so was Stacy Bowen's grief, especially after she found out the fire was intentionally set (no one has been arrested for the arson). Processing the loss has taken years, a process that has ebbed and flowed in its severity. At times, Stacy admits it was an abyss that nearly swallowed her.
"At one point in the grief process everything was dark and desolate and there was no brightness, and nothing was ever going to be good again," Bowen said. "Then you go down the road a little more and some little prisms of light come in, and it's almost like breaking through a shroud. You go a little bit farther and a little bit farther, and more light and more light and more light starts to come in, and one day you realize you got a whole lot more light than you've got darkness. And you don't really know when that happened – it just happened."
Even now, some days she gets up and the darkness lingers in her heart. She'll sit with it for a while, like an old friend, but she knows she must leave it behind. "You just want to sit with your grief, and it's OK, because that's what it's all about," Bowen said. "But those days can't be every day. When your happy days outnumber your sad days, that's when life starts to be good again." And Bowen's life is good again. Two years ago, looking for a more fulfilling line of work, Bowen left her job as a production supervisor at the Thermo Fisher Scientific plant in Weaverville and went back to college, graduating in May 2016 with a degree in social work from Mars Hill University. "After Jeff passed, I stayed at Thermo for over a year," Bowen said. "It was more about the search for – it sounds so cliché, but it really is a search for the purpose. What can you do to really do some good in the world and really have a greater purpose?" After graduation, she landed a job with the Madison County Department of Social Services, working in adult services. The core of her job is helping older adults when they're being abused, neglected or exploited, whether that's someone living in squalor because he can't care for himself, or an older person's whose grandchild is stealing her pain medication, leaving her in crippling pain.
Bowen recounted one particular case that really moved her, an elderly woman who wasn't taking care of herself, in part because her husband had died three years before and the grief overwhelmed her. She had no money and no one to turn to, but Bowen was able to find her an apartment and got her "back on the road to civilization." "It's just totally rewarding," Bowen said. Bowen also has allowed herself to love again, dating and then living with her boyfriend, Billy Payne, a paramedic, supervisor and 25-year veteran of Buncombe County Emergency Medical Services. Cleaning up after a dinner in which he'd blackened the pork chops to the point where he had to call them Cajun, Payne said Bowen is one of the most impressive people he's ever met.
"She's a trooper, through and through," said Payne, 46. "There's no doubt she's been in the deepest of the mud in the trenches, but she's come out on top." Payne also rides, in his case a custom 2014 Harley, and they often ride together. When they first started dating in October 2014, the couple planned to ride together to a rally, on Billy's bike. But he realized he wanted her to ride her own bike, to experience the joy of the road. What he didn't realize was Stacy lacked his experience and was a little nervous about riding side by side. Bowen, who grew up riding minibikes and dirt bikes in Madison County, ultimately did fine. "She's a very good rider," Payne said. "She started off small to be sure she could handle it, and now she's spot on."
For Bowen, like a lot of riders, getting out on the curves after a stressful day at work is simply what she calls "wind therapy." Payne said he can tell when she's really relaxing. "Nothing makes me happier than to see her smiling on her motorcycle, with me sitting right beside her on my motorcycle," Payne said. "I've got plenty of pictures of her grinning ear to ear."
While she's mastered the bike, Bowen steers clear of one notorious Asheville bottleneck famous for rush hour traffic and wrecks, the Capt. Jeff Bowen Bridge. Formerly called the Smokey Park Bridge, the span over the French Broad River was renamed for her late husband in 2012. She's ridden under it and around it, but not over the eight-lane behemoth. "That is a scary bridge in a car," she said with a laugh. Rice got her motorcycle license a year after Bowen, and the two good friends try to ride together at least once a week. Rice knows that Bowen's emotional journey has been arduous, and that it's ongoing. But nothing about Bowen surprises Rice anymore, including her ultimate triumph. "She's a tower of strength," Rice said. "She's the strongest person I know. She's taken a bad situation and tried to make the best out of it." Asked why riding seems to work for Bowen, as far as helping her cope with such a profound loss, Rice answers quickly and simply. "She knows it's something Jeff wanted her to do," Rice said. When they're out riding together, Rice sees a happiness take hold in her friend, a sort of peace that comes only with that 'wind therapy.' "It's been like a roller coaster – I've had to watch her go up and down that roller coaster," Rice said. "It has been a ride, but she's in a great place now."
For her part, Bowen agrees she's in a good place now. She loves her job, and she's happy with Payne, although she acknowledges she's had to give herself permission to love again, to leave her flesh and blood Prince Charming behind. Asked if she still thinks about Jeff when she's riding, Stacey Bowen says, "Oh, absolutely. Yes, a lot." Her voice cracks just the slightest bit. But she also appreciates the irony that she's driving the bike today only because Jeff is gone. Bowen knows she's so independent today because of the tragedy that changed the course of her life. "I don't mean that in a bad way," Bowen said. "If he was here, I would not be riding my own bike; I would be riding behind him, and that would be completely OK with me. I would have never wanted to do anything else except be his passenger, and I would have been completely, 100 percent OK with that. But because that option was taken away from me and I had to do something different, that made me a completely different person. That shaped a whole different set of values."
It also opened a whole new world to her, one of camaraderie, winding roads and that vital wind therapy. "If you don't sit in the front seat, you don't feel that motor right there, you don't feel those handlebars, you don't feel that power raging through your arms," Bowen said, her eyes lighting up. "It's all right there."