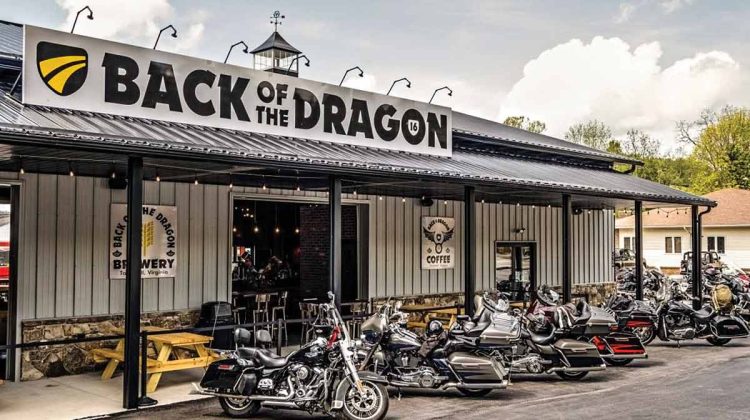 Ah, those glorious summer days filled with long rides through the Blue Ridge Mountains. The warm weather, blue skies and yet-to-be discovered roadside stops always enhance the riding experience for many motorcyclists.
The questions always arise: Where are we going to stop for lunch? Want to grab a beer? The Southern Appalachian Mountains feature plenty of ale houses, taprooms, breweries and distilleries to make your roadside stop one to remember. Most feature great food, music and atmosphere and are conveniently located near some great motorcycling roads.
Here's a few places worth flipping down your kickstand for:
BRUSHY MOUNTAIN DISTILLERY
Located in the former Brushy Mountain State Penitentiary northwest of Oak Ridge, Tennessee, the distillery offers $5 tastings of their fine selection of whisky, vodka, moonshine and cocktails. The prison complex also features the Warden's Table restaurant served cafeteria style. Tours of the historic prison, once home to Martin Luther King Jr.'s assassin, James Earl Ray, are held from April to November. Best of all, Brushy Mountain sits at the westernmost edge of the Devil's Triangle, a 44-mile loop of twisty mountain roads that's a favorite of East Tennessee riders.
HILLMAN BEER'S OLD FORT TAPROOM
This popular taproom and eatery rewards riders with a large, open-air dining room next to a peaceful creek in downtown Old Fort, North Carolina. Hillman Beer also operates taprooms in Asheville and Morganton, giving you an excuse to explore them on your next outing. They offer more than 30 different beers and an enticing menu of salads and sandwiches. Motorcyclists will want to check out the nearby Andrew's Geyser, the Devil's Whip (N.C. 80) and the Diamondback (N.C. 226A).
SWAMP RABBIT BREWERY & TAPROOM
After making a run down from scenic Caesar's Head on the border of the Carolinas along U.S. 276, Swamp Rabbit Brewery is a good place to relax and revel in a great day of riding. Located in downtown Traveler's Rest, South Carolina, the taproom features several award-winning beers. Food trucks and music are frequently offered. Not far away is the Cherokee Foothills National Scenic Byway (S.C. 11), which runs past the towering granite cliffs of Table Rock State Park.
BACK OF THE DRAGON BREWERY
After tackling three mountain ranges and 400 curves on Virginia Route 16, a stop in Tazewell, Virginia, at the Back of the Dragon Brewery makes for a fine way to reflect on your epic road trip. Located in the Back of the Dragon store, riders can shop for souvenirs, enjoy the lounge space, indulge in the coffee bar, microbrewery and self-pouring beer taps. A food truck and live music are often provided. From Tazewell, try out several of the other great motorcycling roads such as the Claw of the Dragon, a series of backroads crisscrossing Interstates 81 and 75 in this corner of Virginia.
TWO TIRE TAVERN
The Bavarian-themed town of Helen, Georgia, attracts hundreds of riders each summer for its kitschy charm and proximity to some great motorcycling roads. Parking along the busy Main Street is never a problem at Two Tire Tavern, just back up to the front porch and dismount. There's a wide menu of burgers, salads and sandwiches and a full bar. From Helen, several great motorcycle roads explore the countryside. Called Six Gap, or sometimes The Gauntlet, Georgia routes 348, 60, 180 and 75 run alongside U.S. 19/129 up and over different mountain passes. Don't miss a run up Blood Mountain or the tight twisties on Wolf Pen Gap.
BURNTSHIRT VINEYARDS CHIMNEY ROCK TASTING ROOM & BISTRO
This upscale wine-tasting room features stunning views of Chimney Rock, North Carolina, from the patio dining area as it's located across the street from the entrance to the state park. The bistro offers a rotating menu of salads, sandwiches and other entrees designed to be paired with the local vineyard's wines. They also offer a good selection of craft beers. Diners can gaze up at the iconic granite monolith of Chimney Rock while they relax after tackling the Hickory Nut Gorge on U.S. 74A or the two other scenic roads into the village, N.C. 9 and U.S. 64.
TAPOCO LODGE
Any trip to the famed Tail of the Dragon or Cherohala Skyway needs to include a stop at the historic Tapoco Lodge near Robbinsville, North Carolina. Built in the 1930s to house workers on nearby Cheoah Dam, the lodge is now a luxury resort. The Tapoco Tavern on the resort's patio features craft beer and cocktails, wine and a full bar. This expansive riverfront restaurant serves brick-oven pizza, steaks, trout, pasta, sandwiches and more. Sit back and watch the parade of sports cars, motorcycles and even some kayakers pass by while enjoying your lunch. Tapoco also features lodging if you want to plan an extended stay.
 — Michael E. Gouge