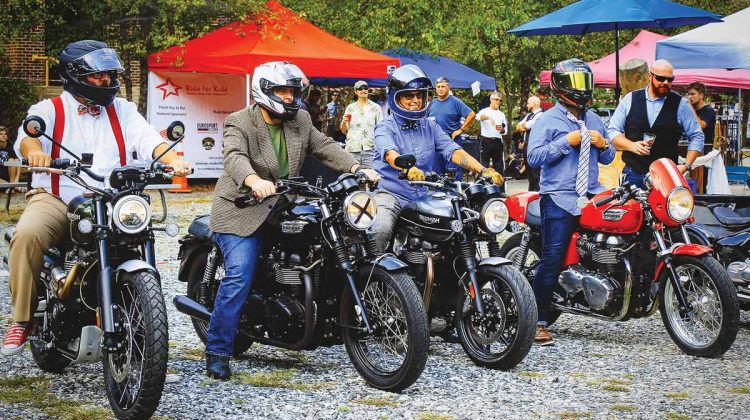 "Sounds like less riding and more standing around," read the dismissive social media comment when I posted about our local leg of the world's biggest motorcycle charity event — the Distinguished Gentleman's Ride. I held my anger.
As a motorcycle travel writer, I see myself as a self-appointed ambassador for our shared two-wheeled way of life. The comradery and sense of community I find when I get together with other riders makes riding motorcycles different from most other leisure activities. Motorcycling crosses most of society's barriers, those of race, ideology, gender and national origin. Yet, I sometimes run across those riders who are less inclined to mix with others: the isolationists who prefer their brand of motorcycle, their style of riding, their view of what constitutes a real rider.
Charity rides often evoke such division. Some riders love them and attend as many as they can. Some flip down their visor and scoff at them. Myself, I choose the ones that mean something to me. Yes, they are slow parade-style rides. Yes, there's lots of standing around before and after. I'll even add another "yes" to this list; yes, they make me proud to be a motorcyclist.
Each May, the annual worldwide Distinguished Gentleman's Ride gathers riders — both men and women — from 121 countries to don dapper attire and ride their vintage or retro-styled motorcycles through the streets of nearly 900 cities. The DGR raises funds and awareness of men's health issues — namely prostate cancer and mental health. The DGR has raised more than $37 million in its 11-year run. I showed up at the Asheville, North Carolina, ride seven years ago as a journalist to cover the event. Since then, I've become a loyal participant and local ride host.
As I tried to explain to the social media commenter, the DGR may not be a thrill-a-minute ride. The social aspect of getting together, wearing outrageous neckties and tweeds, and joining a worthy cause make it worth your time as a rider. I urge all those lone wolves and cliquish clans to set aside your knee-jerk reactions and join the Distinguished Gentleman's Ride or other benefit rides this summer.
The non-riding public has many misperceptions of motorcyclists. By getting together in large groups to help our communities or raise awareness of widespread health issues gives people a more realistic view of who we are and why motorcycling is such a strong bond for us.
On May 21, I encourage you to join the Distinguished Gentleman's Ride in a city near you. Make this summer riding season the one where you break out of your routine and make new motorcycling friends at a charity event. Just because such rides won't be taming a dragon, snake or other road named for a bendy reptile doesn't mean they lack for entertainment. The "standing around" part is often the most rewarding.
One of the main goals of the DGR is to address men's mental health, depression and suicide prevention. Standing around talking about motorcycles can often be a way to connect with those fellow riders feeling lost and alone. No rider is an island unto themselves, to paraphrase a poet.
The mountains we love to ride will still be there the next day. Joining your fellow riders in a show of unity, acceptance and charity for one afternoon might be more spiritually rewarding than that solo ride you've done hundreds of times. Be open to the motorcycling universe.
To register for a Distinguished Gentleman's Ride near you, visit www.gentlemansride.com.
Michael E. Gouge
Editor-in-Chief