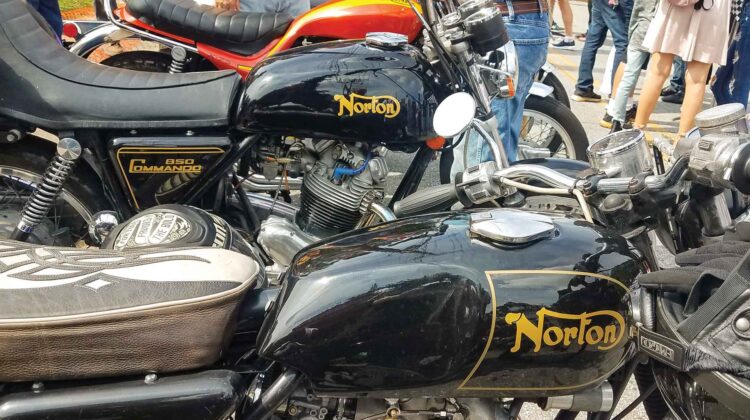 The annual Meltdown vintage bike show in Hendersonville, North Carolina, returns this spring with a new sponsor who promises to make the popular gathering even better.
Motorcycle enthusiasts from across the Southeast gather for event, which takes on the atmosphere of a street festival with food, vendors, live music and craft beer. 
Struggling with cancelation and postponements during the last two years due to the pandemic, the Meltdown returns April 30 to its traditional location on Locust Street in front of Southern Appalachian Brewery. 
Founded by Ton-Up Highlands, a group of British bike enthusiasts, the event's new organizer is the Hendersonville-based Wunderlich America, the sole North American importer of Wunderlich parts and accessories for BMW motorcycles.
"We want to make it more of a 'motorcycle show' as opposed to just a 'vintage' show. We will still have the vintage bike show," said Doug Shaw with Wunderlich America. The idea is to expand the show from its humble roots as a shine-and-show for old bikes to become a larger attraction for motorcyclists across the region.
The Meltdown traditionally raffles off a restored motorcycle for charity. For 2022, Plam Werks is supplying the raffle bike, a beautiful airhead BMW.
"This year we will be giving away a fully restored, crank out restoration, 1971 R75/5," said Edward Plam, owner of Plam Werks. "This bike is completely gone through. Every wear item has been replaced. Everything has been replaced that showed any sign of wear. It's got a beautiful Polaris Silver paint job with blue pinstripes. Everything was painted with Glasurit paint, so it's true to factory color. It's got brand new exhaust. There's too much to list, the cables, the bars, the mirrors. Everything is as original as we can make it all the way down to the seat cover."
Plam and his father, William, operate Wunderlich America, which moved its headquarters from California to Hendersonville several years ago. They also run Boxer2Valve.com, which supplies parts for carbureted airhead Beemers, and Plam Werks, their restoration shop where Edward and his team do custom builds and concours-quality restorations.
"It's probably one of the coolest raffle bikes out there because realistically, this bike would be if someone brought this bike to us to restore, you're probably looking at $20,000 to $30,000 in parts, labor and paint. We're giving it away at the Meltdown. The whole idea is we felt it would attract more people. This is timeless," Plam said while admiring the bike.
The Meltdown, which is free to attend, will also have live bands and a trials team to entertain the crowd. The city blocks off Locust Street in front of Southern Appalachian Brewery for the event. Spectators can fill the street to gaze at the long rows of classic motorcycles and visit vendor tents. There are food trucks and a mobile dyno testing trailer to see just how much power your two-wheeled machine can generate.
"We going to try to keep it the same, but just put our spin on it. It's still going to be a vintage show, with a little bit more of a BMW influence," Plam said. "I don't think we're going to discriminate against the age of the bikes. Realistically, we want a lot of people coming with newer bike. Retros, modern classics like R nineTs."