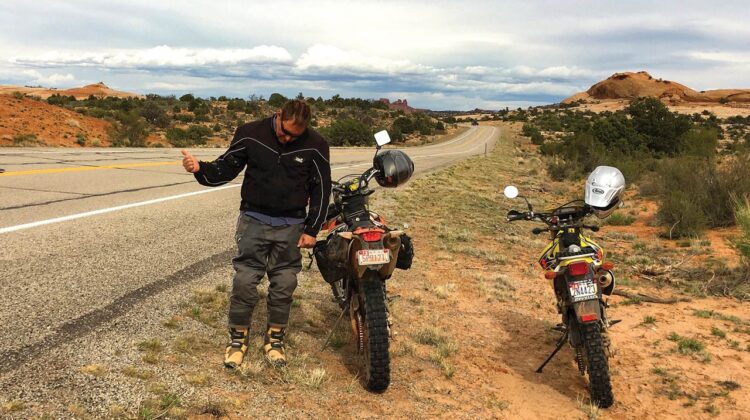 Eight men circled one man in the parking lot of the Inca Inn Motel in Moab, Utah. All were laughing and grinning. The man in the center was on his back with his head and hands hidden under a DRZ 400 Dual Sport motorcycle. Rick Riddle, who was late to the gathering, shouldered into the circle looking to assess the situation.
"Who's that tucked up under that motorcycle?" called out Rick.
Mac Enterline replied by pulling himself and his smiling head out from under the bike. Mac waved with one hand and held a tube of JB weld with the other.
"Cracked crank case," Mac explained.
Rick smiled and nodded.
"You've been putting that bike in places it didn't need to be," Rick surmised.
"It's almost fixed," replied Mac as he crawled back under the motorcycle. "I've got eight supervisors, so how can I get it wrong?"
The riders from North Carolina laughed. They had traveled from their mountain homes near Boone, North Carolina, to Moab, "the far country."
Moab is a small town of about 6,000 residents in southeastern Utah. The terrain is like nothing that any of us had seen before except in old westerns or "Road Runner" cartoons. The town of Moab started as the place where the Old Spanish Trail crossed the Colorado River. The town was incorporated in 1902.
Uranium miners and movie directors helped put Moab on the map. Today, the town is a Mecca for outdoor adventure sports. Rock climbers, kayakers, and mountain bikers fill up the town in the summer. Four-wheelers ride trails with names like Hell's Revenge or The Poison Spider Mesa.
We planned to ride trails for three days. The White Rim Trail was to be our primary ride. It's a 100-mile dirt and rock loop. The trail twists through Canyonlands National Park and around the Islands in the Sky Mesa.
The night before our trail ride, we drank beer and ate pizza at Zak's restaurant. A bison head looks out over us from above the bar. Bill Williamson asked Chris Wilcox if our gas tanks were large enough for a 100-mile ride through a rocky desert.
"Clayton and I rode it about a year ago", replied Chris. "We came out on fumes, but we made it."
Several of us took that as a warning. We cleaned out Gatorade bottles, filled them with gas and strapped them to the backs of our motorcycles.
In the morning, we headed north out of town. We passed Arches National Park and Dead Horse Point. Inside Canyonlands National Park, we assembled along a canyon rim that gave us a view of the territory below. A vast, open and rugged land, filled with rock mesas, stone spires, and the Colorado and Green rivers winding through it all. The road down to the bottom was zig-zagged and as tight as a zipper. If you strayed off the edge near the top "you could eat a sandwich before you hit the ground."
Charlie Wilcox and Dylan Riddle took the point. We hugged the canyon wall as tightly as we could. Each new turn seemed to start before the last one finished. We re-assembled at the bottom of the road. It did not look like there was much sand in this desert. Long slabs of rock and dirt lay before us.
The 10 of us spread out. The lead riders were small dots in the distance bending around the next Stone Age outcropping. We passed mountain bikers on a multi-day excursion, cyclists and their support vehicles. They were huffing up an incline that looked like it rose for miles. I was thankful for my throttle as I passed the folks pedaling up that rise.
Sand piled up in washes and gullies where water must have passed when it did rain. The sand grabbed our lead tires, twisting the bikes around as we pushed through it.
Tony Ray and I rode at the back of the group. Sometime after lunch we came upon Mac. He was leaning on his parked motorcycle, the first to go through all his fuel.
"Out of gas?" I questioned. "What happened to your Gatorade bottle?"
Mac shrugged. "I poured it in the tank at lunch," he explained as I poured one of my reserve bottles into his gas tank.
"You might want to take it easy," I instructed, holding up a Gatorade bottle full of gas. "I only have one of these left".
The younger man strapped on his helmet and nodded. His bike fired on the first try. Off he went. He was up on the pegs and gassing the throttle like the tank was full.   
We rolled past boulders as big as buses and rock walls several stories tall. The rough terrain was beginning to wear on us and our bikes.
At a fork in the trail, Rick Riddle waited on Tony and me, alerting us to the correct path. I stopped to speak with Rick and he asked me if I had switched to my reserve gas tank.
"Not yet," I replied.
"I switched on mine about a quarter-mile back," he informed me.
I gave a concerned nod and he sped ahead. I eased onto the trail and the bike sputtered. I switched to my reserve tank as well.
Within a few miles, our group was stopped at a turn in the trail. It appeared that we were about to start a steep climb up a notch in the canyon wall. Most of the men had dismounted and removed their helmets.
Rick pulled off his helmet and asked, "How many of you are on reserve?"
Heads hung down and hands went up — one hand for everyone. Bill looked toward Chris.
"I thought you had made this trail on a tank of gas?" he asked.    
"We came in on a different road last year," answered Clayton before Chris could speak. "I'll bet the road in was about 35 miles shorter than the one we came in on this morning."
We all turned to look at Clayton. He stood beside his bike smiling. His hand was lightly patting a pair of one-gallon gasoline canisters strapped to the back fender.
Our gas reserve for eight motorcycles was two one-gallon jugs and a Gatorade bottle. Riding behind the group, Clayton and I would come upon a rider, out of gas and leaning on the canyon wall. Dispensing just enough gas to keep them going, we went through most of the reserve before we got out of the canyon.
We crested the rim and continued down a long, dusty, dirt road. Within a few miles, the dirt road merged onto an asphalt road. Beautiful, black, smooth, asphalt. Charlie and Dylan were ahead and below us, coasting down the road in the bicycle lane. Their engines were off. They laughed and bounced on the coasting bikes, pushing for momentum, squeezing out all the yardage that gravity would yield.
Beyond the next bend we found Chris,  kickstand down and helmet off. He stood on the side of the road, with his thumb out. Charlie and Dylan rolled past him. Clayton and I stopped. We decided that the remaining gas may be needed to get Clayton to a gas station. I would wait with Chris until he could return.
We watched as Clayton disappeared down the hill before us. The sun was dropping towards the horizon behind us. The wind picked up and quiet filled the desert. Chris turned away from the empty road. Leaning against his parked bike he folded his arms and looked away.
"I'm getting a bigger gas tank," he grumbled as a dust devil swirled across the open plain.