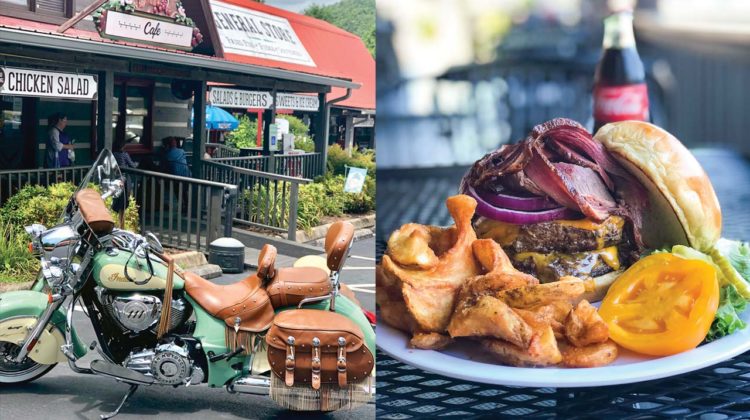 A land of cascading waterfalls and rolling mountain vistas, Townsend, Tennessee, is a tranquil little gem at the gateway of the Great Smoky Mountains National Park. Motorcyclists often flock to the area to experience the far-reaching views along the meandering Foothills Parkway or to see historic buildings and wildlife along the 11-mile loop in Cades Cove. Other motorcyclists pass through Townsend on their way to the bustling towns of Gatlinburg or Pigeon Forge. Riding works up an appetite, and no matter the final destination, Townsend offers a delectable stop: Apple Valley Café.
Located off U.S. 321 and situated in the Apple Valley Mountain Village, Apple Café is tough to miss with its signature log building and bright red roof. In addition to the café, the village includes The Mountain Store, The General Store and The Dancing Bean.
These are just a few reasons why it's a mouth-watering stop to add to two-wheeled trips in the Smokies.
Start your ride off right
With a full day of riding ahead, a solid breakfast and caffeine fix proves a necessity. Dig into a customer favorite at Apple Valley Café — a fluffy, finger-licking stack of pancakes piled high with toppings from the Pancake Toppings Bar. Those looking for a protein boost will enjoy their thick-cut applewood smoked bacon and scrambled eggs sustenance.
Next door, The Dancing Bean Coffee House offers locally-roasted beans and freshly brewed coffee. Their unique, signature flavors like Buttered Brown Sugar, Truffled Cream or Black Walnut Mocha give coffee a delicious twist.
Savor substantial burgers
Diners can choose from decadent burgers like The Godfather with a half-pound of premium Black Angus Beef, Dad's Double Stack with two third-of-a-pound patties covered in cheese. Not only does Apple Valley Café make a killer burger, but you can build your own masterpiece by adding on burger upgrades like Applewood smoked bacon, creamy pimento cheese, a farm fried egg or even their mac and cheese or brisket. That's not all.
At their toppings bar, choose from over 40-plus burger toppings — but don't forget the jam. The Café offers delicious bacon jam spread and feta cheese spread. These jams are so popular that visitors can take home a full jar of these spreads at the General Store.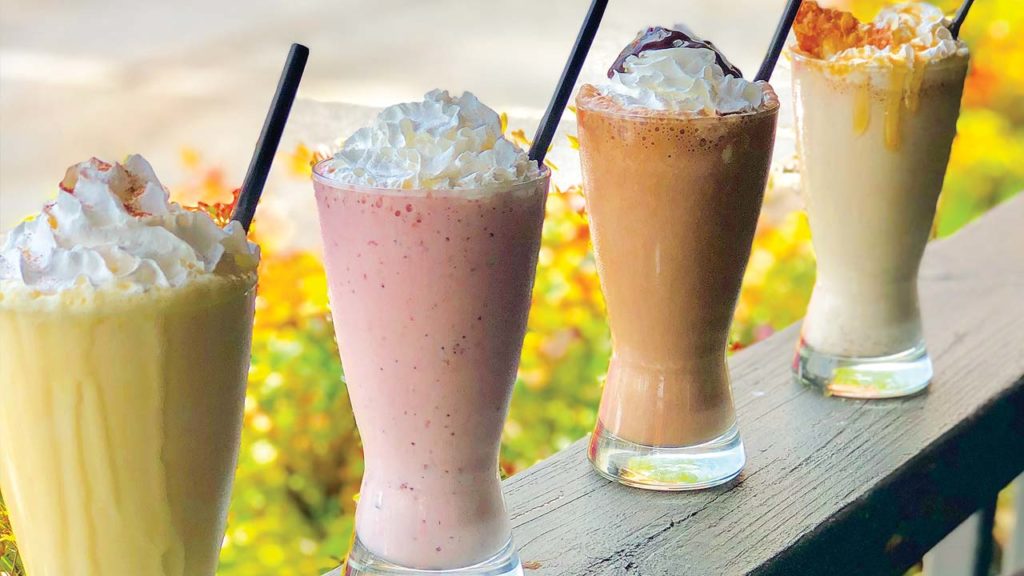 Satisfy your sweet tooth
Imagine digging your teeth into a warm, buttery, crispy pastry with tart apples and gooey cinnamon filling. Apple Valley Café is best known for just that — their real fried apple pies. In fact, they sell 50,000 of these decadent treats every year. Those looking for cool treat will enjoy the fried apple pie milkshake made with the world-famous fried apple pies but handspun with cinnamon and vanilla ice cream and topped off with whipped cream and caramel sauce.
Or enjoy the lighter side
While Apple Valley Café certainly offers tasty burgers, Southern comfort food and desserts, the café also has lighter fare on the menu like healthy salads or their homemade chicken salad sandwich. Seasoned with a secret blend of spices and mixed with red and white grapes and granny smith apples, every bite is savory.
Say cheers after a ride
A newer addition to Apple Valley Café, the Beer Garden offers cold local brews like Calfkiller draft beer — or non-beer drinkers can enjoy a refreshing, vintage Coke. The patio seating is perfect for kicking back and relaxing after a long ride while enjoying the Smoky Mountain scenery.  
Plan your trip
If you're headed to the Smoky Mountains of Tennessee and have the hankering for a quaint, small town and down-home cuisine, Apple Valley Café makes for a prime pit stop. The Café is open Monday through Thursday from 9 a.m. to 4 p.m. and Friday through Sunday from 9 a.m. to 5 p.m. throughout the year at 7138 East Lamar Alexander Parkway in Townsend. One thing is guaranteed: Between the milkshakes, burgers and fried apple pies, motorcyclists won't finish their ride hungry.