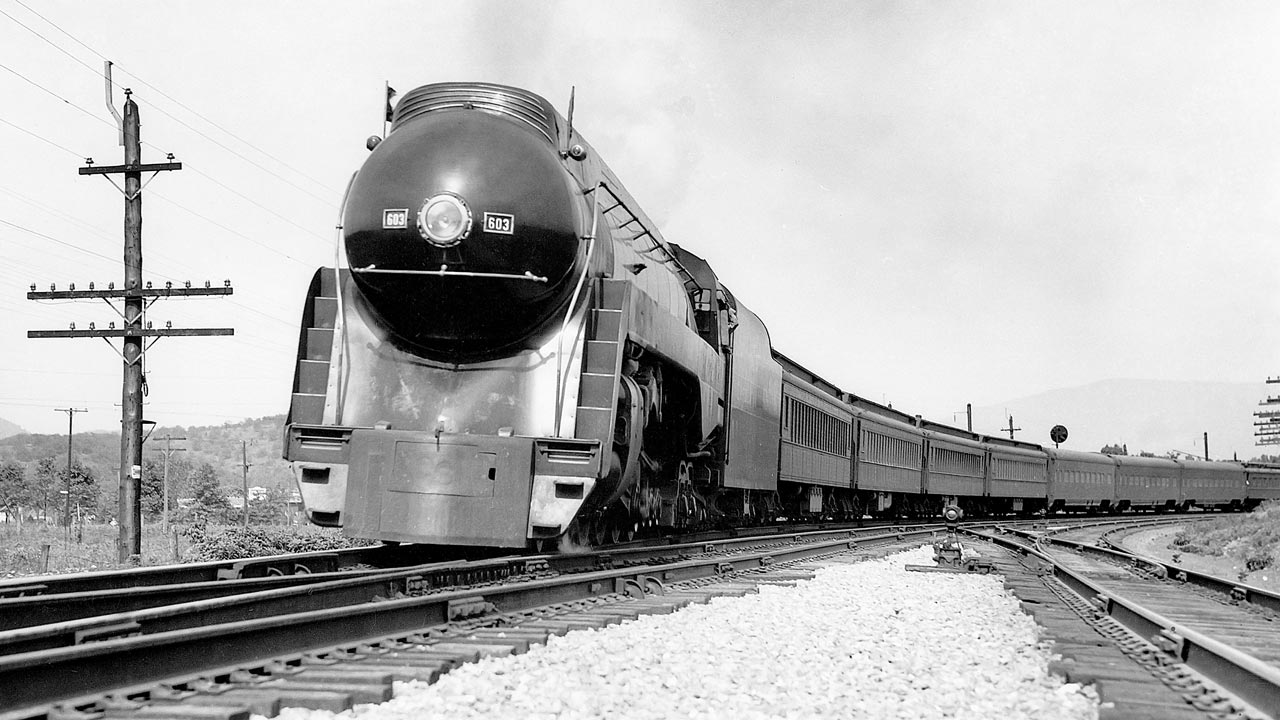 It's a fair question to ask why a rider like me from the epicenter of the magnificent roads and sublime scenery of the Blue Ridge Mountains would be tooling along on my 2007 Honda ST1300 on one of Virginia's flattest, straightest roads, U.S. 460 between Suffolk and Petersburg. It was a spiritual quest of sorts, following as closely as possible the original main line of the Norfolk & Western Railway, where their flagship passenger train, the Powhatan Arrow, rode the rails from 1946 until the mid-1960s linking Norfolk with Cincinnati, Ohio.
The rail was not 100 yards to my left, and when a five-locomotive train approached, its din penetrated through my custom earplugs. These black diesels, painted in N&W's successor company Norfolk Southern's distinctive black with white whiskers, thundered past pulling a long line of black hoppers on their way to the world's largest coal transfer facility in Norfolk, the city I'd just left, transferring Appalachia's Black Gold to power-plants and steelmaking facilities around the world.
I pulled into Petersburg where I nervously bounced the ST1300 over the old town's granite brick streets past dozens of Civil War era buildings. At the outset of the war, Petersburg was Virginia's second-largest city and the seventh-largest in the Confederacy, larger than Atlanta. A century-and-a-half later, its fortunes had waned and Petersburg was now effectively bankrupt.
That evening, I toured the battlefield east of the city, where on July 30, 1864, Union solders fired off 320 kegs of gunpowder in a tunnel they'd dug, killing instantly 278 Confederates. The Battle of the Crater, astonishingly, was won by the counterattacking Confederates who held their trench lines for eight more months before retreating to their final surrender at Appomattox. The crater is still plainly visible.
U.S. 460, my companion through the state of Virginia, was perfectly suited to the ST1300's long, relaxed lope, giving me time to view the tobacco and peanut fields. I stopped near Farmville to walk across the High Bridge, a massive steel-frame bridge over which the Powhatan Arrow once ran, now converted into a pedestrian trail. At 2,400 feet long and 160 feet high, when completed in 1854, was considered the largest bridge in the world.
Further on, I parked the big Honda in the spacious lot at Appomattox Court House National Historical Park, where I met Superintendent Ernie Price. I asked him if it was haunted.
"Every year it strikes me, it never fails," he said. "We are open December 24 but we are not open on December 25. It is one of the few times when I leave this village that none of us are coming back the next day. When I'm walking down that hill, I have always had this feeling that — however you think about it or feel about it or articulate it — for the next 36 to 48 hours, 'Y'all can just have it back. We will just leave you alone for a day.'"
Beyond Lynchburg, the stunning twin Peaks of Otter emerged on the western skyline, offering the promise of curvier, more exciting roads to come.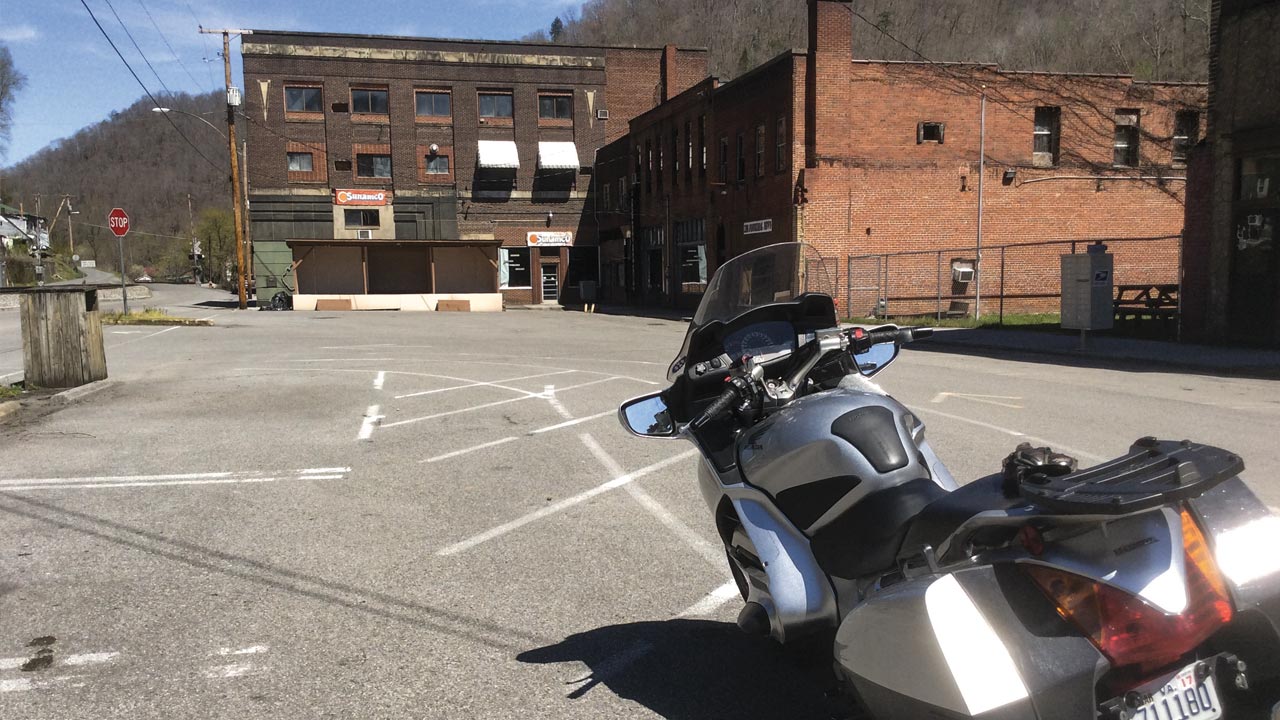 In its early days, the Powhatan Arrow was powered by the magnificent Class J steam locomotives, built expressly for passenger service at N&W's own shops in Roanoke. The Js were arguably the most powerful and stunningly attractive locomotives ever built. When N&W dieselized its fleet, all 14 were scrapped except a single specimen, the 611, now owned by the Virginia Museum of Transportation in Roanoke. Housed in a former freight terminal, the VMT has a great selection of automobiles and railroad locomotives and cars, but disappointingly only one motorcycle, a 20-year-old Honda Gold Wing.
Restored for excursion service in 2015, the 611's return to the rails was celebrated by rail fans throughout the world and brought an infusion of funds to the museum. Until then, the museum had barely scraped by monetarily.
"This is the most exciting time in the history of the museum. Last year for the first time in 53 years, we made real cash, and it's all because of that locomotive," said Executive Director Bev Fitzpatrick.
I motored up Christiansburg Mountain towards the Eastern Continental Divide, separating the watersheds of the Atlantic from the Gulf of Mexico-bound rivers. In my hometown of Christiansburg, restaurateur Marie March joined me for lunch at her Fatback Soul Shack, where she asked her waitress to bring a smorgasbord of Southern delicacies including fried green tomatoes, pigs' feet, pinto beans, collard greens, and frog legs. I wondered what a frog farm looked like? How frogs were harvested? I didn't ask.
I crossed the New River and entered West Virginia, where the scenery and economy changed dramatically. This is Appalachian coal country, now one of the nation's poorest places.
Bluefield was the nerve center of the southern coalfields, but its population had halved since the zenith around 1955. I parked the ST in front of Mayor Tommy Cole's Railyard, a new bar and restaurant he'd opened in the shadow of a downtown of derelict eight- and ten-story buildings.
"We had a classic old downtown hotel that a few years ago simply collapsed," he said. "The street was blocked for weeks while the debris was cleared. It is difficult to do anything with an eight-story building that has few or no tenants, especially if it's 100 years old and has been vacant for 30. It's not a popular thought, but we'll need to tear a lot of them down if they don't have an opportunity for a future life, even some of the historically significant ones."
I left U.S. 460 for good for the two-lane, wildly curvy U.S. 52, northwesterly through deep canyons the locals call "hollers" where frequent floods devastate already depressed towns.
I entered McDowell, West Virginia's southernmost and poorest county. Pronounced "MAC-dal" by the locals, McDowell was the epicenter of Appalachian coal mining. Wealthy and bustling in the first half of the 20th century, its fortunes collapsed and it had been in a precipitous, likely terminal decline for three generations. I passed hundreds of abandoned homes, churches, schools and coal tipples, all inexorably being reclaimed by nature.
Outside the county seat of Welch, I deviated from U.S. 52 for 15 miles on state route 7 to parallel the tracks through the Tug Fork River's diciest canyon. Route 7 was the curviest road I'd ever ridden. How curvy was it? The big ST and I came behind a large coal-hauling rig. He was empty, blitzing along at a good clip, given the size of his vehicle, and most of the time was taking at least part of the oncoming lane. On the tighter curves, he was leaving his trailer's back tires off the pavement and on the gravel shoulders — on the left side of the road — again and again.
In spite of his purposeful pace, he was no match for me on my Honda. Although I'm sure he saw me in his mirrors and knew I was behind him, he seemed entirely disinclined to pull over or slow down to let me pass. When he slowed on a straightaway to await an oncoming truck, I saw my chance to overtake and never saw him again.
Until this point, U.S. 52 had been an old, curvy two-lane highway lined with habitations and small businesses, snaking through the hollows and making for exhilarating riding, demanding my constant vigilance.
Beyond Gilbert, I detoured onto a 12-mile stretch of new highway, the Red Jacket section of the King Coal Highway, mostly 1,500 feet above on remnants of old mountaintop removal mines. From this windswept, open vantage point, I could see that the entire area was not of mountains at all, but of a deeply corrugated plateau, a vast sea of greenery. Taking advantage of a rare expanse of flood-resistant ground, Mingo County had built a modern high school alongside the King Coal.
There were no residences within five miles. I tested the ST's cornering abilities, descending on a new, splendidly curvy road with dramatic cliffs overhead into downtown Williamson, another former powerhouse coal and railroad city, and checked into the impressive five-story Historic Mountaineer Hotel. Across the street I parked my Honda beside a dust-encrusted DeLorean in a ground-floor, decrepit parking garage, where menacing chunks of material hung loosely from the ceiling.
I carried the ST's ample, detachable saddlebags through the Mountaineer's chandeliered lobby, where framed, grainy black-and-white aerial photos of the entire city flooded by the Tug in April 1977 adorned the walls. During that disaster, guests at the hotel were trapped for days above the raging waters that annihilated the downtown. Years later, a massive flood wall with movable gates was built to protect the city from the tempestuous Tug.
The Mountaineer's rooms were all named for famous prior guests, including John F. Kennedy, Henry Ford, and Soupy Sales. My room was beautifully, tastefully appointed, and reasonably priced.
The next day, I set out northwestward again under heavy skies, clouds clinging to the ridgelines like cotton candy on a rumpled green shag carpet. Soon, the topography became mellower and less forbidding. The highway gradually became straighter with wider shoulders, less traffic and greater sight distances. I increased my speed, with the ageless, muscular ST1300 purring along smoothly, confidently, and quietly as always. My euphoria over this was tempered by a cool, steady rain. Within an hour, even with the ST's nifty electric windshield raised, I was drenched.
I reached the mighty Ohio River and crossed over a green metal bridge under a sign that said, "Welcome to Ohio, so much to discover," where the skies mercifully cleared.
I made brief stops in Ironton and Portsmouth, two Rust Belt cities that had seen better economic days. In Portsmouth, I poured 6 gallons of regular into the ST's voluminous 7.7-gallon tank. The bike invariably gives me 45 mpg regardless of how intensely I ride it.
Along Ohio Route 32 toward Cincinnati, the ST's effortless nature gobbled the remaining miles to my destination, the historic Union Terminal, 676 rail miles from Norfolk. One of America's greatest examples of art deco architecture, this magnificent edifice's front façade featured a semi-circular roofline reminiscent of Yosemite's Half Dome. I finagled a tour of the once-bustling control tower, where looking over the vast railyard, I fantasized a vision of the great 611 locomotive arriving, belching steam and smoke, pulling one of the last runs of the Powhatan Arrow. 
This article adapted from "Chasing the Powhatan Arrow" (Pocahontas Press) available at the author's website www.mabrahamauthor.com