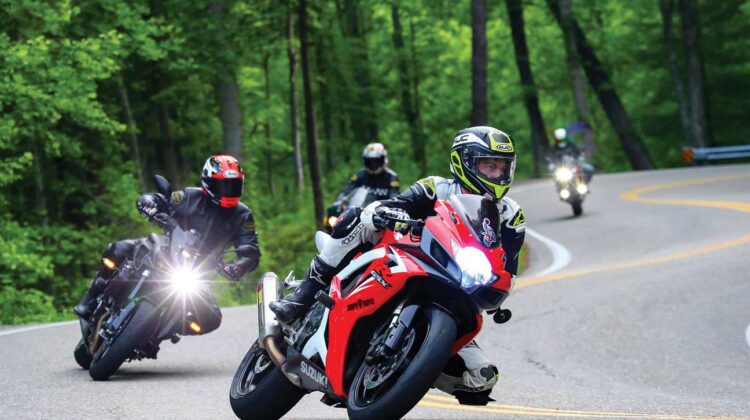 Nothing beats a Sunday morning sipping on strong coffee while watching the best racers in the world battle it out during MotoGP. But at Deals Gap Motorcycle Resort, nestled in the Smoky Mountains along the 11-mile stretch of road known as The Dragon, a different GP comes blitzing down the twisting roads on Sundays: The Deals Gap Breakfast Club GP.
For a decade, this dedicated group of local riders has met in Knoxville, Tennessee, bright and early on Sunday mornings to take advantage of the light traffic on the way to their destination. Upon arrival at Deals Gap Motorcycle Resort they enjoy a hearty breakfast while watching the MotoGP races and cheering for their favorite racers.
Watching them turn into the vast parking lot and park their bikes in their usual spot (in front of the bench across from the grill) serves as a sight unto itself. The Breakfast Club rides a wide array of different motorcycles from sportbikes to touring bikes to supermotos and more, and the group members prove as diverse as the bikes they ride: both men and women, spanning across multiple generations with varying experience levels. They all share a passion for two wheels and the thrill of watching motorcycle racing.
On any MotoGP Sunday, the resort's grill is alive with excitement as the group grabs their go-to breakfast choices like delectable French toast sprinkled with cinnamon, biscuits in a rich gravy or a steaming plate of eggs with crispy bacon. Even outside the grill their shouts and clapping can be heard as the race ensues.
Although the group was dubbed the "Breakfast Club" by a founding member and local Dragon photographer, Craig Cain, nearly from the start, the "GP" part of the name came later when David Allison, owner of 129 Photos, would witness the group passing through The Dragon.
"I would see them coming in hot," Allison said. "I joked that it's like a GP on the way to a GP so that GP part stuck. I made a special photo gallery for them. I've been seeing them come up for years."
Soon, the group not only had their own photo gallery of Dragon images but a Facebook page, logo and T-shirts. Although these serve as more recent developments, the group actually dates back to the early days of motorcycling along The Dragon — long before the speed limit changed, before there was no passing and well before police patrolled the area. The stories they tell could make for an entertaining novel.
Breakfast Club member Warner Brannon of Knoxville has been riding The Dragon since the early 1980s. Friends and riding buddies with many of the Breakfast Club members for decades, he recalls what it was like 40 years ago.
"Back in the day, the speed limit was 55 miles-per-hour," said Brannon. "That's one of the biggest changes. They came in and made it 30 miles-per-hour and all double yellow lines in the early '90s. The road surface has also changed. It was tougher and patchier back then."
Brannon also remembers Deals Gap Motorcycle Resort has changed significantly over the decades, too. Before its current name, it was the Crossroads of Time where the gas pumps didn't always work and the grill and store, as they're now known, didn't yet exist.
"It used to be a little sleepy place and desolate back then," Brannon said. "Robbinsville, the nearest town, didn't have much of anything. When the new owners added the grill, it changed the place in a good way. It provided a place for people to relax, eat and enjoy the day. Over the years we've had a good old time."
Another breakfast Club member and one of Brannon's long-time riding buddies, David Beal, from Powell, Tennessee, adds to Brannons reflections on what it was like back in the day. After all, Beal has ridden The Dragon since he was 18 years old—in 1977.
"I had a Kawasaki Avenger, it was my first bike," Beal said. "A lot has changed since then. There are more car clubs, and they can be aggressive. But the level of riders has also gotten better. People are faster out there, overall."
And if anyone knows good riding from bad it's Brannon and Beal. A rider since he was seven years old when he had a mini bike, Beal possesses significant riding experience, especially after decades on The Dragon. Brannon comes from a racing background having raced motocross since the '70s. It's veteran riders like Brannon and Beal who are ushering in the newer generation of riders at The Dragon.
Michael Ault, in his late 20s and from Maryville, Tennessee, has been coming up to The Dragon in a Nissan 350Z for nine years and on a bike—a Suzuki GSXR—for four years. For a year now he's joined the Breakfast Club on Sunday mornings after being introduced to the group by Beal.
"I've learned a lot from these guys," Ault said. "I'm a more confident rider and I've learned better lines."
Ault also notes that the Breakfast Club has served him well as a networking opportunity. He met other younger Breakfast Club members Chandler Klinck and Prince Malmberg and did his first track day at Barber Motorsports Park with them. He also met Jud Merrell, general manager of Deals Gap Motorcycle Resort through the Breakfast Club mornings and began racing in the pit bike race series that Merrell directs, Fiddies 4 Life.
Not only have younger generations began participating in the Breakfast Club, but women too. Brannon's girlfriend, Racquel Saporito, has been attending for a year. A registered nurse, Saporito has been riding for three years and has a Kawasaki Ninja 400. For her it's the people she enjoys the most.
"I enjoy everybody, and I like watching the guys go fast since it gives me inspiration," said Saporito. "They're not young—most of them—so as a 61-year-old it makes me feel like I can do it, too."
That's not Saporito's only goal. An avid motorcycle racing fan, she hopes to attend MotoGP races at each track, across the globe, in person. She already has one checked off her list—she attended a MotoGP race in Spain.
Since the Breakfast Club members, like Saporito, are serious fans of MotoGP racing, it sometimes becomes a cacophony as members cheer, clap and sometimes boo as they support their favorite racers.
Saporito said she cheers for the Italians, Valentino Rossi and Andrea Dovizioso. Brannon and Ault are also Rossi fans, but Beal supports Marc Marquez.
Although the group has grown in size from a few close friends to about a dozen regulars and nearly 50 people in the Facebook group, it's still a tight-knit bunch who all look out for one another.
In speaking with all members of the group, they fondly remember Jerry Riggens, known as "Scary Jerry" among his friends. One of the founding Breakfast Club members, like Brannon and Beal, Riggens was a Dragon rider and friend of theirs dating back decades to the early days. Allison, the photographer, remembers seeing him often ride through on Sundays.
"Scary Jerry was a big part of the Breakfast Club," Allison said. "He got his name because, according to Jerry himself, he scared other people and himself on his bike. He was a good man and would help anyone out. We miss him."
Riggens succumbed to injuries from a accident that happened in September 2019. But the Breakfast Club hasn't forgotten the person who helped start it all. A plaque is in the works to place on his favorite bench at Deals Gap Motorcycle Resort where the members park their bikes and enjoy the remainder of their coffee following the races.
Whether serving as mentors or inspiration for other riders, sharing riveting stories from back in the day or memorializing their long-time friends, one thing is clear about the Deals Gap Breakfast Club GP: They're a special group of people. And perhaps someday the new generation of Breakfast Club members will look back on the 2020s with stories from The Dragon to tell.
Like Brannon said, "It's a good old time."