Spring through fall, motorcyclists from across the globe make the migration to a top motorcycling mecca: The Dragon. Nestled in the scenic Smoky Mountains and stretching across the North Carolina and Tennessee border, The Dragon boasts 318 exhilarating, twisting curves in 11 miles. These are no ordinary curves. The road serves up a challenging mix of decreasing radius corners, off-camber curves, changing elevation, sharp turns and cork screws — many of them blind. Even the names of the curves pay homage to the technicality with labels such as Beginner's End, Catch All, Gravity Cavity, The Switchbacks and Crud Corner (named for its frequent debris).
The technical nature of the road is manifested at Deals Gap Motorcycle Resort, located along The Dragon, where the infamous Tree of Shame resides. It's a sight to see. The tree is littered with bike and gear parts from riders "bitten by The Dragon." There are broken bits of fairings, cracked mirrors, scraped up boots and bent levers, just to name a few. Sadly, there are RIP messages written on broken parts as well.
While the danger of the road serves as part of the thrill and attraction, riding The Dragon doesn't have to be perilous. Whether riding it for the first time, or a return visitor, riders can relish the beauty of the rich forests, breathtaking panoramic mountain views and the stimulating curves while maintaining a safe and enjoyable ride with helpful tips from the locals who live there day in and day out.
Prepare your motorcycle
A Dragon veteran since 1983, Warner Brannon, out of Knoxville, is a member of the Deals Gap Breakfast Club, a group of locals who share a passion for the road and meet up every Sunday to ride The Dragon and eat breakfast at Deals Gap Motorcycle Resort while viewing the MotoGP races. Brannon believes many unfortunate situations can be avoided on rides with proper preparation.
"You want to make sure your motorcycle is up for The Dragon," Brannon said. "Make sure you have adequate fuel, oil and coolant. Your chain needs to be properly adjusted and you also need to check your air pressure in your tires. Make sure you don't have any fluid leaks."
Brannon's advice is important in preventing a mechanical issue that could potentially cause a crash or being relegated to the side of the road, but his words are also meant for the safety of other riders.
"A problem with your bike, like a leak, not only impacts you but endangers other riders," Brannon said.
All the gear, all the time
A rider can do everything right, but accidents happen. At The Dragon, many variables exist. A wild animal can run across the road, there could be debris or a pothole or perhaps another rider makes a mistake. When hitting the pavement, proper, protective riding gear drastically improves the chance of remaining injury-free.
Brittany Morrow, known as "The Road Rash Queen," found this out the hard way many years ago when she fell off the back of a motorcycle and was nearly skinned alive. She now runs an organization called Rock the Gear that promotes wearing protective gear on motorcycles and serves as a spokesperson. She is also the director of Women's Sportbike Rally which takes place each year along The Dragon and surrounding roads. When riding The Dragon, Morrow urges riders to wear a DOT approved helmet, protective jacket and riding pants, gloves and boots.
"Fun on a motorcycle comes with a certain amount of risk, and we as riders choose to take those risks," Morrow said. "Protecting our own bodies with the right gear goes beyond lowering the risk for ourselves, it helps protect our loved ones who are waiting patiently for us to come home in one piece after all that fun."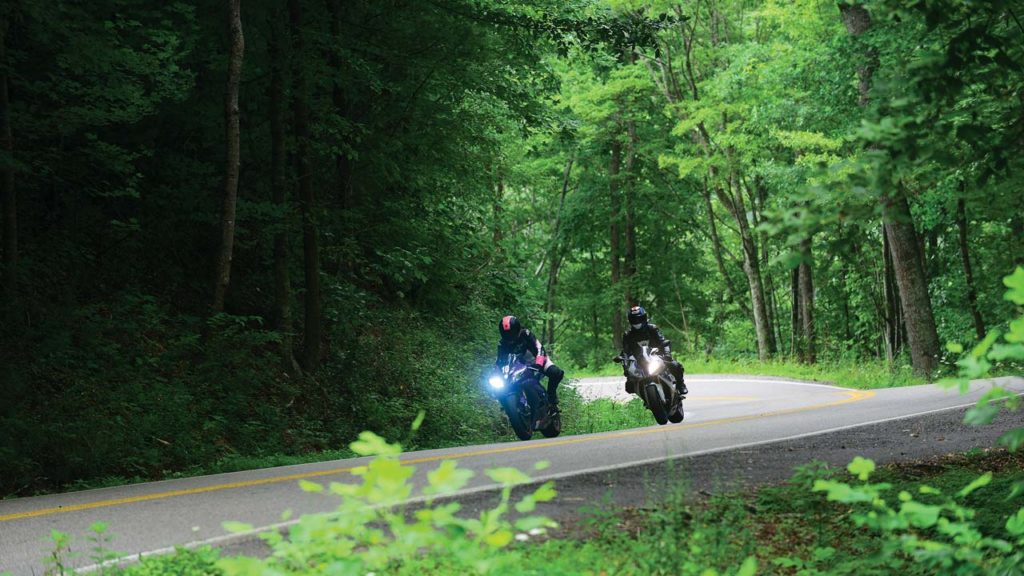 Ride within your own limits
When riding The Dragon, it's easy for motorcyclists to be tempted to keep up with friends or faster riders and find themselves riding at a faster pace than their ability level can handle. A mantra many motorcyclists follow is "ride your own ride" — meaning, ride at a pace that is safe and comfortable and allows you to control your motorcycle. This mantra is critical when riding The Dragon since blowing a corner can place you or someone else at risk.
At intervals along The Dragon sit photographers, and it's these individuals who most often see the negative result of riders pushing past their level of skill and experience. Over the years, these photographers have captured crashes, and many of them are the result of riders crossing the double yellow lines into the opposite lane and causing a head-on crash.
Dave Norman, owner of 129Slayer.com, spends many hours photographing riders on The Dragon, and his number one recommendation is for riders not to exceed their skill level.
"Riders shouldn't ride above their means and need to stay in their own lane," Norman said. "The Dragon has many paved pull-offs that riders can use to pull over and let faster traffic by — I encourage people to use the pull-offs."
Stay focused
With Deals Gap Motorcycle situated at the beginning of The Dragon on the North Carolina side, over a quarter million motorcyclists come through the establishment each year to stop for gas, souvenirs, a hot meal, cold beer or lodging. Resort General Manager Jud Merrell welcomes these riders passing through, but sometimes has the difficult job of reporting accidents to emergency services. Merrell believes that motorcyclists visiting The Dragon often underestimate the level of competence and focus required.
"The Dragon and surrounding area has some of the best riding roads in the United States that are beautiful and fun but also unforgiving," Merrell said. "This is a major reason riders and drivers need to maintain control of their bikes and cars and be focused. It's highly recommended that riders have adequate riding experience and avoid any physical and mental distractions that could alter their focus."
Plan ahead
One of the reasons the mountains, lakes, rivers and forests surrounding The Dragon are so stunning is that they are pristine. The Dragon is surrounded by the Great Smoky Mountains National Park, and the nearest towns are either 18 miles away in Robbinsville, North Carolina, or on the opposite end of The Dragon, 35 miles away in Maryville, Tennessee. No cell service exists, gas stations are few and far between and many of the convenience stores and restaurants have limited hours. Running out of gas or food in The Dragon area isn't ideal. Merrell recommends planning ahead to prevent being left in a bind.
"Know where your fuel stops are and the hours of operation for your destination," Merrell said. "For example, Deals Gap Motorcycle Resort is open March through November and hours vary. We have special check-in procedures for after-hours arrivals. These things are helpful for riders to know in advance before making the trip."
Motorcycling, not just on The Dragon but on any road, has an inherent danger. However, following practices like preparing for the ride, wearing protective gear, staying focused, riding within your limit and planning make the likelihood of having a safe ride much higher. The Dragon isn't a road a fear — it's very much a road that's exciting, fun and makes for a memorable experience. But, to achieve that enjoyable experience, it's helpful to keep safety precautions top-of-mind.