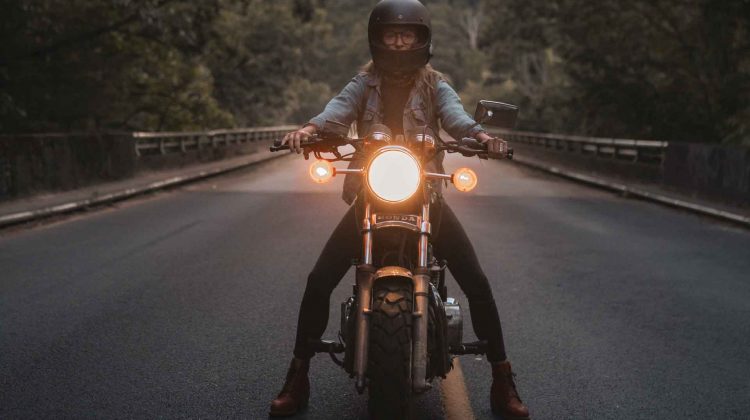 Embellished in silver-tinted leather gloves, Hayley Nelson wraps her fingers in a twisting arch over the throttle of her 1980 Honda CM 400T. She sits poised, adorned in all black garb with secrets of brown and red whispered from top to bottom. A veined lineage of motorcycle travelers fills Nelson's blood with familial ties to motorcycling. 
Originally from Hendersonville, North Carolina, Nelson resides just a few miles south of Asheville and the curved blue hue of the Blue Ridge Mountains. 
Nelson's two-wheeled vintage journey began in South Dakota. As a youthful visionary, Nelson idolized her grandmother's Honda Shadow 1200 and proximity to Sturgis. 
"It needs new tires and needs to be cleaned up, it's definitely an 'old lady bike' with big bearings and saddle bags. It has the Sturgis tag and everything. It's pretty cute. She's just always had motorcycles ever since I can remember, so I guess that's another factor. I'm like, if grandma can do it, I can do it," Nelson said. 
The Honda Shadow 1200 was passed down to Nelson after her grandmother was shaken by a crash a few years back. The old bike now sits poised in her dad's garage in Hendersonville, removed from South Dakota in efforts to revamp and upkeep it.
Nelson, sporting tattoos and a strong persona, has a family ancestry filled with motorcyclists. Nelson's dad rides a Harley Davidson Deuce.
"On my mom's side, her dad had one, but he died before I was born. Growing up, my mom was always a Harley girl, but didn't have a bike," Nelson said.
Nelson, a graduate of Western Carolina University, works in wealth management at Merrill Lynch. In the spring of 2019, fate offered her an opportunity. 
"My friend Lauren that I met at school got a kick-ass job out in Oregon, and she had an old vintage Honda. We had talked about it before, I was like if you ever get rid of that let me know, and she hit me up one day and said, hey I'm going to Oregon do you want my bike for two grand, and I was like, sold, when can I pick it up?" 
She brought the vintage 1980 Honda CM 400T home, and it remains reliable. Shod with knobby tires and fitted with three circular headlights, Nelson's bike turns heads, as does Nelson in an old white leather jacket, high-waisted black Levi's and tan, aged leather Frye boots.
"I love it," she said.  "I've definitely pulled up and parked a couple times at Farewell Asheville or Green Man and people will walk over and be like, 'Oh my gosh, it's so cool that you're a girl and you ride,' and I'm like, yes! People fucking love to see women riding a motorcycle," Nelson said. 
The warmer air of summer soon finds Nelson ready to venture out on her favorite roads. Her friend, Armanda Lee, often maps the way. Their favorite route runs up N.C. 151 from Candler to the Blue Ridge Parkway. 
"It just pops right up to the parkway and then you shoot down a couple miles and you're back at Town Mountain, which is my favorite because it is close and curvy," Nelson emphasized.
Lee rides a red 1982 Honda Ascot. 
"Riding with anyone, especially your best friend, makes the experience even more enjoyable. Having the support or giggles in our helmet headsets are the best part. In the beginning I was left in the dust, but now we can traverse winding roads together safely," Lee said.
The two vintage Honda girls are usually accompanied by a few others.
"It's usually us and a few guys on Harleys, but it's cool, it's fun," Nelson said.
Nelson's partner, Mitchell Keen, also rides. He owns a Harley Sportster 883, a model which Nelson insinuated she wants to own someday.
"Being on my Harley Davidson, following two badass women as they turn heads, makes me proud to know and be a part of our young motorcycle culture," Keen emphasized.
The Geneva Riverside Tiki Bar stands next to Lake Lure, a 45-minute journey outside of Asheville. The track to get there winds up the mountains through Fairview and down the Hickory Nut Gorge. 
"You can hang out by the pool or walk down by the river, have some drinks," Nelson said of the favorite watering hole in the area for motorcyclists during the summer months. "There are often like 200 bikes there."
Nelson and Lee found that the fellow bikers were electrified to see them.
"People were just stoked to see that we were riding. Turns out even Harley people love the vintage Hondas that we have, I guess because most of the people are older, so they remember when they came out. They are just classic bikes!"
The sense of community among fellow riders impresses Nelson the most.
"I've met so many people that I would literally never cross paths with unless I had a bike. I learned a lot from them, and it's nice seeing them around town. It's invigorating."
She feels mesmerized by the lasting friendships riding can foster and the folklore of the scene.
"If you look on the bottom of a bike and you ever see a tiny little bell, an actual bell that you can hear jingle, there is something about goblins that have it out for motorcyclists and something about the noise of the bell paralyzes them and captures them in the hollow of the bell so they can't hurt you, so now we all have tiny bells on the bottom of our bikes. It's corny but cute."
As many riders know, the bells hold more prowess if they are gifted to you by somebody else. In Nelson's case, her bell was presented to her as a gift. 
Her old Honda gives her cherished moments with those she loves while traversing the Blue Ridge Mountains. Sometimes it only takes a tank of gas to help clear her mind. She finds solace in the clouds and roads that surround her.
"Going for a ride for mental health, if you're ever feeling in a funk and you don't want to go to a bar and drink or go shopping or go sit by yourself somewhere, just going around on your bike is more fun than riding around in your car. I've found that's helped me through a lot of things," Nelson said.