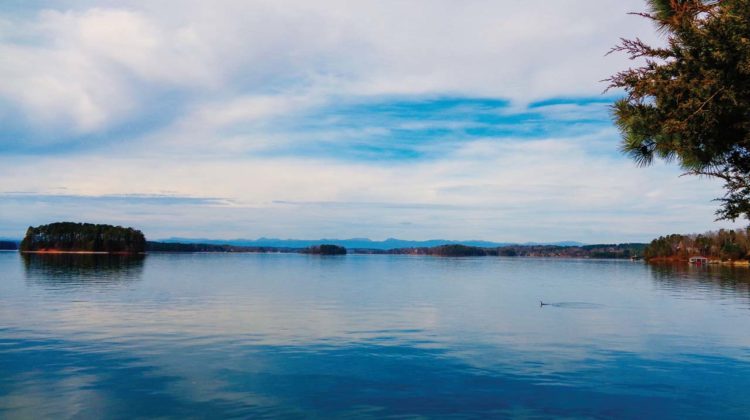 By Michael E. Gouge
The air suddenly warms as you drop off the Blue Ridge Escarpment to the rolling hills and small towns in the northwest corner of the Palmetto State. Spring arrives early here and gives riders a chance to escape the fickle March weather of the mountains. While South Carolina only claims a small portion of the Southern Appalachians, it holds several enticing riding destinations, where man and machine can explore lakes, waterfalls or lonely roads through the blossoming peach orchards. 
From the Eastern Continental Divide, the waters here flow down to a land of lakes and charming small towns popular with vacationers and retirees. It's difficult to choose a route down the mountain since each one has its charm and roadside attractions. Inevitably, you end up on S.C. 11, also known as the Cherokee Foothills Scenic Highway, which parallels the base of Blue Ridge Mountains and runs from Lake Hartwell to Gaffney. Stunning views of Table Rock emerge. Stop signs are rare and roadside parks are plentiful. Quiet side roads branch off and interconnect, begging a two-wheeled explorer to take the road less traveled. Even if you frequently ride this corner of the state, mixing up the criss-crossing roads can make each outing a different experience.
"I really enjoy seeing where the Appalachian Mountains start, or finish depending on your point of view," said Phil Cann, owner of Asheville Motorcycle Rentals after a recent excursion through this area on a new BMW F850GS from his rental fleet.
Dropping down from North Carolina on U.S. 178, a road popular for its tight curves, riders should detour to visit the Hagood Mill Historic Site & Folklife Center, where rare Indian petroglyphs and the largest waterwheel in the state prove irresistible to history buffs.
"Hagood Mill is always a popular place," recommends Kade Herrick, the tourism director with the Clemson Area Chamber of Commerce and a former motorcycle rider himself. "It's a working grist mill. They have a blacksmith shop on site and one of the largest petroglyph sites they've found in South Carolina. They just stumbled upon them a few years ago. When they found them, they built a building on top of the whole area and displays to interpret the site."
The property operated by Pickens County also features music and cultural festivals in its spacious pavilion. A few miles to the north of the mill on 178 takes riders to Sassafras Mountain, the highest point in South Carolina. A new observation platform on the state line dividing the Carolinas offers a 360-degree view of the Blue Ridge Mountains.
Some of the forest service roads in this area also attract adventure riders like Brian Hightower, a manager with Michelin North America, on his 2018 V-Strom 650 XT. One of his favorite riding destinations is Horse Pasture Road running from 178 through the Jocassee Gorges Wilderness Area.
It's a fire road, basically," he said while chatting at Dimiri's Greek and Italian restaurant on S.C. 11 in Gowensville. "To me, it's given me the opportunity to get back my youth. I started out riding on dirt. My favorite road where I rode my Harley ended for me when it transitioned to gravel, so it was interesting to get a dual-sport bike and start exploring farther. It really opened up a lot of new adventures for me. I've been riding on asphalt for decades. It was like renewing my passion for motorcycling."
Whether you prefer asphalt or gravel, all roads seem to lead to the region's three major lakes — Jocassee, Keowee and Hartwell — and the college town of Clemson tucked away at the water's edge. The interconnected series of man-made reservoirs all feature beautiful roadside parks. Some offer campgrounds perfect for those long-distance riders packing a tent in their panniers and looking for a peaceful lakefront spot to spend the night.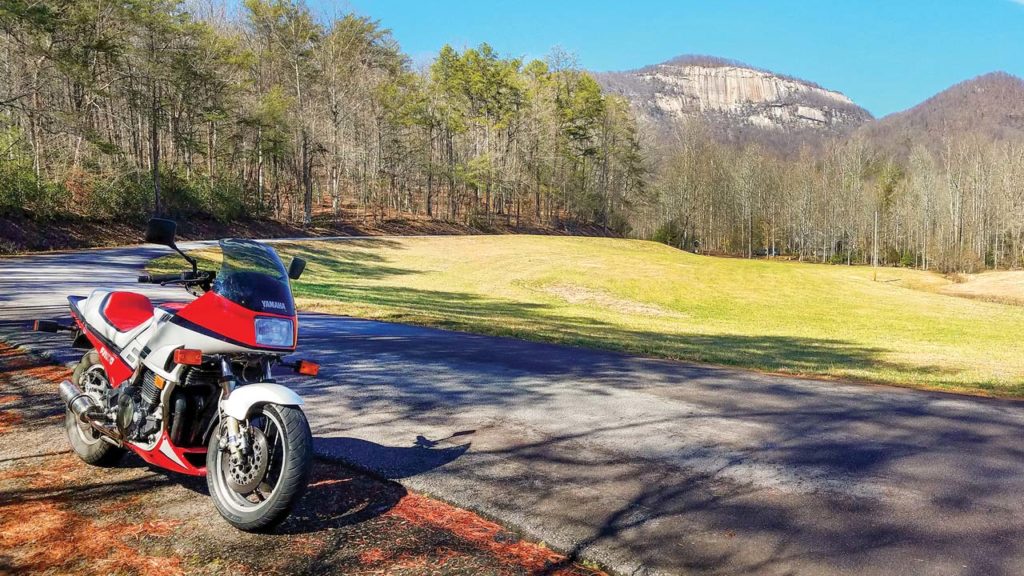 A lake-country journey requires a stop at Devil's Fork State Park, 20 miles west of Pickens at the base of Lake Jocassee. The view of the Blue Ridge rising from the still waters demands a lingering gaze. The blue sky reflected in the clear mountain waters almost hurts your eyes. In the summer, the sandy beach will fill with people and boaters will busy themselves along the dock, but spring finds the park quiet and tranquil.
The opening scenes of the 1972 cult-classic movie "Deliverance" show the construction of Jocassee Dam and the Mount Carmel Baptist Church cemetery, flooded by the lake. The waters here flow south into the two other major Upstate lakes and eventually join the Savannah River to empty into the Atlantic Ocean. Highway 130 west of Jocassee runs down from the North Carolina state line near Bad Fork Lake, part of Duke Energy's hydroelectric facility. There's a nice park with a view of the lakes inside the Duke Energy property. Heading south on 130, the road passes the Oconee Nuclear Station and runs alongside Lake Keowee. It's not unusual to spot a group of sailboats gracefully crossing the horizon.
A side road off 130 to a peninsula of the lake will take riders to a perfect lunch or dinner spot, The Lighthouse Restaurant and Event Center. The waterfront cabana beckons, but a nice dining room in the base of the lighthouse also makes for a relaxing meal stop and the menu will satisfy any palate. They offer everything from chicken wings and potato skins to prime rib and tuna au poivre.
"We try to offer the best of both worlds," said the Lighthouse's Executive Chef Ben Shepherd. "You can come get a hamburger, or you can get a steak with lump crab cake. We have a cabana bar right on the lake. You look out at the lake and you get why this area is so special."
The New Orleans-born chef said the waterfront restaurant is one of the only places on Lake Keowee that isn't part of a private club. They also serve as an event center for weddings, corporate retreats and other events. The staff say it is not unusual to see lakefront marriage proposals on their manicured lawn or summer poker runs making a stop for lunch. The Lighthouse Restaurant even offers boat slips for visiting diners who arrive by watercraft for sunset suppers on the shore of this boating paradise.
"We try to serve good food to a well-rounded clientele," Shepherd said. "We do have a lot of bikers who come here already. We try to cover all bases. There's a real depth of flavor that we try to layer on it. Our crab bisque is definitely a signature. We're almost a totally from-scratch kitchen. We make all our sauces. We cut all our own steaks daily. We prep all our seafood. We have a 91-bottle wine menu. There's a lot of a labor-of-love in this restaurant."
Following the eastern shore of Lake Keowee, S.C. 130 arrives in Seneca, where a left on U.S. 123 brings motorcycle travelers to Clemson. Located at the tip of the 56,000-acre Lake Hartwell, this college town makes a great base camp if you want to spend a few days exploring this region with its abundance of lodging, restaurants and cultural offerings.
"We're a vibrant college town. We want people to go to the waterfalls, go the lakes, go to Hagood Mill, and we want them to come back here and stay," Herrick said. "Here in Clemson, you have the South Carolina Botanical Gardens, which is open year-round. It's one of the most diverse botanical gardens in the country. Obviously, riding around Lake Hartwell and the area waterfalls throughout Pickens and Oconee counties take you on some beautiful, winding back roads."
From Clemson, it's an easy ride to the base of Lake Hartwell's dam, where a public park allows you roam atop the earthen portions of the dam and watch the waters spill back into the Savannah River and flow to the sea. Or you can head west for the Chattooga River and ride the mountain roads along the border of the Carolinas and Georgia.
"I'll often go down 107 and up 28 to take Warwoman Road to Clayton, Georgia. That's a good ride," said Dave Snower, a KTM 1190 rider out of Taylors, S.C. "I feel very fortunate to live here, because in my opinion it's a 12-month riding season. It stays dry enough to ride quite a bit."
Favorite roads to ride
Picking a route down to this popular vacation spot poses a bit of a happy dilemma since there are several great motorcycling roads.
U.S. 276 south from Brevard, N.C., takes riders to stunning Caesar's Head State Park with expansive views of the Upstate. Bald Rock Heritage Preserve a few miles below features a large, flat rock outcropping perfect for roadside picnics.
U.S. 178 south from Rosman, N.C., offers some challenging twisties, and you'll usually find a pack of sport bike riders gathered at bottom of the mountain at the convenience store on the corner of Highway 11.
Routes 281/130 carry you from Lake Toxaway down past Gorges State Park and Bad Fork Reservoir, both with well-maintained parks perfect for a rest stop. It runs along the ridgetop above Lake Jocassee, another tributary of lakes Keowee and Hartwell. Best of all, this route features the chance to stop at Whitewater Falls, a picturesque cascade flowing down a terraced rockface. It's an easy walk along a groomed path to the overlook.
Highway 107 out of Cashiers is a peaceful, scenic route with gentle curves and little traffic. It merges into the famed Moonshiner 28 above Walhalla, S.C., and offers riders the chance to stop at the historic Stumphouse Tunnel, an unfinished railroad tunnel that now serves as a popular park and hiking destination.
Highway 28 runs from Walhalla all the way to Deal's Gap, N.C. Its challenging curves make it one of the region's "must ride" roads. It passes through Highlands and Franklin and past the picturesque Bridal Veil Falls and Dry Falls.