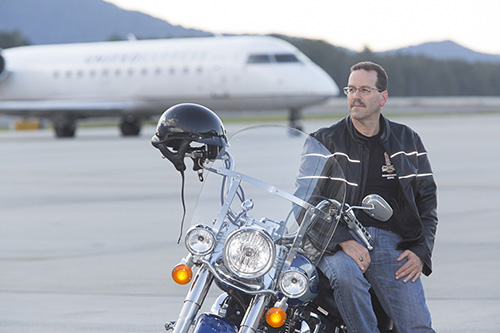 Anybody who rides a motorcycle knows all that steel has a serious magnetic pull. Sure, you might get away from it for a while, maybe even a few years, but that power and wind and the lean eventually will tug you back into the saddle. That has been the case with Lew Bleiweis, the 54-year-old executive director of the Asheville Regional Airport. Bleiweis has a serious job and seems like a button-downed kind of guy, but he has a surprisingly colorful history with bikes, and ultimately he just could not let motorcycles slip out of his life.
"I gave up riding for many years," Bleiweis said, sitting in his spacious office not far from the airport's terminal and runway. "The ultimate 'Got married, bought a house, had a child.' Riding was on the back burner until I got to Louisville, Kentucky, in my transition from multiple airports."
That was about 15 years ago. Bleiweis has a brother who's an enthusiastic rider and invited him to come out and ride for a week-long trip in California. It was life-altering. "We went from San Diego up the Pacific Coast Highway all the way to San Francisco, across the state to Lake Tahoe and then back down the east side of the state through the desert to San Diego," Bleiweis said. "It was a week-long ride, 1,500 miles. Well, actually we did it in five days. It was a phenomenal trip. We just had a blast."
He had rented a motorcycle on that trip, but when he got back to Kentucky he said all his friends fully expected him to buy a motorcycle. But he had a son who was a baby, and his wife wasn't interested in riding, plus the scenery around Louisville did not entice a man like the Pacific Coast Highway could. So Bleiweis, who had started riding friends' dirt bikes as a kid and got his first motorcycle in college, put it off.
Until he moved to Asheville in 2008. The scenery and the roads here will make a man think hard about two wheels, so when Bleiweis took the top job at Asheville Regional Airport, motorcycling suddenly made a lot of sense again.
"The motorcycle wasn't the top of my priorities list, but it was pretty high," Bleiweis said. "It was actually my third thing on the list. We were building a house when we moved here, so I had to get the house built. I had a bunch of landscaping we had to take care of around the house, and then the motorcycle."
In 2010, one key employee had decided to retire, and another gave his notice the day after Memorial Day. "I went home that evening and found my motorcycle online in the Tri-City Tennessee/Virginia area," Bleiweis said. "The next morning I bought my motorcycle. I ended up getting a Harley Heritage Classic. Brand new. That's what I've been riding to date, about eight years."
For a guy who's at his desk at 7 a.m. every day and usually works until 5:30 p.m., not to mention some at night and weekends, it's a de-stressing wonder.
"Many people will go home and have a martini or a beer," Bleiweis said. "I hop on my motorcycle for 30-45 minutes. It clears my head. Then I'll come home, cook dinner and go about my business for the rest of the evening." Bleiweis likes to hit the Blue Ridge Parkway over to U.S. 74 or the back roads of Mills River, and he enjoys taking the Parkway to N.C. 276 and down into Brevard, time permitting.
"You're looking at the scenery, you're paying attention to the roads and other traffic around you, and you're not focusing on the day of work behind you," Bleiweis said. "People think it could be stressful, riding and looking at everything and being cautious. But it's not the same type of focus as you have during the day at work. It definitely is a nice way to relax, take in some scenery and purge away the stress of the day."
Asheville Regional is the fifth airport for Bleiweis, an Accredited Airport Executive who earned his Bachelor of Science degree in Aviation Business Administration/Airport Management from Embry-Riddle Aeronautical University in Florida. Starting his career in White Plains, New York, Bleiweis steadily took on more responsibility at airport jobs in Roanoke, Virginia; Kansas City, Missouri; and then Louisville and Asheville.
In Asheville, he's overseen phenomenal growth. Asheville Regional's annual passenger numbers set an all-time record in 2017, with 956,634 passengers using the airport, compared to 826,648 in 2016. That's a 15.7 percent increase, marking the fourth consecutive record year. That annual count is also more than 50 percent higher than five years ago.
Late last year the airport also opened a new $22-million, 1,100-space parking deck, and Asheville Regional is in the midst of building a new runway. The five airlines utilizing Asheville Regional also have continued to add new flights.
As he talks, a jet makes a slow pass by the airport, clearly audible outside his window. It's an Honor Air flight, trying to land to take a group of veterans to Washington, D.C., to see the monuments, but late-morning fog is making the landing impossible. Bleiweis is momentarily distracted and a little frustrated, as the weather is one airport-related issue he has no control over.
In short, Bleiweis is one busy guy, but he's not the type to easily get rattled. "I think he deals with it all exceptionally well," said Ken Moody, a civil engineer in the aviation industry who's been friends with Bleiweis for 20 years. "He does a great job at what he does – he stays on top of the industry, he's got a great relationship with his board, and he's well-respected in the industry."
Moody, who lives in Charlotte, gets out riding with Bleiweis when they can, and a fall day-trip together has become a tradition. Bleiweis has a strong passion for riding, Moody said, but he's not one to get wild out there. "He's very cautious," Moody said, describing Bleiweis' riding skills as excellent. "He's not one who wants to go out and twist it to see how fast he can go. He's about cruising and enjoying the open air."
Bleiweis comes by that caution honestly. His first bike was a Honda 450 he bought from his brother.
"It ended up getting stolen in college, so I ended up going to a Honda 450 Nighthawk, which was a phenomenal bike at the time," Bleiweis said, noting that it was around 1983. "It was candy apple red. Nice bike."
As a junior in college, Bleiweis got into a head-on collision on his motorcycle, although that sounds worse that it was. It was a low-speed event. A tourist was stopped to look at street sign, then abruptly decided to turn left. Bleiweis hit her front bumper, flying over the car and totaling his bike in the process.
"The only thing that happened to me was I sprained my ankle," he said. "I got my insurance check and went and put a deposit down on a new Nighthawk." Coming back from the Honda dealer, Bleiweis and his then-girlfriend walked over to a Greek festival. Out of nowhere, a motorcyclist came ripping around a corner, going way too fast and way too wide. The rider hit an electric company bucket truck head-on. It turns out the guy was a fugitive wanted in a couple of different states.
Although the rider was clearly out of control, the accident rattled Bleiweis. "It was right after my accident, and when I got my bike, every time someone's horn went off, I was like, 'When am I going to get hit?'" Bleiweis said. "I was pretty nervous after that. Took me a while to get more comfortable after that."
In November of his junior year right before Thanksgiving break, Bleiweis had to lay his bike down to avoid a car that had cut in front of him. He came out unscathed but rattled, again. "No damage to me, no damage to the bike," he recalled. "I went home at Thanksgiving and told my parents I was getting rid of the motorcycle, and I bought a car."
The hiatus from two wheels was short-lived, though. His senior year of college, Bleiweis had a friend in Daytona who had a motorcycle.
The friend gave him a key to the garage, and the motorcycle, and Bleiweis felt that magical pull again.
"I paid the insurance on it, and I had free reign to ride it," he said. "When I got the urge to ride it, I'd go out and ride."
Then it was on to New York and New Jersey, where he didn't want to face the traffic as a motorcyclist. Next came marriage, a son and a house – and a long riding hiatus.
Bleiweis's son, Kyle, is a senior at UNC-Chapel Hill now. Lew Bleiweis is divorced but dating a woman named Deborah Holt, who enjoys riding on the back of his Harley.
"The first few years I had the motorcycle, I was averaging 2,500,-3,000 miles a year," Bleiweis said. "Now, just timing, everything going on – a lot of travel – I'm averaging about a 1,000 miles a year now. So it's been collecting a little more dust than I'd like." He's building a house in Henderson County and plans to commute about 15 miles on back roads, which he hopes will increase his saddle time.
Like a lot of riders in the mountains, Bleiweis also enjoys participating in charity toy runs around the holidays and other events aimed at helping out the community.
"Motorcycle people come in all shapes and sizes and backgrounds," he said. "Doing charitable rides, you meet all kinds of folks and you see all kinds of motorcycles, but ultimately they're all riding for the same purpose – to help other people."
An avid skier and woodworker in addition to riding, Bleiweis also has his pilot's license and has amassed about 500 flight hours in a small single-engine plane. Flying is a fairly expensive hobby, and time-consuming, so for now, Bleiweis is sticking to the ground, and two wheels.
"Going back to the bike is as close to flying that I can feel now," "Bleiweis said, noting that his son's pending graduation may free him up somewhat to reconsider some cockpit time. "When he graduates, I've been thinking of going back to flying again. I will not give up my motorcycle, but I'm thinking about flying again."
The Honor Air flight zooms by again, still unable to get in. It's been circling for several hours now, and Bleiweis notes that it probably had to go to another airport to refuel. The plane eventually got in, and the flight took off, but it added to his stress, as the job often does.
Luckily, the motorcycle awaits in a rented garage. Bleiweis acknowledges that it's his baby, boasting that it's only ever spent one night outside in the elements. Sure, he's an airplane guy, too, but it's not too hard to see what's number one in his list of transportation loves.
Pressed on whether he's choose a plane over a motorcycle, Bleiweis showed no hesitation whatsoever. "Oh, I'd choose the motorcycle," he said with a laugh.