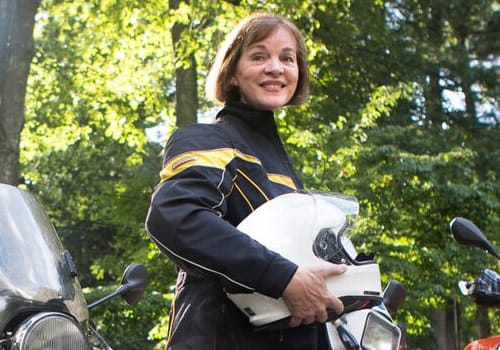 Women are the fastest growing group of motorcycle riders. Talk to anyone who has taken a motorcycle safety class in the last decade and they'll tell you that more than half of the students in their class were women. I took the class fifteen years ago and sixteen of the twenty-one participants were female. Major motorcycle brands are now courting us with ladies' nights, women's rides and gear that doesn't sacrifice form for function; including helmets that accommodate where we like to position our pony tails.
Women owning, riding, racing and even repairing their own motorcycles is no longer unusual. What makes Linda Cluxton's story as a female motorcyclist exceptional is her longevity in the sport. She has been riding for more than forty years. She credits one of her four older brothers, Jeffrey and his participation in a California motorcycle school with launching her fascination with motorcycles. She was eleven at the time of her first solo ride, it was a Suzuki 125 and she was enthralled. She rode Huskys in the 1970's before getting her first street bike, a BMW Airhead.
At twenty-two she started working in Henry Bolton's photography studio and began spending her weekends shooting motorcycle races and moto gear for local and national motorcycle magazines. These two passions led to a storied career that allowed her to travel the world and fraternize with motorcycling legends. In 1974 she shot the Parc Ferme of the ISDT (International Six Day Trial, now International Six Day Enduro) in Camerino, Italy. Shooting the race was the "experience of a lifetime." She got to spend time with her hero, Dick Mann, AMA (American Motorcyclist Association) Grand National Champion and Motorcycle Hall of Fame member. She returned to the states from the race just three days before her wedding to Erich Cluxton. Her husband of several decades doesn't ride but has been understanding and encouraging of her pursuing her passion. She says "he's an extremely good sport and will sometimes come for a ride in the side car of my 1974 R75/6 BMW." He's never tried to derail her moto pursuits. In fact, in 1982, Linda and Henry Bolton flew their bikes to the Germany so they could ride the Alps between races. Erich held down the fort at home.
After they were married, she kept riding until they were expecting their first child. She took a break until the kids were out of diapers but her photography career raced on. Her photos of jazz musicians in small clubs were used in a documentary. Her work has graced the pages of the New York Times, Motorcyclist, Vintage Views and Cycle Guide. She did a pictorial essay on tugboats that remains part of the permanent collection at the South Street Seaport in New York City.
After the brief hiatus she returned to riding with her signature enthusiasm. She rode everywhere, including "carpooling." It must have been quite a spectacle to see her bring her thirteen-year-old daughter, Hadley, to school and soccer practice on the back of her BMW R75. Women on motorcycles have become quite common, but it certainly wasn't then. Even today, a mother and child on two wheels in the school drop-off lane would be considered a rarity. This is the same BMW that now has a sidecar for the Grandchildren.
Her passions for riding, racing and photography persisted and intertwined until she had what she calls "a huge ah-ha moment." In 2006 she went to the AMA Women in Motorcycling Conference in Athens GA. Her female moto friends were there to take an instructed track/race school with Kevin Schwantz at Road Atlanta. She was there to shoot for Women Riders Now. "While crouching in the infield it hit me that I could ride on a track too, and what was I doing just observing? Growing up in the 60's didn't have me programmed to think that way." When she returned to Asheville, she found a teacher to help her work on old bikes. Then she and a female riding buddy took the Ed Bargy's Racing School in Nashville, TN. "My friend was already a retired grandmother, I was fifty-six and scared." They took their 1970's Honda CB350s to race school with their dreams of racing vintage on a women's team. Linda reminisced about race school; "some of the young men on track bikes crashed but our advantage was our ability to pay attention." When one of their bikes wouldn't start, they finished the class by sharing the other bike on rolling stops. She says racing vintage Hondas for six seasons with the AHRMA (American Historic Racing Motorcycle Association) was a lifetime highlight. She loved it all; from taking apart old carburetors or honing a cylinder to camping in the pit at Barber Motorsports and the finish flag. She says she never wanted to stop "but the other women wandered off and grandchild number six was due."
Linda lives in Hendersonville, NC and has recently retired from twenty years as the Director of Communications at the Christ School in Arden, NC. For nineteen of those years she put her skills to good use as the photographer and editor of the school's magazine. She handled Christ School's marketing and print collateral as well as created their first two websites. She doesn't look or act like a retired grandmother and there is no sign of her slowing down. She continues to shoot for local magazines and tries to ride daily. We met for coffee to discuss her background, she arrived on her 1997 Suzuki DR350, in spite of the imminent rain. I knew she'd share a few short winter rides;
She likes to ride north to Little Switzerland for lunch and credits her "moto-buddy and route planner extraordinaire" Cathy Haker with this trip. They start on route 74 in Fairview and meander through Garren Creek and Flat Creek to Route 9. They ride on dirt for a bit on Crooked Creek, then take Bat Cave Road into Old Fort. Through Old Fort they take 70 to 80 to get the Blue Ridge Parkway and aim for the Switzerland Inn or down the road to the Switzerland Café. On the way home they take the parkway back to Asheville. Linda's other favorite short ride is to Tryon. She takes 25 south from Hendersonville until it becomes 225, then Greenville Watershed, Old 25 then merges again with 25. She goes left to the next right, Route 11 going east. Then 116 Oak Grove until it ends at Belue Mill Road. She takes Butter Street then Lakeshore drive to 176 which takes her into Tryon.
Linda says she'll ride as long as her body allows her to and trains to stay strong so she can check off her long motorcycling bucket list. Next stop Iceland. I bet she'll send us pictures.