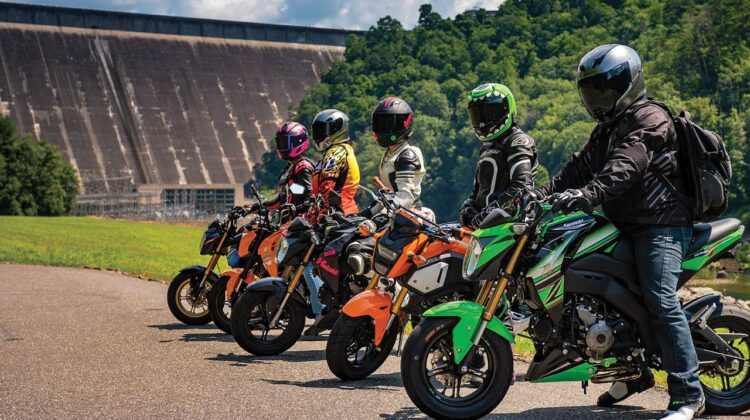 Motorcycles typically connote power and attract those seeking heart-thumping thrill. The larger the engine displacement and the more torque, the better. But then in 2014 Honda released the Grom, a 125cc bike producing less than 10 horsepower. It was a huge hit, and the L.A. Times reported dealerships were sold out of the tiny Grom with Honda struggling to keep up with the demand. Following the Grom's popularity, Kawasaki released its own version, the Z125 Pro, and Benelli released the TNT 135, both in 2018.
As dealerships continued to see sales of these small bikes surge, it became apparent that perhaps power was no longer the key motivator behind motorcycle purchases it once was and perhaps the new wave of motorcyclists possessed different two-wheeled desires than their Boomer and Gen X predecessors.
According to a 2018 study by Bernstein Research, the young millennial and Gen Z generations are crippled by college debt and move through life stages later in life, both serving as barriers to motorcycle ownership. With larger displacement motorcycles ranging in price from $17,000 to close to $40,000 in some cases for a 2020 model, owning a motorcycle proves financially unfeasible. However, a Grom or Z125, brand new, is a fraction of the price at around $3,400 with many used models priced around $2,000. Also, the size and ease of the small-bore bikes make them an ideal entry-level bike for new riders.
While these small-bore bikes could be the key to saving the motorcycle industry, no matter the rider's age or gender, they're just plain fun. Whether cruising the urban streets of Asheville or Knoxville, or carving up the twisty roads in the Blue Ridge Mountains, riders across the region often find small-bore bikes to be an ideal mountain machine. To put these bikes to the test, we met up with a group of small bike owners, some local and some visiting the area, at Deals Gap Motorcycle Resort in Robbinsville, North Carolina, for a taste of the small bike lifestyle and the allure these little bikes have to offer.
As the bikes pulled into the parking lot one-by-one in array of colors as bright as Skittles, they definitely drew attention. A busy Saturday, the parking of the resort was packed and riders stopped to stare at the bikes on small 12-inch wheels. It became clear that many of the riders passing through that day had never seen small-bore bikes such as these and looked on with intrigue or asked what they were, exactly. The small bike gang consisted of Sarah Crowell of Huntsville, Alabama, with an orange Grom, Evelyn Johnson and Robert Johnson of Rockholds, Kentucky, on an orange and a green Z125, Dustin B of Greenback, Tennessee, with a Benelli 135 and Aundrea Rister of South Shore, Kentucky, on a black and pink Z125.
Starting at the Resort, the group headed down Highway 28, known as Moonshiner, and meandered through the sweeping curves with views of the lake peeking through trees. Weighing in at just more than 200 pounds, the bikes proved nimble in the corners and the riders barely touched the brakes. On bikes with less than 10 horsepower, keeping momentum up is critical. What the bikes lacked in horsepower they made up for in corner speed, cruising through even the tightest, decreasing-radius turns with smoothness and ease.
The first stop along the way was lower Fontana Dam. Rider Evelyn Johnson and her husband first came to own a small-bore bikes because they both felt it looked like a lot of fun for a small amount of money.
"The Z125s are reasonable to buy, even brand new," Johnson said. "It looked like it would be super fun. My husband has a street bike and trail bike and we also have cruisers and sport bikes, but every bike is totally different and we love each one. He knew it would be a blast since it's so small yet capable of riding on the street at the same time."
After Evelyn's husband bought his Z125, she rode it around in the yard and was hooked. She soon decided to buy one too.
"I said to myself, 'I bet this bike would be really fun on a little curvy road," Johnson said. "So then I got on Marketplace and bought mine with only 67 miles on it for a really good deal and I loved it. I think a lot of people don't even look or think about a small bike because they assume they're a scooter or they say, 'Why would you want that?' But they're a blast, especially on roads like The Dragon. I think they're underrated for sure."
From Fontana Dam the group made its way back up Moonshiner to the intersection with Highway 129, hanging a left toward Robbinsville. This technical stretch of road boasts tight curves and elevations changes — sprinkled with potholes to miss — but the little bikes were up to the challenge navigating even the tightest of turns with ease. Although small in size, the small-bores had no problem keeping up with larger displacement bikes. As the tight, twisty curves transitioned into sweepers past Cheoah Dam, the bikes pulled into the next stop, the historic Tapoco Lodge for a break.
Rider Sarah Crowell, the Honda Grom owner, also owns a sportbike, and shared how she finds her Grom to be a confidence booster on mountain roads like The Dragon and Moonshiner.
"The Grom forces you to carry more corner speed because it's down on exit power," Crowell said. "It helps smooth your flow. I like it because it's light, and so much fun in the corners. It has helped my confidence and enables me to focus on skills like my lines."
Aundrea Rister, who just recently purchased her Z125 agreed.
"I think everyone should own one," Rister said. "They're a blast in the Smokies."
Back at the Deals Gap Motorcycle Resort parking lot, the tiny bikes again stole the show. A man and his young son approached one of the bikes, the boy's eyes wide with wonder as one of the riders offered to let him sit on the bike. Perhaps that could be the moment a future motorcyclist was born.
News headlines say millennials and Gen Z are killing the motorcycling industry, but maybe it's not dying and instead is merely changing. Small-bore bikes could be the gateway to growing the sport, especially in areas like the Smokies and the Blue Ridge, where these little bikes thrive.