Winter is a great time to replace your aging riding gear or upgrade to the latest new apparel. Plus, every motorcyclist loves to find a new riding jacket, pants or other accessories under the Christmas tree. Check out these offerings from Eurosport Asheville or other retailers.
REV'IT Sand 4 Men's Suit
This is the 4th generation of the REV'IT! Sand 4 H2O Suit, one of the most capable, versatile, and best-value suits on the market. Designed with the adventure rider in mind, the suit is lighter and more ventilated than competitors. But the Sand 4 works equally well for touring riders. There are a multitude of adjusters and pockets to tailor the jacket for your riding needs. 
And you have 5 jacket color choices, and 2 pants colors offered, plus there is also a Women's version available.
The Sand 4 features a breathable, abrasion-resistant polyester ripstop shell with thermal and rain protection offered via 2 removal liners in both the jacket and pants. You can wear the liners together or separately.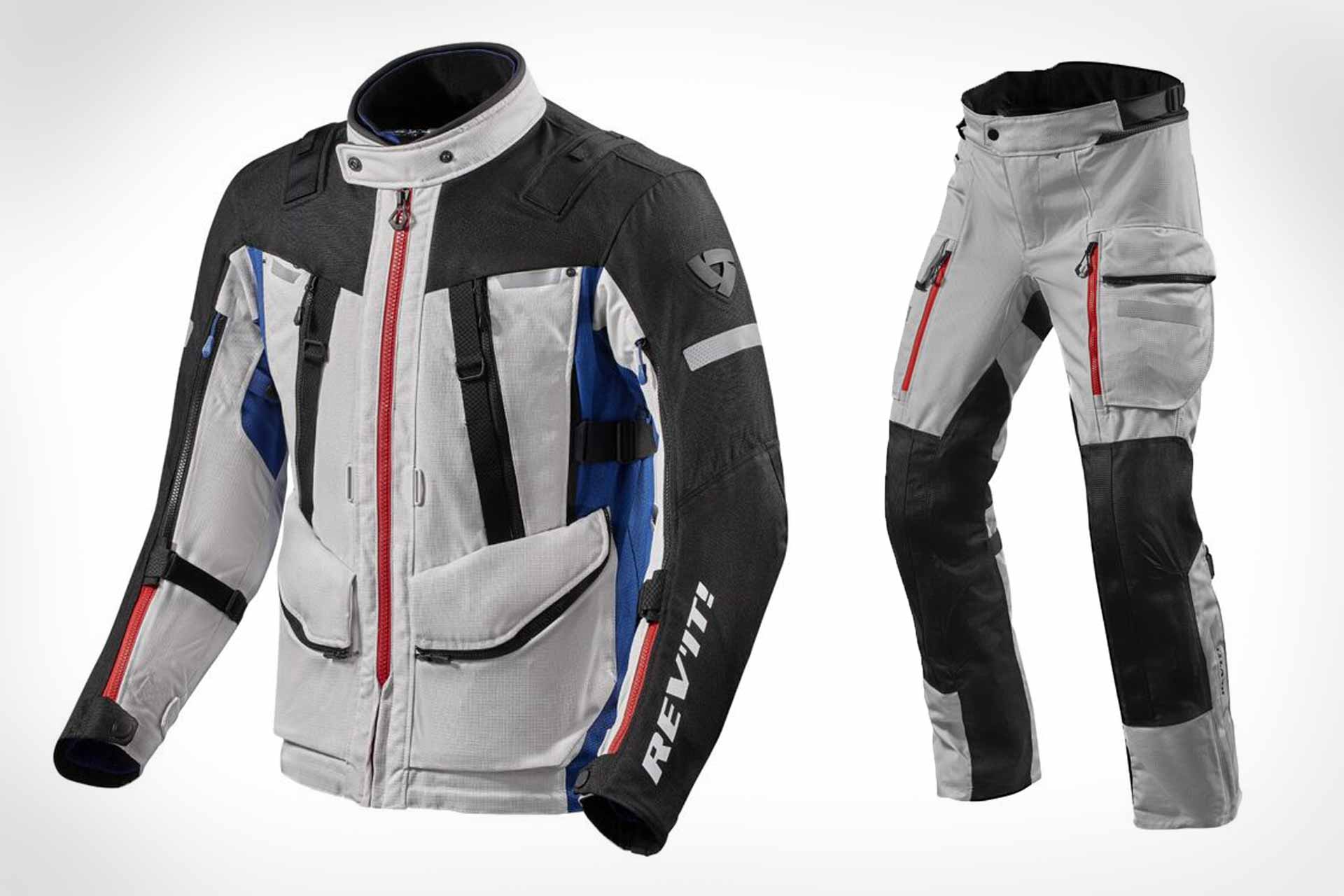 This is also one of the best ventilated suits on the market. There are three ventilation panels on the jacket front, twin zippered openings that extend nearly the lenght of both arms, and finally two rear exhaust vents. The Sand 4 pants feature hand pockets, 2 rear pockets, and cargo pockets with large vents that snap in place to keep the vents open as well.
Even the armor is ventilated. The jacket has ventilated Seeflex CE Level 2 impact armor at the shoulders and elbows. A back protector and split chest protector inserts (sold separately) are available as optional upgrades.
For a multi-season jacket, the REV'IT Sand 4 is on par with many mesh only jackets/suits for air flow.
The Seasons await with comfort, protection, and excellent value of the REV'IT Sand 4 suit.
Jacket: $529.99
Pants: $369.99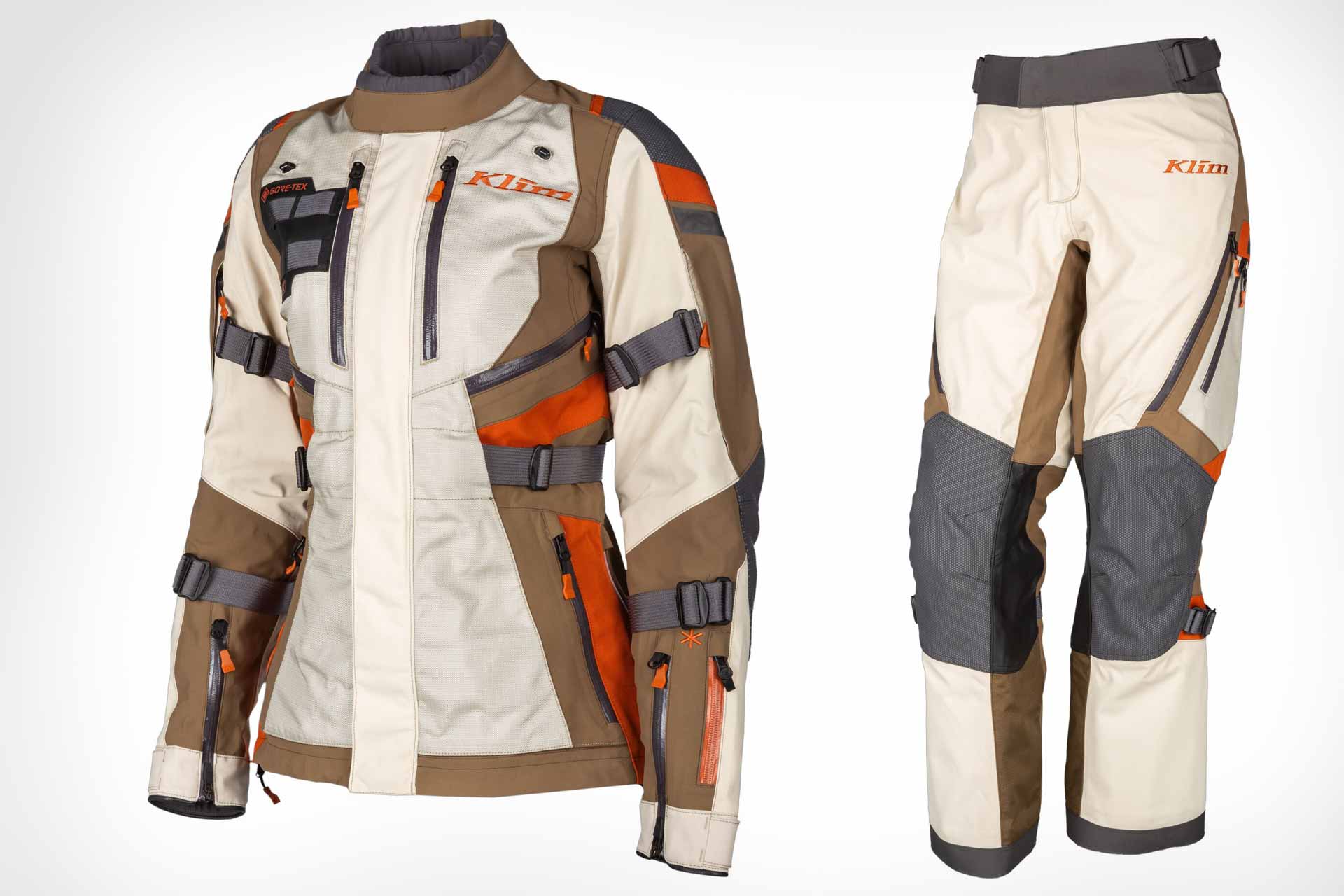 Klim Artemis Women's GTX Suit
The latest version of the Artemis Women's Gore Tex suit is engineered specifically for women ADV Riders by female designers, with feedback from riders and dealers.  Count on all-day comfort in the saddle—on as much as off-road. You'll have a weatherproofed ride come rain, hail or shine; and the ability to look good in a suit contoured to a woman's physique.
The Artemis is the most complete women's adventure riding suit available. With this latest version, Klim focused on female-specific features, such as cross-core vents around the lower portion of the chest that are not featured on previous women's offerings, and a springless collar adjuster to avoid hair snagging.
The pants are equally well ventilated where the air is pushed through a pair of front thigh intake vents, and out of two vertical back exhausts, creating optimal airflow from front to back.
The Artemis suit features top notch abrasion resistance with Superfabric ceramic print overlays and strong Cordura textile. The suit features a multitude of storage (~14 total pockets), and excellent direct body ventilation (10+ vents). The Artemis is offered in 3 matching jacket and pant colorways.
The Artemis Uit masters climate protection, ventilation, and adjustability.
Trust your riding journeys with a proven companion.
Jacket: $749.99
Pants: $569.99