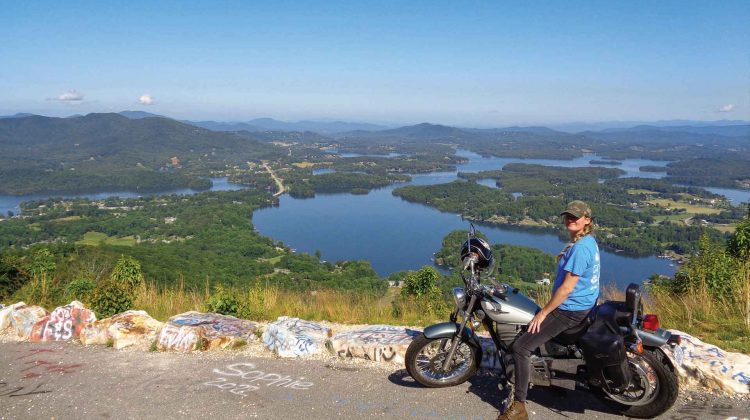 I knew the perfect road to introduce my new riding companion to a motorcycle tour across the Georgia mountains. The name even suited her perfectly — Warwoman Road.
Zoe Kelly, a 39-year-old single mother and new rider, gave me a quizzical look when I suggested this road to begin a three-day Georgia road trip to Clayton, Helen, Hiawassee and the area's collection of mountain passes. This youthful, self-assured Chicago native had never heard of these out-of-the-way roads that her motorcycling friends spoke about with a strange reverence.
I convinced her taking Warwoman Road, with its tight section of 16 curves near the eastern junction with Moonshiner 28, is something of a "must-ride" for motorcyclists. With her blonde pigtails flying from under her helmet, she kept a confident pace on her Suzuki S40 Boulevard while the road gradually transitioned to a gentler country road heading to town of Clayton. I knew then, my bubbly travel companion would be fine on her first long-distance motorcycle tour. 
The adventure began at our local bike night weeks ago when the conversation turned to what new destinations I planned to explore for this magazine. I recognized the wanderlust in her hazel eyes when she mentioned wanting to hit the road for a few days, to get away from life's stresses and explore hidden mountain roads. A huge smile filled her face with I invited her along as I explored north Georgia and revisited some of my favorite motorcycle destinations.
"Warwoman Road was my favorite, best road ever! I felt like a war woman," she said with a laugh as she later reflected on the trip. "After I did that road, I was so proud of myself. I was giddy, so much fun. That road was a little challenging. That's where I scrapped pegs."
From Clayton, we explored the western shore of Lake Burton, taking a break at LaPrade's Marina for refreshments and people-watching before continuing south to Helen, which would be our basecamp while riding the mountain roads referred to as "The Gauntlet" or "Six Gap." 
Helen, a tourist town of less than 600 residents, features Bavarian-style buildings filled with souvenir shops, restaurants and chocolatiers. I always find it charming. After finding lodging and unpacking the bikes, we head to my favorite spot for food and drink – the Two Tire Tavern right off Main Street. We back the motorcycles up to the front, which looks like a bike event, but it's just a normal weekday.
I met owner Dan Terlizzi several years ago on one of my passes through Helen. A motorcyclist himself, he bought the tavern about four years ago. He can often be found talking to other riders about bikes and area places to visit. This evening is a mix of touring riders, cruisers and adventure types.
"Helen is a nice little town. You've been coming up here a long time," he says to me when I reintroduce myself and he recognizes me. It's that kind of attention you get from small-business owners here in north Georgia that makes visiting this region so welcoming. 
"It's a family biker bar,' Terlizzi said. "It's all middle-aged guys like me and their girlfriends and wives who've bought a Harley or BMW or Indian or whatever." 
Two Tire Tavern's abundant free parking — something rare in Helen — can accommodate nearly 30 bikes along its Main Street frontage and more in the back parking lot. Then there is the menu featuring a combination of American and German fare.
"My American food is half-pound burgers: an Angus beef hand patty made every day and cooked fresh. I have clubs, like Carnegie Deli-type clubs six inches high. I have pastrami Rubens on a Jewish rye. My Philly cheesesteaks are authentic Philly cheesesteaks. The meats are from Philly," Terlizzi said adding there's also 24 ice-cold beers on tap delivered through chilled lines. "You'll never get a warm beer here, ever." 
Like many visitors, this town won over Terlizzi, who brings his 37 years of restaurant experience to running Two Tire Tavern. 
"I fell in love with it when I came here four years ago," he said. "I'm from Upstate New York. It reminds me of the Catskill Mountains. The Appalachian Trail is only about 15 miles from here and it runs all the way up to where I lived in the Catskills. It has a very familiar feel to me."
Every week in Helen seems like a celebration, with motorcycle and sport car rallies filling the summer. Octoberfest runs from Sept. 8 to Nov. 8, making it one of the longest running Octoberfest celebrations in the world. At Christmas time, lights adorn nearly every building in town and the mild winters still attract visitors.
Relaxing inside Two Tire Tavern, my riding companion reflected on what drew her to motorcycling. The story sounded familiar, one I've heard from other riders and experienced for myself.
"It changed my life," she said. "I was going through a divorce, and I've always wanted to ride, and my ex-husband was not for it. Finally, when I was on my own, I said I'm just going to do, so I took the (MSF Basic Rider) class."
The number of women realizing that motorcycling doesn't mean they must sit on the back continues to climb. The Motorcycle Industry Council estimates about 19% of riders are female, up nearly 10% from a decade ago. 
"I never thought I'd have my own motorcycle. I thought I'd just ride on the back. When I had nobody to ride on the back with, I thought I'd better get my own. Now it's game-on! It's like the best therapy. You can do it by yourself. You don't need anybody else. It's just you and nature," she said.
Bell Mountain
 

and Hiawassee

The next day, we set off for one the best views in Georgia, the graffiti-covered rocky summit of Bell Mountain. From Helen, the Unicoi Turnpike (Georgia 75) twists its way north to cross the Appalachian Trail and descend into the lakeside town of Hiawassee.

Spotting the narrow road to Bell Mountain takes a keen eye, especially for those like myself who eschew electronic navigation devices. I find GPS systems distracting. They detract from my motorcycling experience of navigating by road signs, the sun's arc across the sky or my hand-scribbled route numbers on masking tape attached to the instrument cluster. I rely on memory to spot the run-down gas station across from the cluster of electrical transformers where what looks like a driveway takes you to a hidden overlook.

The nearly one-lane driveway up Bell Mountain takes some sharp switchbacks, so I keep an eye on my less experienced riding companion in my mirrors. No worries, she pilots her single-cylinder Suzuki up the challenging turns without incident or complaint. This slim "war woman" continues to prove herself on two wheels.

The 18-acre summit became a county park in 2016. An elaborate observation deck and stairs allow visitors to climb to the top of the rocky summit for a 360-degree view of Chatuge Lake and the surrounding mountains. I've stood here many times but seeing someone's face as they gaze upon it for the first time always makes a roadside stop more memorable.

The last time I was here, a paraglider leapt from the precipice to float out into the airy expanse above the lake. Today sees just a few tourists enjoying the view.

Returning to town, we ride west on U.S. 76, also known as the Southern Highroads Trail. This scenic highway running atop Georgia links several towns and takes us to our next attractions. We turn off just past the town of Young Harris to see the ancient Native American petroglyphs at Track Rock Gap. To our disappointment, the site was cordoned off and entry prohibited after vandals damaged the 5,000-year-old rock carvings. 

Still, there were other mysteries to explore, so we continued onward to Expedition: Bigfoot, The Sasquatch Museum near Blue Ridge, Georgia. For someone like myself with a childhood fascination surround the legendary cryptid, this collection of footprint casts, documentary videos, personal encounters and other historical displays makes for a delightful stop on a motorcycling tour. Whether you believe Bigfoot exists or not, the modest admittance fee is worth it for the entertainment value.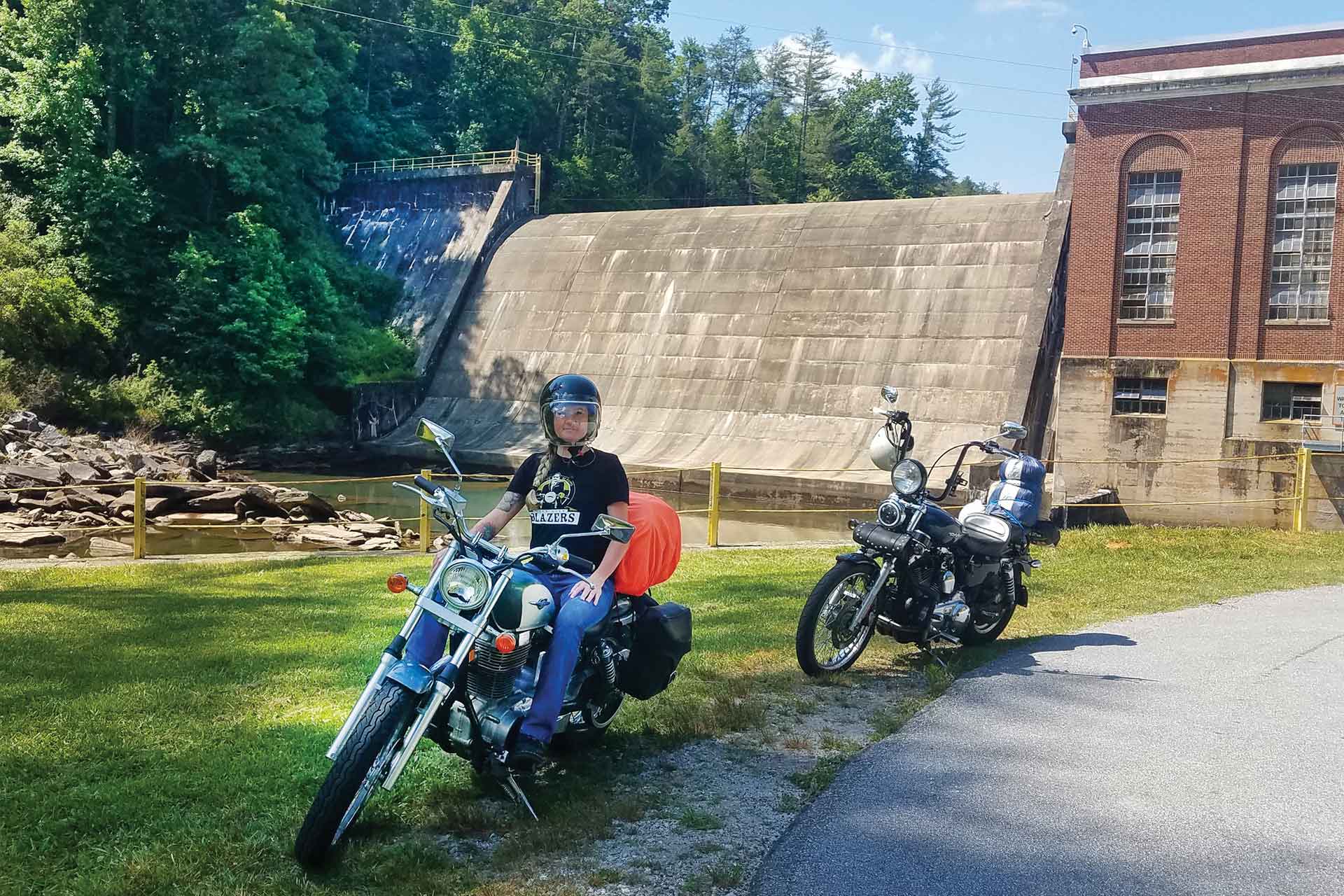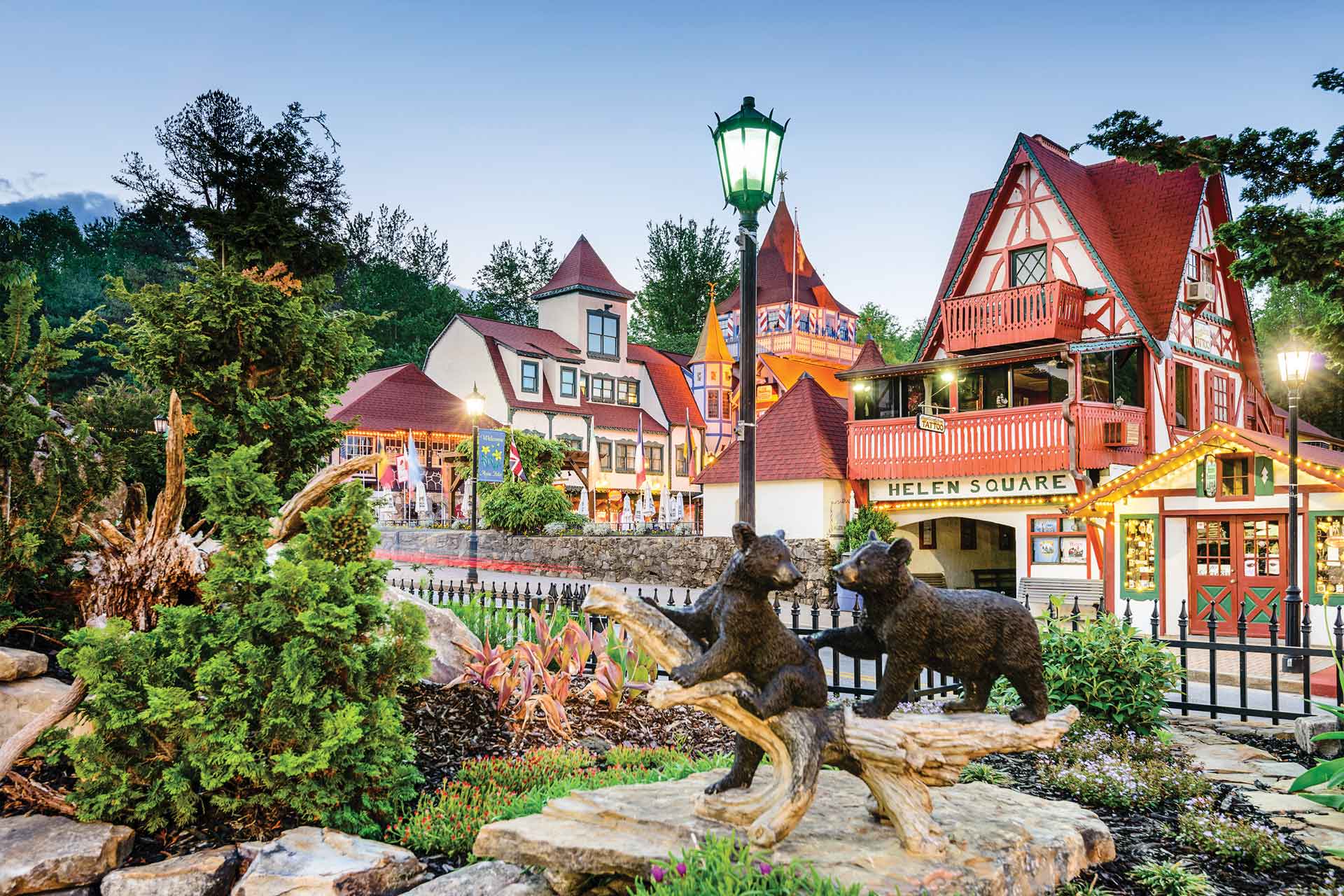 Wolf Pen Gap
 

and Blood Mountain

After being convinced Bigfoot is real, we climbed back on the bikes and headed south to the Two Wheels of Suches motorcycle resort. This popular campground for motorcyclists always attracts riders running up and down the mountain passes. We stop to chat with other riders on the front porch, but the office was closed. I was tempted to continue south on Route 60 to Trahlyta's Grave, the pile of stones marking the grave of a legendary Cherokee princess. A new traffic circle surrounds the centuries-old cairn. Putting a stone on the pile is said to bring good fortune to travelers. Alas, two roads diverged, and I chose Wolf Pen Gap Road, or "the Wolf" for those who like giving roads nicknames.

Officially known as Georgia Route 180, this narrow two-lane is one of the more challenging roads that make up the Six Gaps. It's less traveled than many of the others and becomes narrower in places. We'd spent several hours in the saddle. The Georgia heat was starting to take effect on our riding, so we stopped for a rest break to watch the flow of other riders zooming through one of the switchbacks and take a few photos. 

"I wasn't in the right headspace," Kelly said later of the trek across Wolf Pen Gap. "I was not in the right mind-frame. I got in my head."

Several days of mountain riding, combined with fatigue, can cause even the most experienced of riders to lose focus, concentration or just become less enchanted with motorcycle travel. I feared such downsides of long-distance touring would spoil the trip for my female novice rider. Happily, I was wrong.

"I remind myself I love this!" she said. "Look where you're at, what you get to do, and you're with your friends. That will get me out of it and remind myself this is awesome. You don't have to be perfect or be the best or keep up with all the big dogs."

After a much-needed break, we continued toward Vogel State Park, where we turned south on U.S. 19/129. The wide highway was a welcome sight after such technical riding on the Wolf. Cruising along, we soon crested Blood Mountain and zoomed down the quickening curves.

"I love the long sweepers," Kelly said. "It's always a little bit scary when you're on a new road that you don't know, and you don't know how fast you should take the turns. Once you're in the turn, you just got to go with it. There were a couple of times I thought, 'Oh, that was close, better slow down.' But once you're through it, you feel so awesome, so empowered. It's just so fun, a good feeling to do some technical roads and keep up with everybody else. Just do it, feel it."

We returned to Helen on Route 75A still enthralled with the village's charms and happy to have experienced so many sights. 

"I love Helen," Kelly said. "It's such a cute little town with the river that goes through it and all the German buildings. It's in a really beautiful spot in Georgia. From there, you can hit all the great roads we did. It's got this quaint, cool little vibe to it."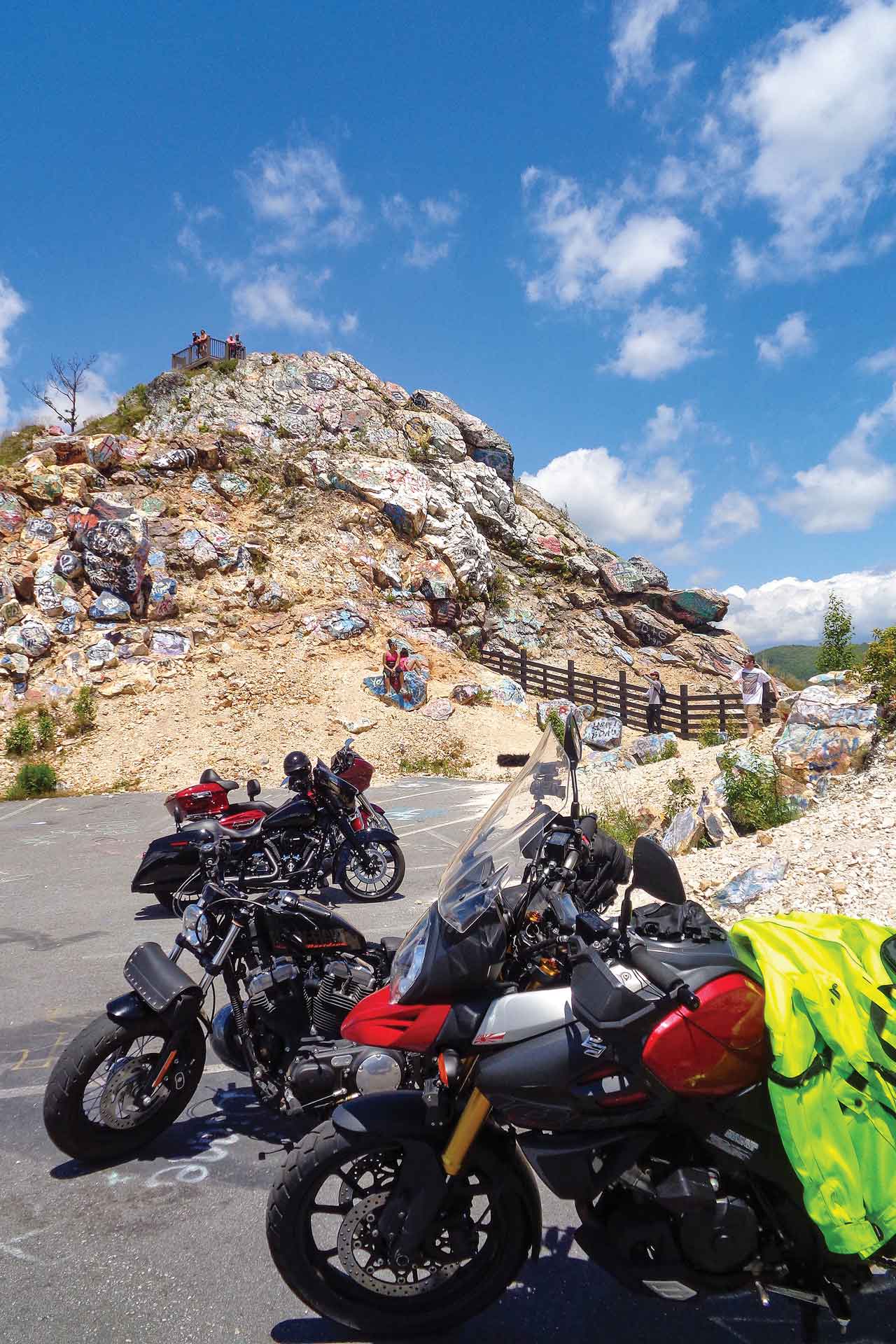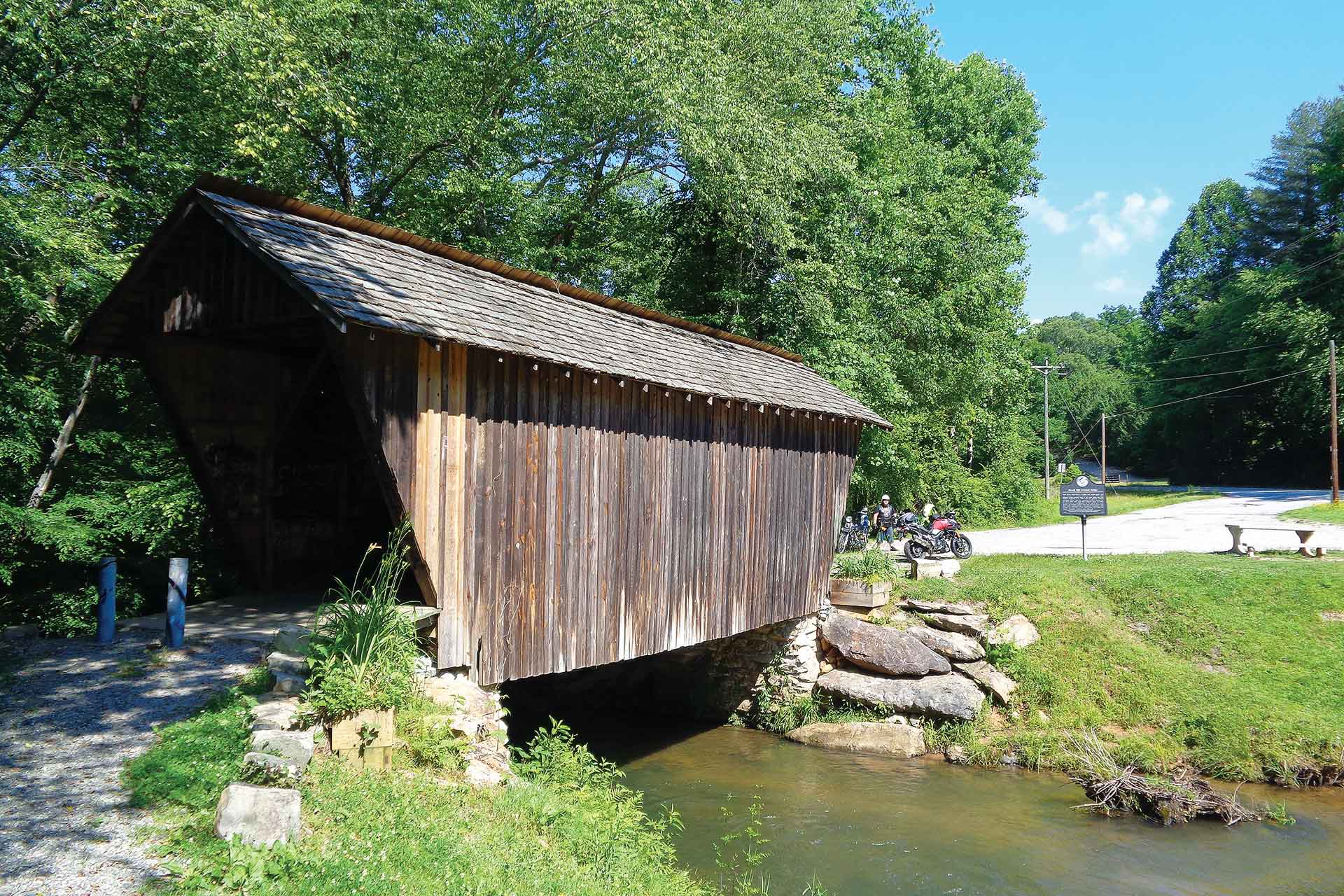 Stovall Mill Covered
 

Bridge to Tallulah Gorge

The next morning, we're rested and ready to ride back to North Carolina, albeit the scenic route. I'm known for making detours to see historic covered bridges, so today we ventured east, first passing the Nacoochee Indian Mound next to routes 255 and 17. Built more than 1,000 years ago by the Mississippian culture, ancestors of the Cherokee, the mound is one of several to be found across the Blue Ridge Mountains, included one in Franklin, North Carolina, just 50 miles north. There's no place to park and not much to see but historic dirt, so we roll on to the Stovall Mill Covered Bridge.

Built in 1895 to span Chickamauga Creek, the bridge saw cinematic fame in the little-seen 1951 movie "I'd Climb the Highest Mountain." A gristmill and sawmill once accompanied the bridge, gone now except for the remains of a small dam. A picnic area makes the bridge a nice spot while touring the area.

Turning right on Burton Dam Road takes us along the spillway below Lake Burton, which becomes Seed Lake. The dam retaining Seed Lake features a shaded park perfect for watching the gentle trickle of water emerging from the powerplant. A series of dams form three lakes, Burton, Seed and Rabun, before the waters become the Tallulah River and tumble their way down the namesake gorge to join the Chattooga River at the state line with South Carolina. Legend has it you could hear the water rushing through the gorge from miles away before the hydroelectric dams tamed it. You can view the gorge from both sides, a state park on the northern rim and the historic Tallulah Point Overlook along the southern edge on a bypassed section of old U.S. 441.

We ended our Georgia tour by following U.S. 76 east to South Carolina, eventually finding the lower end of Moonshiner 28, which leads back up into the heart of the Blue Ridge Mountains.  

"It's some of the best riding I've done," Kelly reflected afterward. "It was a lot of fun. I got to hit five of the six gaps in North Georgia. We've done three full days of riding, the most I've done back-to-back. Some of the best roads, the best company, a dream come true."

As we drew closer to home, I could see this was only the beginning for this youthful and energetic female rider. More long-distance adventures would soon follow.

"Always since I was a little girl, I've wanted to go from coast-to-coast — Florida to California. That is a dream of mine that I will do. Next year, I'd like to go to the Northeast and do Vermont and Maine," she said.