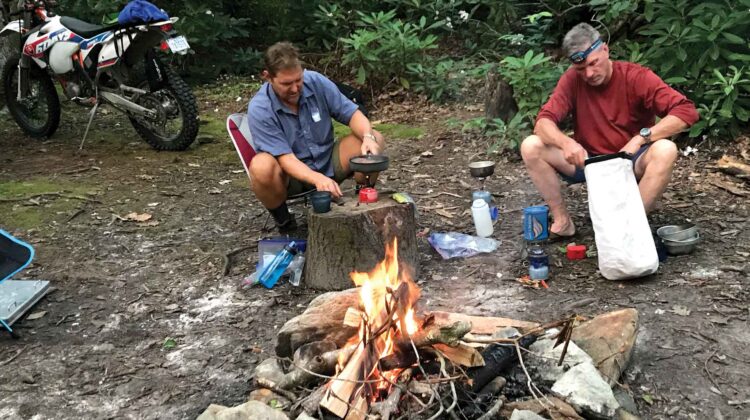 Sometimes you can just hear the forest calling. My friend Chris Wilcox decided that we should take a little overnight motorcycle camping trip into the Pisgah National Forest. Three riders met in the afternoon at the Blowing Rock Market. We were all riding dual sport motorcycles. I was on my KTM 500, Rick Riddle rode his KTM 690, and Chris pulled in last. He had two armloads of firewood strapped to the panniers of his KTM 990. 
We left Blowing Rock, North Carolina, on U.S. 221. We headed south towards Grandfather Mountain. This section of U.S. 221 is a twisted, winding road that hugs the mountainside below the Blue Ridge Parkway. Our version of the Dragon's Tail. About 20 miles out we turned off the asphalt onto the gravel of Pilot Mountain Road. Down the hillside we rode. Deeper into the forest. The trees formed a canopy over the road. It seemed that we were riding through a green tunnel. Sunlight splashed through leaks in the canopy's roof.
Down into the Pisgah National Forest we rode. Twisting our way towards the old mountain communities of Edgemont and Mortimer. We turned onto Forest Service Road 192. Along this road we noticed a circular white blaze painted on the trees. The blaze marks the Mountains-to-Sea Trail. The trail got a little bumpy. An occasional piece of firewood would bounce by when shook loose off the back of the lead bike. 
Above us is Grandfather Mountain. Lots of water bubbles out of the sides of Grandfather via the many natural springs. The water flows down the mountainside, converging into a single ravine. This ravine is lined with rocks and boulders, some as large as Volkswagens. The rocks have been accumulating for a millennium, pushed and shaped by the running water. The cool air, forest canopy and the mountain stream make this a great place for camping. Campsites plateau down the mountainside along the stream. We turned off the road and tiptoed our bikes down a foot path to a nice site. 
We had two tents and a backpacker's hammock. Each rider set up his tent right next to his motorcycle. Rick built a fire with the remaining wood that Chris had hauled in. 
We were responsible for our own suppers. Chris had two filets, a hash brown potato casserole and fresh asparagus. I had tossed a can of soup and some saltine crackers into my bag. All Rick had was an empty bowl. We watched as Chris's steaks sizzled in a frying pan. He smiled at my soup can, then divided up his food and passed it out. A better meal at any restaurant is not available. For dessert, Chris pulled out a baggie containing peach and blueberry "crumble." 
"You brought pie?" questioned Rick. 
"Crumble," insisted Chris, "It's called crumble."
The fire crackled as the sun went down. Sleep came easy. Cool mountain air and a running stream knocked us right out. 
The birds start singing about 5:30 am. Not long after that I was heating water for coffee. Coffee was all we had for breakfast. We packed up our gear. Motorcycle engines broke the mornings silence. We rode up the mountain side, back to U.S. 221, heading home.  
Tom Enterline's is a building contractor, carpenter, husband and father who lives near Boone, North Carolina, just a quarter-mile from the Blue Ridge Parkway. Today he has a Suzuki DRZ 400, a KTM 500 EXC, and a BMW R1200 GS adventure bike. enterlinetomt@gmail.com