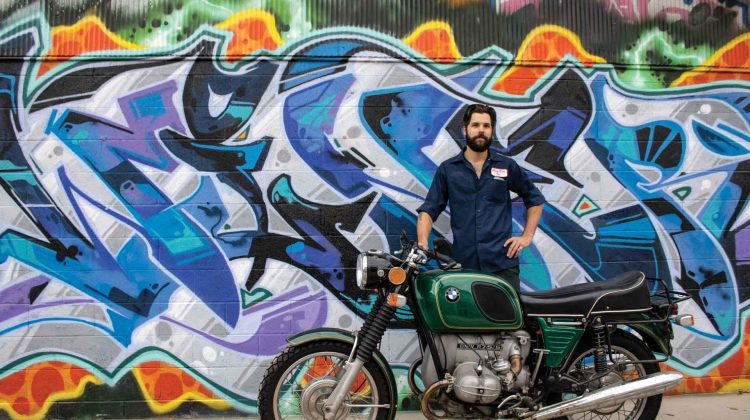 At 16, Dean Pieranunzi began his affinity for riding with a friend's old dirt bike, sparking a passion for vintage motorcycles and restoring dirt bikes from the '70s.
Shortly after he discovered his love for bikes, he bought a 1,000cc Japanese super sport, a bike that proved much too powerful for a teenager. Now Pieranunzi, a carpenter, musician and vintage bike aficionado, finds more fun in smaller displacement bikes, with a 2011 KTM XCW 450 four stroke and a 2007 KTM XCW 250 two stroke in his stable.
"The 250 two stroke is the best trail and off-road bike that I have. Its sole purpose is to go out in the woods and do crazy off-roading trails. It's not trying to be anything else, it's not a road bike. It has a sporting purpose and it's fast and loud and hard to tame sometimes, which is part of the sport," Pieranunzi said.
A bit of an enigma, Pieranunzi presents himself as clean cut with a slight edge. He wears forest green trousers with a vintage mechanic button down and brown leather lace up Doc Martens. 
"Dean is meticulous about his bikes and will go to great lengths to find the right parts and extend the right care to his machines. He has an affection for classic design, and I'm always impressed by his ever-changing fleet of rides. From Jeeps to Volkswagens to airheads to thumpers, all his machines are kept up with carefully," said Sean Colvin, a close friend of Pieranunzi's.
"Off-road, he can make an XR600 look like a YZ125 as he blasts it gracefully up climbs, through deep puddles and around trees. He's a rider you never have to worry about on the trail — except maybe about keeping up with him."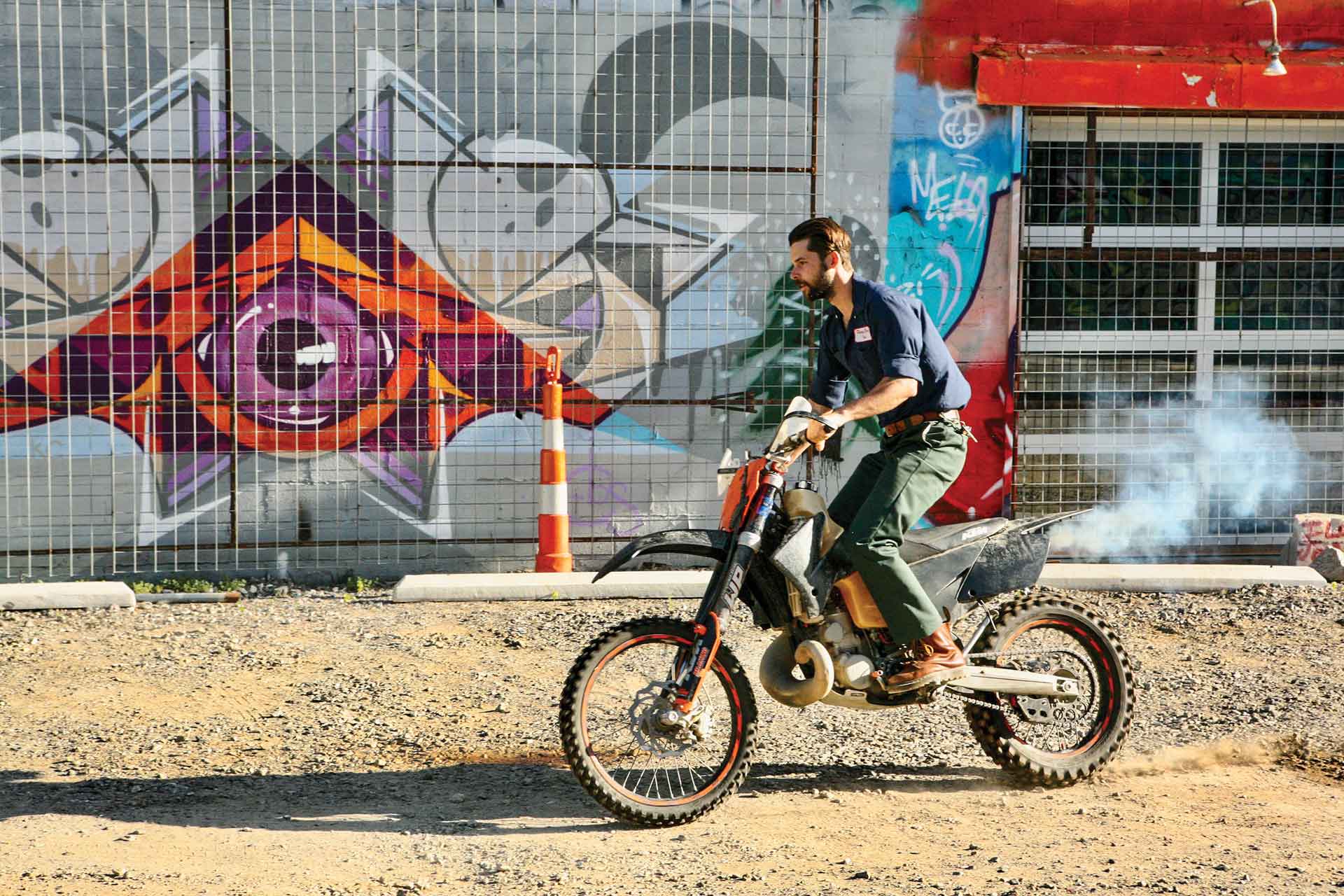 Pieranunzi also owns a vintage hunter green 1973 BMW R75/5. It exudes old-school charm, but runs like a dream, he says. The aged yet pristine BMW has traversed the entirety of the Blue Ridge Parkway.
Jacob Owen shares a breadth of ridden roads with Pieranunzi.
"I have a map of the Asheville area that I trace our motorcycling routes with a red marker. After three years of riding with Dean, the map is almost completely red," Owen said.
Originally from Rhode Island, Pieranunzi now lives in Asheville, North Carolina. He moved to the area when he was 18, shortly after he began developing his love for dirt bikes.
"Asheville is like my adult home, I have a stronger tie here now than I do up north, but I'm a Yankee. A damn Yankee," Pieranunzi emphasized.
Outside of riding, Pieranunzi works in carpentry and construction, including niche work with historical renovations. He works as a musician as well, playing drums for a variety of local bands in Asheville. The pandemic hindered the local music scene, which dissolved his melodic tendencies for a while.
"It seems like things are turning around with music in that sense, in Asheville anyway, but slow recovery for sure," Pieranunzi said. 
The essence of nature and motorcycle riding proves an enjoyable escape from reality for Pieranunzi. He frequents the Cherohala Skyway in Tennessee as well as Hurricane Creek and Highland Park. Yearly, Pieranunzi attends March Moto Madness in Tellico Plains, which is a ruggedly fantastic attraction for dirt bikers.
"Everyone meets up on a piece of farmland that someone owns, and they have riding, food, fires, beer, bands, like 500 people out in the woods with no cell phone service. You take off from there and are given sheets with mile markers to help with directions, but it is more of a free for all to meet up with people and go ride. It's once a year but it's a party, it's awesome."
Multi-faceted and drawn to an array of bike events, Pieranunzi is a member of the American Historic Racing Motorcycle Association. AHRMA's focus is vintage motorcycles coupled with both road and dirt bike racing. Pieranunzi rides a 1976 Husqvarna WR360, a two-stroke six speed with a left side kicker, when he races with AHRMA.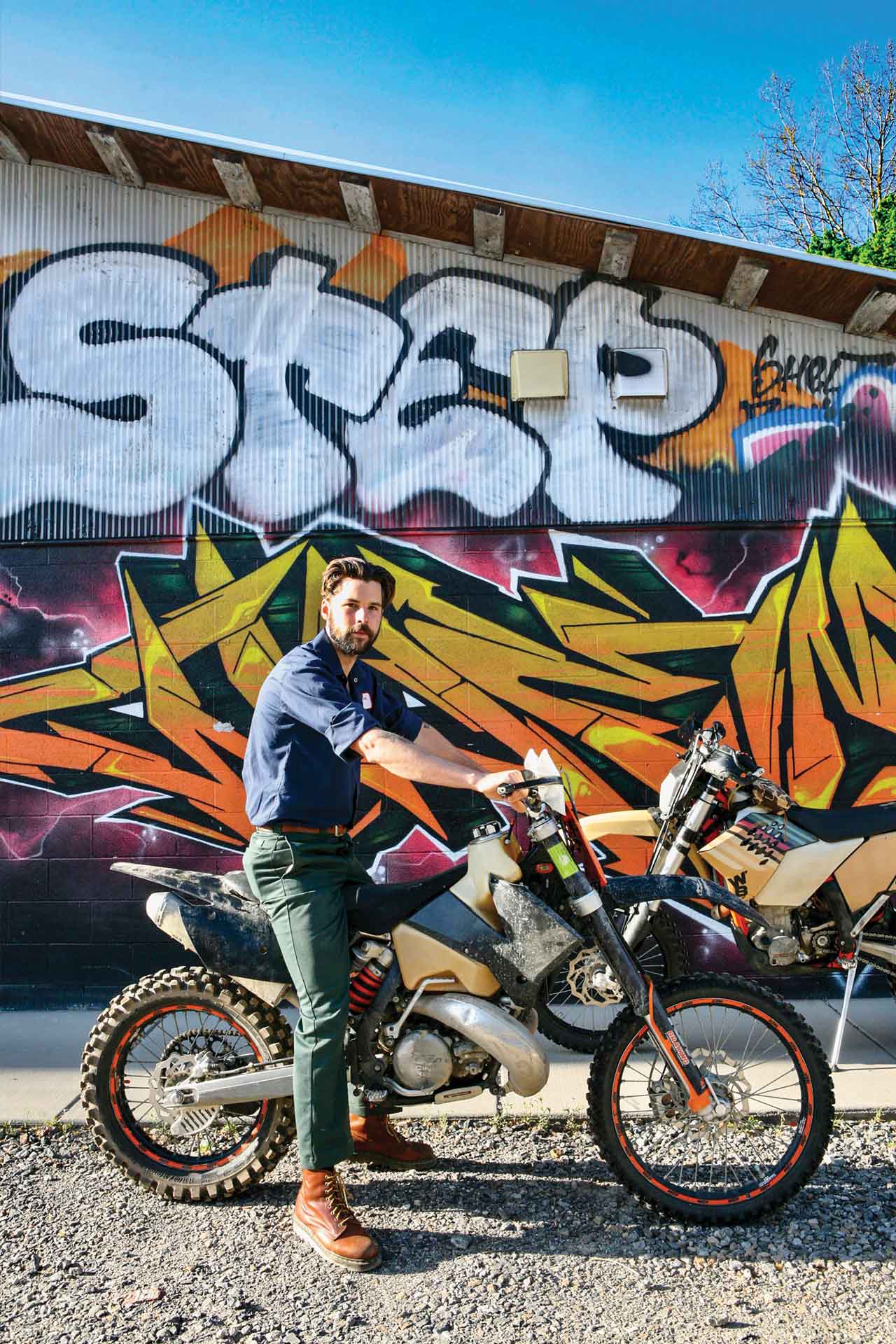 "It is very particular, a lot of old bikes, you have to whisper to them to get them started, or you have to know the way to tickle them to life, and that Husqvarna is no different, it is really just a pain in the ass, but it is fun and it is beautiful."
Pieranunzi found the Husky at an estate sale in an old rustic barn. He bought the untamed, champion wining bike for $200, which is crazy cheap for a '76 Husky. It didn't run or have a spark, but Pieranunzi stripped it completely, taking every part off the frame. He repainted it and put it back together, leaving the motor alone except for the top end.
"It's totally old school, not like a modern two stroke at all, it is basically an on and off switch with the power you can crack the throttle and it will wheelie until the cows come home."
To Pieranunzi, there is nothing better than riding a bike that he has built himself. In racing with AHRMA and on old forest roads, Pieranunzi takes pride in modernizing a prehistoric bike and giving it a run for its money. 
"I just like the comradery of riding and having fun with the off-road stuff, it's just a hell of a time, and that's why I like it. You can get as silly or as serious as you want out there," Pieranunzi said.