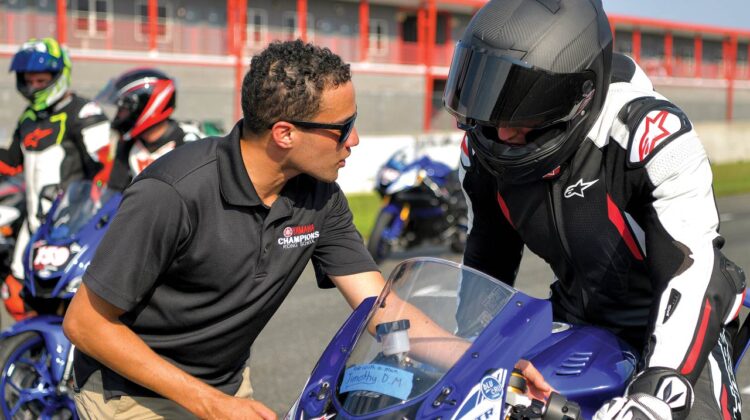 "Motorcycles are dangerous" serves as a mantra many two-wheeled enthusiasts often hear. It proves an interesting statement, considering a motorcycle is a machine that only does what its rider tells it.
So along that logic, a motorcycle is only as dangerous as its rider. Yet numerous motorcyclists have little to no education or training to understand the physics of the bike they navigate, or to develop the skills and technique those physics dictate.
Rider education goes beyond the peace-of-mind of safety. Becoming a better, safer rider equates to improved confidence, and with confidence, riders will likely discover more delight. It also often translates to increased control, which in turn means safely increasing speed.
Perhaps you've heard all this before. This is where my personal experience comes in. In fact, you could say I'm a bit of an evangelist on the subject. After all, I've found rider education and training to be positively transformational.
To the extent education has transformed my riding, you have to understand where I began. I've been an inexperienced, nervous rider teeter tottering through the curves of the infamous Dragon and merely trying to survive at a track day. Not feeling in control of your motorcycle proves far from fun. I spent many group rides feeling inadequate and scared. Then one day, I became sick and tired of it. I desperately wanted to be a confident and in-control rider who just plain had carefree fun on my bike. I realized early on that the key to achieving this was to work at it. And like anything a person desires to be good at, it requires education and not just practice, but practicing the right skills.
Today, I hardly recognize the rider I used to be. It's amazing the difference it makes to feel in control and to understand the "why" behind proper technique. Suddenly, the most technical of corners are no longer daunting and there's a renewed sense of peace-of-mind that comes with a solid understanding of how your motorcycle works and what prevents you from blowing a corner or even crashing. As world-renowned motorcycle coach Nick Ienatsch would say, you are (virtually) crash-proofing your riding when you possess the knowledge of what causes crashes and then how to prevent it from happening using skills and technique.
Luckily, in the Blue Ridge region, opportunities for education and training exist whether you enjoy hands-on courses or prefer to learn on your own time and schedule through books and videos. If you're an experienced rider looking to find confidence or a veteran rider looking for improvement, these motorcycle education and training offerings prove to be transformational.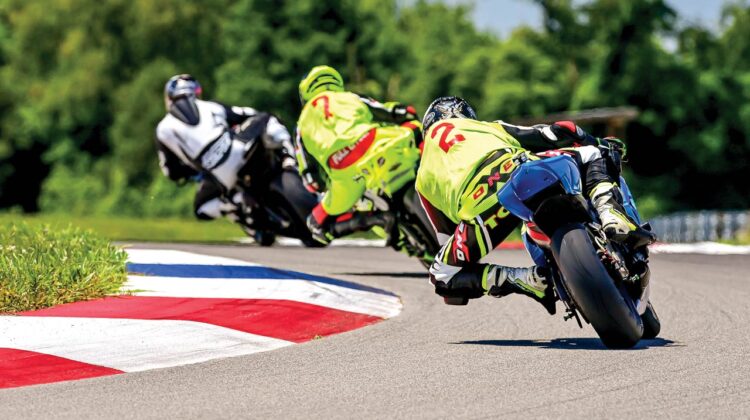 Motorcycle Safety Foundation Course
For those brand new to riding, the MSF Course offers solid introductory knowledge and best practices for safely riding a bike on the road, but it also starts new riders out with the fundamental basics: how to work the clutch and throttle, how to utilize the brakes to stop quickly and how to shift, among other elementary but important skills. The MSF Course is the first motorcycling course I ever took. I found they did a great job introducing people to motorcycling and their step-by-step approach wasn't overwhelming or challenging. Many of the people in the class had never ridden a motorcycle by themselves before (including me), so it was an amazing feeling at the end of the course to be able to say, "I am a motorcyclist!" In addition to the basic rider course, the MSF also offers more advanced rider courses to appeal to more experienced riders looking to hone their skills. More information can be found at www.msf-usa.org.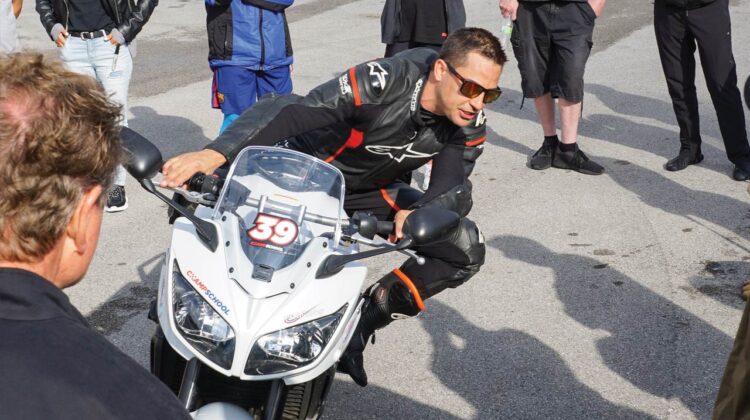 Track days
Many motorcyclists possess the incorrect perception that track days are relegated to racers and motorcyclists who seek to be fast. The truth is, anyone with a full-face helmet, leather suit and boots can do a track day — and benefit significantly from the experience. Track days typically offer three groups: novice, intermediate and advanced. All groups offer on-track coaching, but the novice group provides classroom instruction where they impart a significant amount of knowledge about riding technique. On the track, the coaches will follow you or have you follow them. They then share helpful tips that riders can work on and finesse. Following a coach allows riders to practice braking, good lines and acceleration. Without coaching, riders often don't even realize what they're doing wrong and it takes a coach pointing it out and helping you work on it. Also, there's the added benefit that it's a safe learning environment. If you run off track, you won't hit a tree or careen off a cliff. No one is going the opposite direction, so no one will hit head on if you blow a corner. Sportbike Track Time offers many track day opportunities within a short driving distance for riders in the Blue Ridge region like Road Atlanta in Georgia or Carolina Motorsports Park in Camden, South Carolina. For those willing to drive further, they also host track days throughout the Southeast at tracks such as Barber Motorsports Park and Talladega GP Raceway in Alabama and Jennings GP in Florida.
Yamaha Champions Riding School
The holy grail of motorcycle education and training? Yamaha Champions Riding School. The school aims to change people's riding by introducing them to "champion habits," or in other words, the techniques, approaches, skills and mindsets of the best riders in the world. These habits are the foundation of safety and consistency to whatever speed you ride — fast or slow — and in any venue and on any bike. It's just as much for street riders as it is for track riders. They believe that the best way to make safe riders is to first make good riders. Their curriculum is based on two principles: how the best riders in the world ride and how a motorcycle is designed to be ridden.
They strive to make new riders excellent and veteran riders even better. As a graduate of Champ School, this is hands-down the best investment a rider can make in his or her riding. My only regret is not having done it much earlier on in my riding. I progressed light years. There's a reason you won't find negative reviews of this program: their curriculum just plain works. Many street-only riders may prefer their Champ Street School that can be applied to any type of motorcycle whereas the Champ School two-day training curriculum is designed around emulating the techniques of the best riders in the world. Until recently, Yamaha Champions Riding School programs were a long drive for those in the Blue Ridge. However, the organization now offers all three of their programs at NC Bike in Garysburg, North Carolina. More information is available at www.ridelikeachampion.com.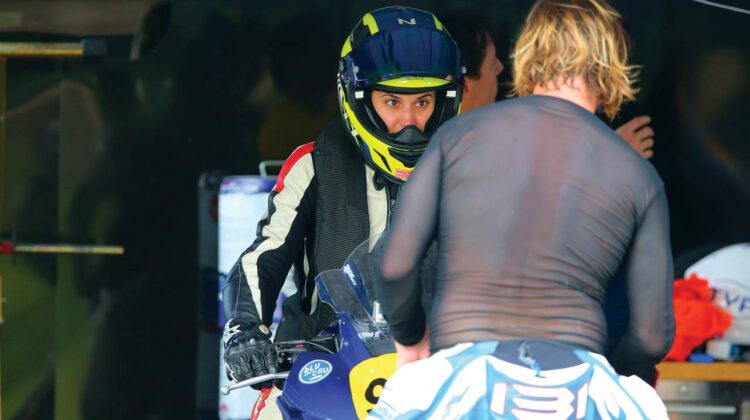 Riding with better, faster riders
It behooves riders to be discerning about whose advice and riding they follow. Just because a rider is fast, it doesn't necessarily mean the rider is a good, safe rider to emulate. However, following and learning from someone proven to be a good, solid rider can help you become a better rider. Whether on the road or track, following experienced, trained riders can teach you a thing or two by mimicking their lines, body position, smoothness and braking points. If you don't already have experienced motorcycling friends to follow, then motorcycle events and rallies are good way to meet fellow riders — which leads to the next opportunity.
Events and rallies
Events not only provide a beneficial means of networking, but they often offer educational opportunities around topics such as bike maintenance and riding skills. For example, Women's Sportbike Rally, which takes place near The Dragon in Robbinsville, N.C., each year, not only offers an array of workshops but also group rides at a variety of paces and ability levels. Since the Blue Ridge area serves as a prime motorcycling destination, countless rallies and events exist for nearly any type of bike or rider. There are meet ups and rallies for two strokes, Harleys, small bore bikes, electric motorcycles and even a rally specifically for Honda Monkey owners, just to name a few.
"Twist of the Wrist" (and "Twist of the Wrist 2")
The roads across the Blue Ridge region are very technical with many different kinds of corners and changing elevation and camber. The first "Twist of the Wrist" book teaches how to read corners, set up for them, how to use the bike's controls to properly corner and the best lines to take. The author, Keith Code, doesn't just tell riders how to ride, he explains the bike's mechanisms and physics and the "why" behind what he's teaching. Each chapter of his books build on the prior ones. What I found to be extremely helpful was to read a chapter and then go out and ride and to focus on that one skill until it's ingrained and second nature. I would read the next one and work on that skill and so on. Just by reading these books and putting the knowledge into practice, my riding drastically improved — especially my cornering. Both books are available on Amazon.
"Total Control"
Another great book for motorcyclists looking to take their riding to the next level is "Total Control" by Lee Parks. Total Control courses are offered across the country, however, the closest one is Kentucky. Before making a long drive for the course, the book the course is based upon provides a good start. Parks, an accomplished racer and instructor, explains the ins and outs of high-performance street riding. Through photos, instructions and diagrams, riders can learn the intricacies of proper techniques for street riding and a better understanding of braking, cornering and throttle control. This book can also be found on Amazon.
REVVtalks
REVVtalks is a rider education virtual vault that aims to educate riders through webinars, conferences and an extensive video library. Weekly REVVtalks are free to attend or watch via YouTube live-stream. Monthly membership gives riders access to the Virtual Vault. A standard membership allows riders to watch any previously recorded REVVtalk on-demand and VIP provides access to the Vault plus exclusive discounts, freebies and exclusive invitations to one-on-one meetings with REVVpros. During a time of social distancing, this serves as an ideal alternative to in-person rider courses while still learning from industry-known professionals and vetted mentors. More information on REVVtalks is available at www.revvtalks.com.
As Benjamin Franklin once said, "An investment in knowledge pays the best interest," riders will find investing in themselves as a rider — instead of in expensive bike mods — provides the optimal return. Whether looking for hands-on rider training, events to attend, books to read or videos to watch, numerous opportunities exist to improve. If you're ready to be a better, safer rider, or even a faster rider, gaining more knowledge is the best place to start.