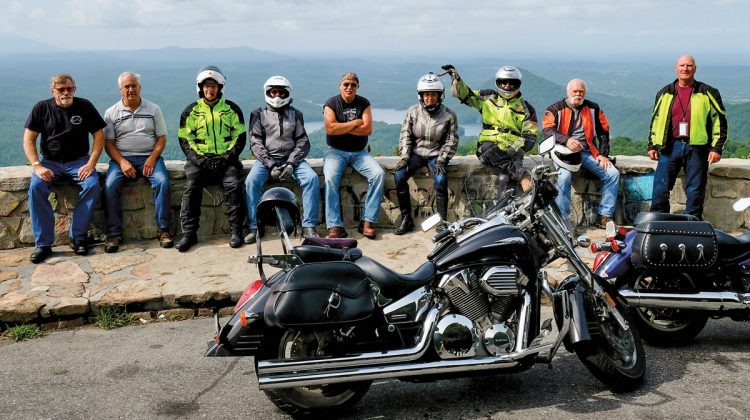 The light shines a little bit differently in Tellico Village. On the ride to the Smoky Mountain community, nestled along the shores of Tellico Lake and surrounded by lush forests, mountains and blue skies, the sunlight peeks through the trees casting a glow.
Perhaps that's why so many out-of-state motorcyclists choose this East Tennessee planned community to retire — it's a motorcyclist's dream with some of the best riding roads in the country.
The infamous U.S 129 — "The Dragon," with 318 curves in 11 miles — is a short ride away as well as the Cherohala Skyway with panoramic views along mountain ridges combined. There's also the Tellico Adventure Trail, for dual sport and adventure riders, with 700 miles of forest trails and local backroads. With numerous, avid motorcyclists within the community of about 5,000 residents, a motorcycle club just makes sense. But just as the Tellico Village area has its own special glow, the Tellico Riders are far from your average club: It's distinctly special.
It all started 20 years ago when riders within the Tellico Village community fostered an idea that resulted in creating a club. With amazing popularity, 25 people showed up at the first gathering and it grew rapidly, now boasting 100-plus members. Club meetings are held once a month in addition to several scheduled group rides, dinner or lunch rides and possible special trips each month.
New club members often learn about the club via the New Villagers organization for residents who have moved to the village within the past two years. The community holds events where new villagers can learn about the 100-plus clubs available to participate in that align best with their interests. The Tellico Riders also have a brochure at the welcome center and website. What makes this club different from many motorcycle riding clubs is that it's run like a well-oiled machine—and it places an emphasis on rider safety. Just talk to Carl Bye, the current club director, and Paula Moore, the club director from 2015 to 2017 and assistant director from 2017 to 2019.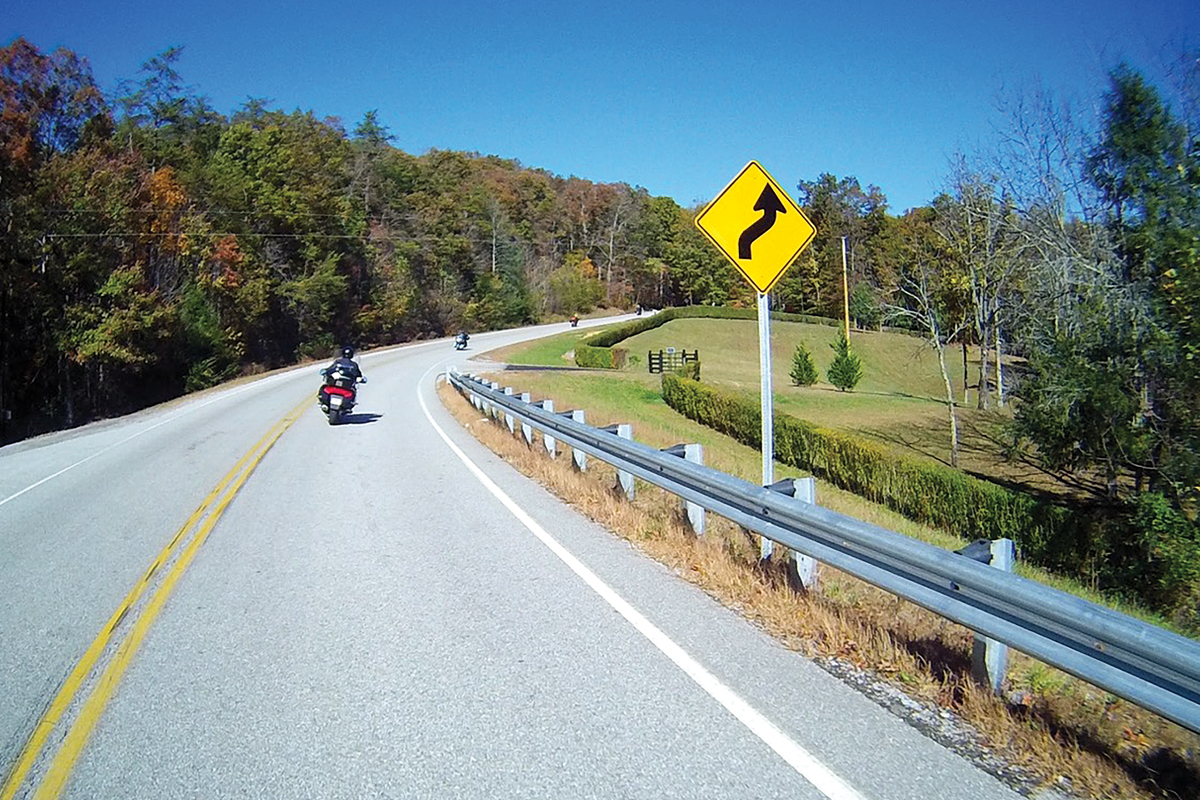 Sporting black shirts embroidered with the Tellico Riders logo, Bye and Moore explained the club's history, mission and format articulately, and in their descriptions, it's apparent the club is run with professionalism. This is no surprise considering that while many of the Tellico Riders members and officers are retired, they bring talent and expertise to the table from their prior careers. Bye owned and ran a company while Paula was an officer in the Navy. The club has an operating plan, a comprehensive leadership structure and ride captains and sweeps for club group rides.
"We have a calendar of events on our website and email reminders are sent out before each ride," Bye said. "In addition to group rides, we do extracurriculars like overnight rides up to Helen, Georgia, and last year we went to Little Switzerland. There's a lot of planning involved. Finding hotels, restaurants, mapping out rides."
Bye said they even use a road rating scale developed by Smoky Mountain Hog Group so riders know ahead of time whether it's a road or group ride they'll be comfortable on. The scale is rated using "dragons" with five dragons being the most difficult.
"We get people from places like Florida and Illinois who aren't used to curvy roads and elevation change," Bye said. "It takes a while to get acclimated, so we offer rides for new members where they can get acquainted with our local roads and we provide guidance/advice and share our cornering techniques."
The club provides instructional rider safety videos, strongly recommends wearing protective gear, and to join the club, new members must agree to watch a video on group rides and hand signals. One or more of the club's 13 ride captains pre-ride the ride route in advance of a group ride and briefs the group on road conditions, what to watch out for, and other ride details during the rider meeting the day of the ride. The club has a safety officer in addition to ride captains who regularly provide safety-related items of interest briefs during monthly meetings.
"We use MSF (Motorcycle Safety Foundation) guidelines and videos as our 'rules' so to speak with hand signals to foster consistency within our group rides," Moore said. "It details how to ride staggered, single up, the distance between bikes, and other important signals. We also use the MSF guidance with the number of bikes in the group. MSF says six to eight, max. If we have nine people, we break up into two groups. And we have a policy of no alcohol on rides. It's a danger to the rider and others."
While many of their members may not have been safety conscious before Tellico Riders, they are more aware now, Moore said.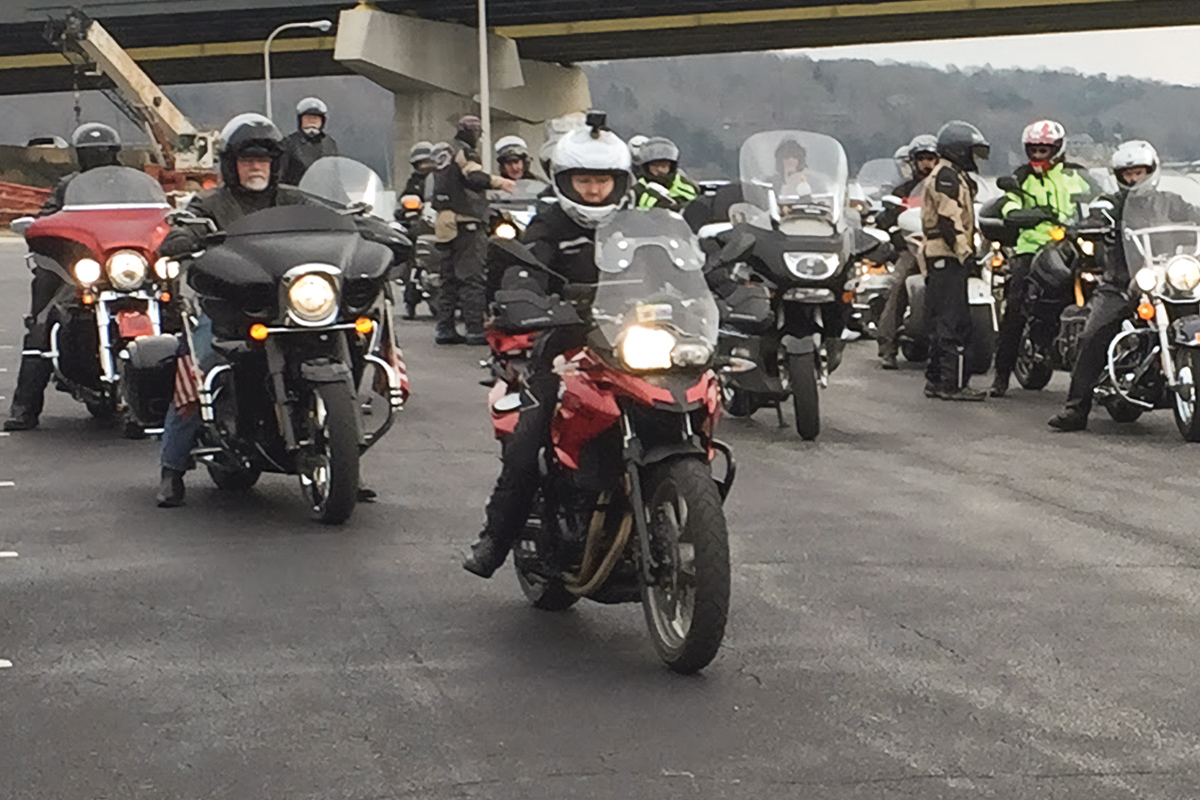 "Some of our members have been MSF instructors in the past and they'll do things like a low-speed motorcycle handling day, or a 'ride like a pro' clinic," she said. "We don't want to tell people what to do, so instead we offer information and education, so people can make their own informed decision. We educate by showing where to find good, protective gear at good prices. In the past, we've even had Cycle Gear and Harley Davidson come to meetings and bring different types of gear and talk about it. Now, almost all our club members wear full gear."
The group doesn't focus on any one type of gear since the club has a variety of different kinds of motorcyclists who desire different styles of gear.
"We started out with a lot of Harley riders — there weren't sport bikes since the community was mainly people who retired and preferred cruisers," Bye said. "But now, younger people are moving to Tellico Village since the taxes are lower here than in other parts of the country and many people are relocating. We also have a lot more riders on adventure bikes now."
Bye has a Harley-Davidson 883 Screamin' Eagle, but his current go-to bike is a Harley-Davidson Electra Glide purchased for its comfort for two riders when he and his wife, Donna, ride together.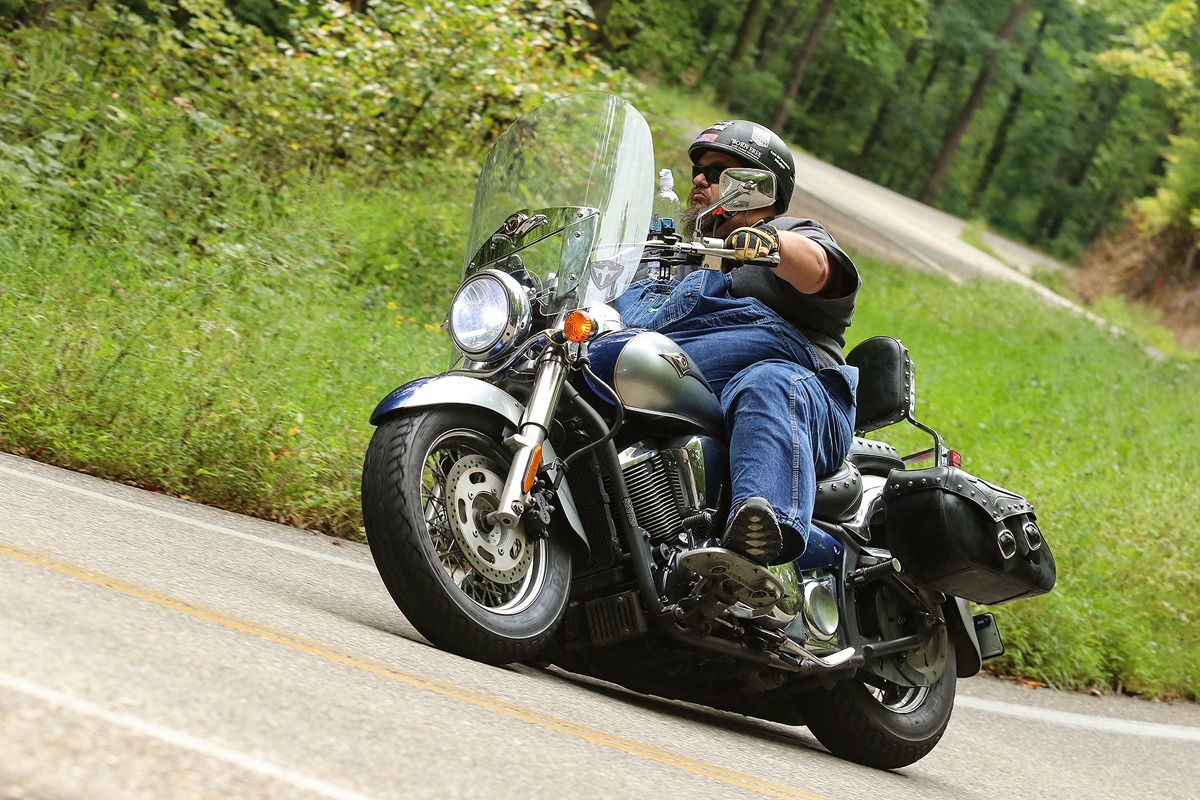 Moore previously owned a Kawasaki Ninja 600RX, but her bike of choice now is a BMW F700 GS. Both have one thing in common: a penchant for traveling and adventure. For instance, Moore and her husband have completed 23 guided tours—some in the U.S., but many in countries like South Africa, Peru and Ecuador. They spent most of January in New Zealand and rode more than 2,000 miles.
Jeff Wells, another member of the Tellico Riders, joined a 9,000-mile trip to Alaska this summer to raise funds for Alzheimer's care. It was just another example of the group supporting worthy causes, promoting safety and generating a sense of camaraderie.
The Tellico Riders aren't your average club, and they're certainly demonstrating motorcycling and adventure aren't bound by age. They're living life to the fullest.
— Sarah Merrell