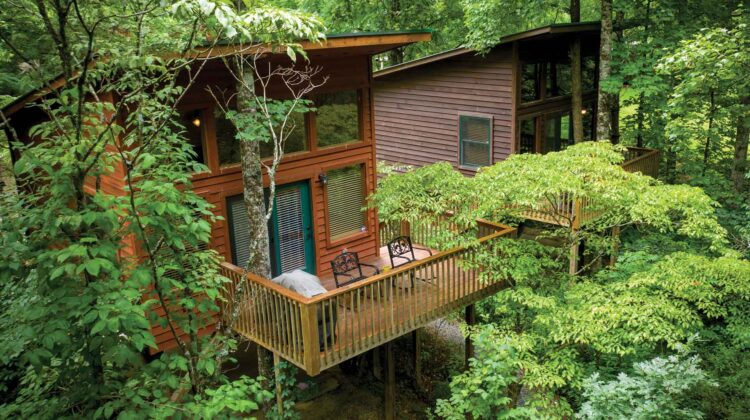 I slayed a dragon and slept in a treehouse," at least that's what my T-shirt says. From my perspective, "slayed" seems too strong a word, it felt more like I was chased by a dragon and managed to escape. 
Not far from the curves of the famous Moonshiner 28 and the Tail of the Dragon lies Robbinsville, North Carolina. To celebrate our anniversary, my wife and I packed both our motorcycles and headed for the River's Edge Treehouse Resort, where owners Doug and Laila Mortimer created a unique experience catering to motorcycle and sports car enthusiasts. Our aptly named treehouse had one growing right through the front porch. Every treehouse has covered parking with a full wash station including soap and water hose, so you and your Ferrari or Ducati look spiffy and shiny for your Dragon pictures. The Mortimer's personally greet each guest and go out-of-their way to make sure you're comfortable.
"Before we moved to the beautiful Smoky Mountains, we both worked in industries that enabled us to travel around the world. We stayed in many different hotels that rated from one-star to five-star luxury. We think we know what hotel guests are looking for," said Laila Mortimer. "In Robbinsville, the area's tourism base is largely motorcycle and sports car enthusiasts wanting to experience our world class roads and the natural beauty of this area: the mountains, the lakes and rivers, the gorgeous trees, shrubs and flowers. We became aware that there is a lack of premium lodging for those who want an up-scale, affordable place to stay while here."
The Mortimers say they aim to offer guests the first-class amenities they desire, including safe, secure parking under each treehouse, king size beds, free WiFi, and satellite TV.
"We love this beautiful mountain area," she said. "We want to make your visit very special and unique."
River's Edge Treehouse Resort, just 15 minutes from Deals Gap, features a quiet, off-the-main-road location, but is still close to McDonald's just in case you get a craving. The treehouses border the river with a nice swimming hole. A fire circle with provided firewood makes for the perfect gathering spot in the center of the five treehouses, each of which offer Wi-Fi and satellite TV.
Our adventure began the day before. I put the panniers and topbox on my BMW R1200R, transforming it from naked bike to a sport. My wife, Sheri, fired up her Yamaha MT-03 and we left Asheville headed to Highlands along U.S. 64. This trip was not about hurrying but enjoying the ride and stopping frequently to enjoy our journey. U.S. 64 is a fun road itself, especially near Lake Toxaway where we made a detour south on N.C. 281 to get a peek at Whitewater Falls before heading back.
We stopped at Sapphire Valley for lunch at Mica's Restaurant — the fried cod was worthy of a return trip — before stopping at the Highland Inn for the night. We stayed at the remote location, not the one downtown, where our huge room featured a separate kitchen, living room, gas fireplace and jacuzzi tub. The outdoor hot tub felt awesome after a day of riding. Later, we enjoyed a nice relaxing supper at The Ugly Dog Pub on Main Street, where the food and atmosphere were awesome.
The next day, we packed quickly and left the Highland Inn early under the threat of rain coming that afternoon. We really didn't want to get wet or ride Moonshiner 28 in the rain. Yet the call of the beautiful waterfalls outweighs the threat of rain, so we made the obligatory stop at Bridal Veil Falls and Dry Falls for photos before arriving at our treehouse destination in Robbinsville that evening.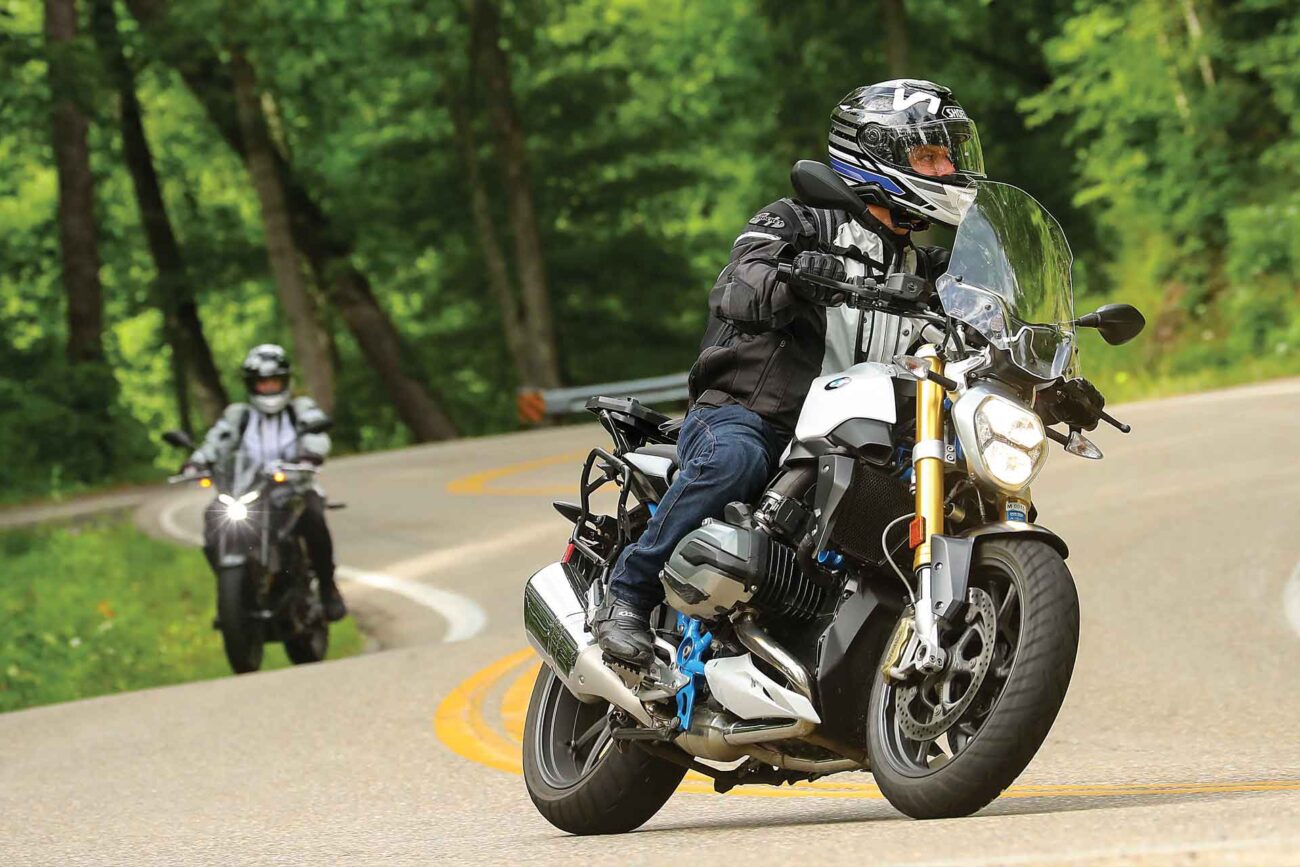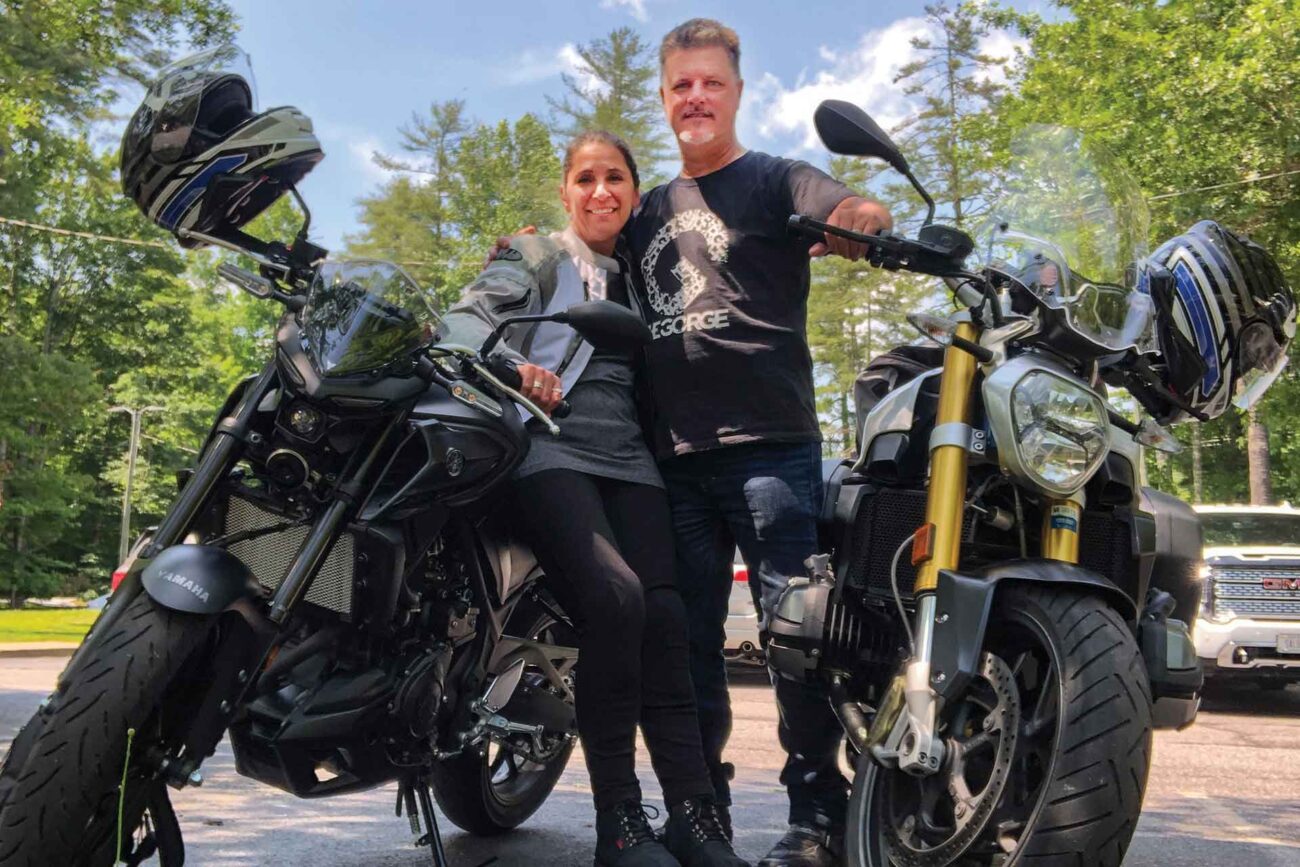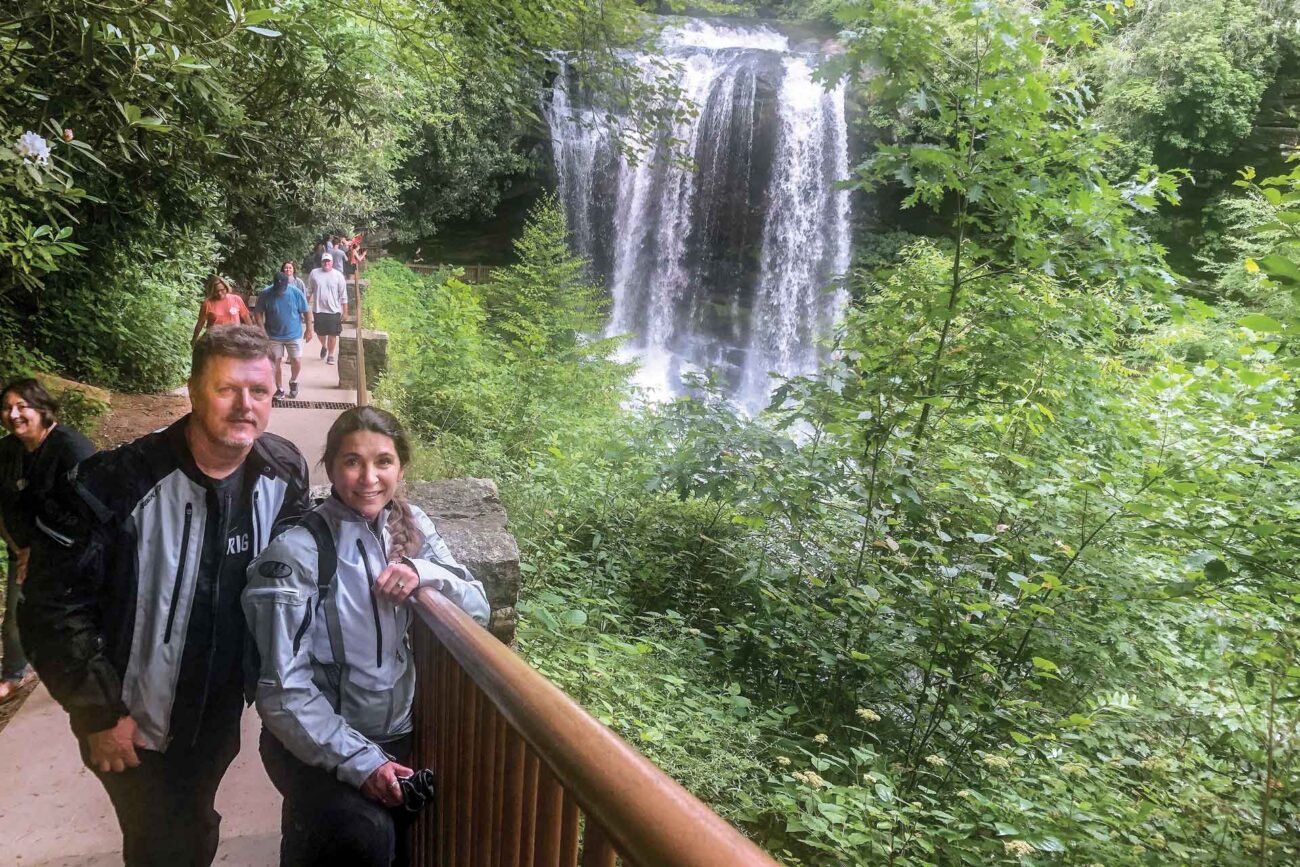 As we reached downtown Robbinsville, we ventured to Old U.S. 129 to River's Edge Treehouse Resort. Having beat the rain, we decided to unload the bike and convert my R1200R back to a naked bike. Now it was time for lunch, so we hopped on our unladen bikes and rode back into town, stopping for lunch at Lynn's Place. This is our type of place, down-home cooking and awesome cheeseburgers followed by blackberry cobbler with ice cream. 
"I've been in the restaurant business all my life," said Lynn Brown, owner of Lynn's Place. "This coming March, Lynn's Place will have been open for 20 years. I love meeting all the different people and serving food. It's fun to meet people from all over the world. 
Brown collects patches from fire departments, police departments and motorcycle groups, and said if they bring them in, she's happy to display them on the wall." 
With a full belly, we made one last check of the weather. The rain arrived and left before we did, and the roads were drying quickly. We chanced it and headed straight to the Tail of the Dragon.
The threat of rain and intermittent showers turned most riders away that morning. When we hit the Deals Gap Motorcycle Resort, the sun was out and the road dry, but where was everybody? Were we at the right place? If so, where was the crowd? 
Empty. Well almost. There was no one in sight except for a couple of riders and a camouflage Lamborghini, just the wife and I to experience the Tail of the Dragon at our pace. The ride starts in North Carolina, and you're quickly reminded by a large imposing sign that this road has a high incident rate of motorcycle crashes. Then in a matter of minutes you're in Tennessee and your 11-mile joy ride begins. And what an awesome ride it is, I think the road designer must have ridden a motorcycle. If you've ridden the Dragon, you know what I mean — 318 curves in 11 miles with no intersecting roads, uphill, and it seems like every curve is sweeter than the previous. 
Sheri and I stopped at the Calderwood Dam overlook on the western end of the Dragon to take in the view and talk to a few other riders, as well as taking turns taking everybody's picture. I love places like this, everybody seems to be in a good mood. 
Not wanting to miss anything, we continued the ride for the full 11 miles before turning around to ride back. A few minutes later, with all 11 miles under our belt and another round of photos, we arrived back at Deals' Gap for a soda, souvenirs and a photo by the Tree of Shame. 
On the last day of our trip, we woke from a restful sleep in our treehouse. We had hoped to snag another run on the Dragon, but the weather report warned of more rain, so we took the backroads to Cherokee and then jumped on the Blue Ridge Parkway for a long and leisurely ride back to Asheville. What an experience, riding some of the region's best motorcycle roads at our own pace, nobody crowding us from behind. What better way to celebrate an anniversary than riding with my best friend, who happens to be a beautiful woman and my wife.