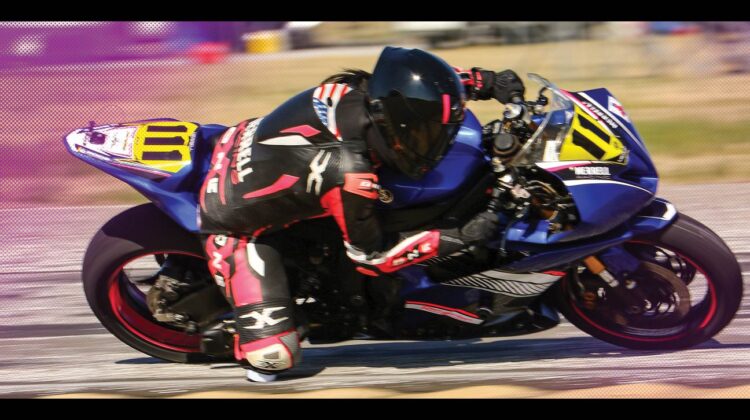 Motorcycle racing — the words alone make the heart beat faster. It conjures images of dauntless riders pushing their limits to the max at gut-wrenching high speeds and making thrillingly close passes to be the first across the finish line. It's an aggressive, daredevil-attracting sport reserved for those far from faint-of-heart.
So how did I, a prudent, risk-adverse and cautious person find myself racing a sportbike on a chilly Alabama weekend for the first time? Just like anything in life, we can be surprised by what we're capable of with hard work, determination and a dream. And with that combination, motorcycle racing is far more accessible than many people might think.
I didn't always dream of being a motorcycle racer though. To be perfectly, honest, I wasn't very good at riding in the beginning. I spent two months practicing in a parking lot and nursing many scrapped knees before finally graduating to the road and teeter tottering my way through the corners. Even after gaining confidence on the road, I struggled at track riding. Back then, I merely sought survival, so racing didn't appear on my radar.
My "a-ha" moment happened nine years after my first track day while attending a women's-only track day through Sportbike Track Girl, offered every spring at Talladega Grand Prix Raceway. When I found out there would be a mock race during the event, I figured I would just hang out in the back of the pack and try not to get run over. I soon learned the difference between track riding and racing: That the minute the green flag drops, you go through a transformation. Suddenly, a light switch went off in my brain and it was go time. All I cared about was getting ahead. When I crossed the finish line, I felt a high unlike anything I had ever felt. And to my surprise, I actually finished in the top five. In that moment I thought, "I need to feel this again. And maybe, just maybe, I can be a motorcycle racer."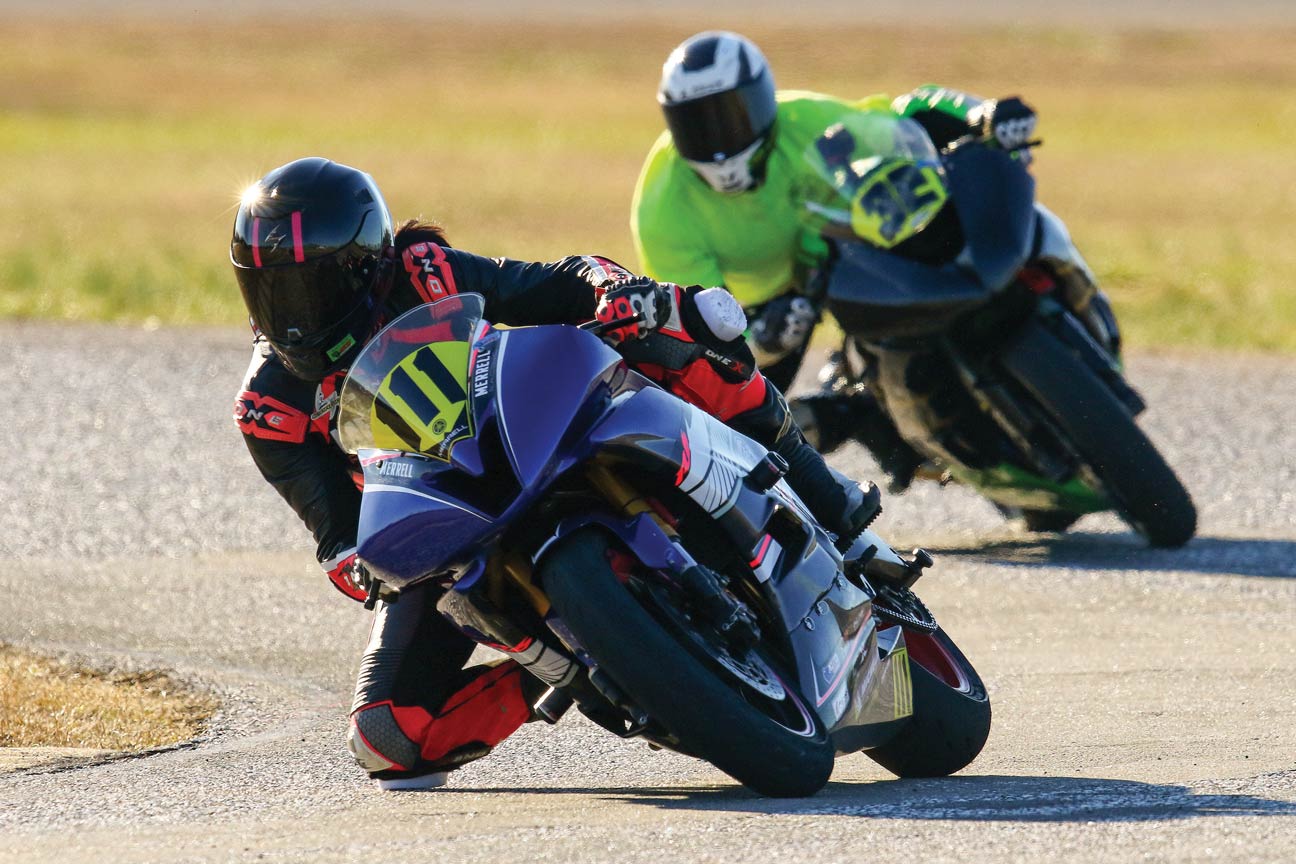 Even though the women's day at Talladega served as a turning point, I didn't truly believe it could be realistic until I had the chance to witness other women getting into racing. That same year, Jessica Martin, Nicole Burrows and Star Reid competed in club racing. Watching their experience and how much fun they were having sparked the longing to pursue it for myself. That was in 2019, and at that time, I had the desire, but I didn't feel ready. I feared my lap times would make me a rolling chicane for faster riders — or worse, that my slow speeds in comparison to other riders would be a safety concern. And that's when I went to work.
That year, I completed Yamaha Champions Riding School, which is an intensive, two-day riding school with some of the nation's best coaches that teaches the habits of champion riders. The experience was positively transformational. Following Champ School, I shaved six seconds off my lap time, which is forever on a racetrack. I also tried to do as many track days as I had time for and could afford. At the track days, I sought out coaching and advice and worked on my skills. With each track day I improved, and by the time the next Sportbike Track Girl day rolled around at Talladega, I had far more confidence. After riding in the advanced group with women who race, I decided I was ready. But, as it turns, deciding you're ready is far from truly being ready. The riding part only gets you half-way though.
Getting into racing is expensive. Even though I had a sportbike, that does not equate to a race bike, and transforming it requires parts and labor. Each race organization is different when it comes to their technical requirements, but most organizations require race bodywork and a steering dampener — both of which are pricey. The list included additional parts I had to buy, like an extra set of wheels for my rain tires, because you never know if you may be racing in the rain, and speaking of tires, you'll likely need at least two if not three sets for a race weekend. And there's gear. Luckily, since I had been doing track days for a while, I already had a lot of gear like front and rear stands, tire warmers, a generator, tent, tools, and the list goes on. The process of getting a bike and all your gear ready just plain takes time. But meanwhile, there's also the process of being ready to register for the race.
As a first step for most organizations, you must become a member of the American Motorcyclist Association. Then, you'll need to be a member of the race organization and obtain a race license. Since I had completed a riding school (Yamaha Champions Riding School), it counted as one of the approved race schools so in advance of my first race I was able to acquire my license, register with the organization and obtain my race number. However, if you haven't done one of the approved schools, you can either do a race school that's offered through a track day organization, or you can do the race school that is offered on race day.
Now comes the fun part — you get to choose your race. Each race organization has a different schedule and runs at different tracks. I chose WERA for two reasons. First, I had ridden and was familiar with most of the tracks where they raced, but the main reason was that two of my best friends, Anna Rigby and Emily Prince, and my husband, Jud Merrell, would be racing with this organization and I wanted the support and camaraderie. The fact that it would be the first-time racing for us women provided some peace-of-mind in knowing we were all experiencing the same steps through the process, and most importantly, could support each other through the roller coaster of emotions. After all, to say racing for the first time is intimidating is an understatement. The four of us ended up choosing the Talladega Grand Prix Raceway event in February.
My fears in lead up to the race weekend included: that  the race would be aggressive with other racers bumping me and making scary passes that could cause me to crash; that I would completely screw up my starts and either stall the bike or wheelie it out of control; that my bike wouldn't pass the tech inspection and I would be forced to sit it out; and, that my skill and speed would be so far off the other racers that it would be embarrassing. As it turned out, I had nothing to fear.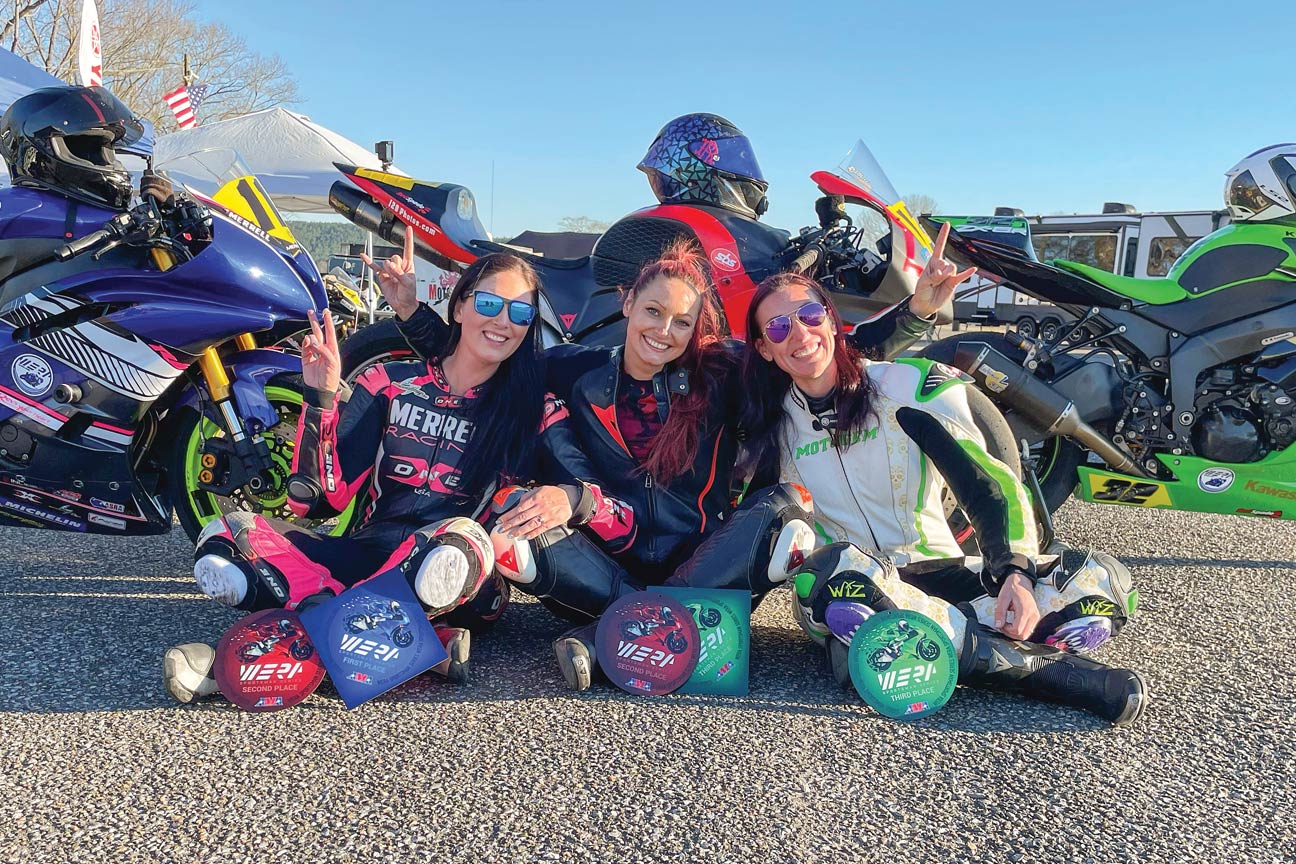 First of all, I found out that before nearly every WERA race, a track day is offered the Friday before the race weekend. This practice day proved vital. It helped me refamiliarize myself with the track and shake off the cobwebs, so to speak. They even offered a session specifically for working on starts. During this practice I learned starts on a sportbike are much easier than I anticipated.
Once race day dawned the following morning, I also found that tech inspection turned out to be nothing to sweat. The officials working tech did point out safety wiring I had missed, but they gave me the opportunity to fix it and then passed me. It was a relief!
Then, go time arrived. I felt incredibly nervous and nauseated sitting on the grid waiting for the green flag to drop. But once it did, and we all took off, surprisingly it was much like a track day or the mock races I had done. Sure, riders vied for position — as I did — but the passes were clean and non-intimidating.
Even my biggest fear — being embarrassingly slow — didn't come to fruition. Although the expert riders lapped me toward the end of the race, I stayed within a pack of riders and had fun making passes and battling it out. I wasn't left behind by the other riders. And I even made some passes.
Where I finished didn't matter though. Just the fact that I went out there and raced was an accomplishment enough in my book. As me, Anna Rigby and Emily Prince came off the track following the first race, we bubbled over with excitement and embraced each other. We did it. We could call ourselves motorcycle racers.
Following the first race, we had one more race that day and three more on Sunday. With each race, I became less and less nervous and enjoyed the sheer thrill and excitement of it. Unlike a track day, I loved the feeling of competition and it pushed me to hold the throttle open a little longer, brake later, get on the throttle sooner and push so I could keep the person behind me at bay and catch the person in front of me. I felt so alive. And it translated to an improved lap time. Prior to the race I had been experiencing a plateau, but racing shaved three seconds off my typical track day pace.
Now that the race weekend is over, it's hard to stop thinking about it. Although I would love to do a full race season, I have a career and finances to keep in mind so will likely shoot to do two or three races each year and look forward to my next opportunity to race. Looking back, I wish that earlier on I had believed that I had it in me to race. I assumed that because I lacked natural talent and was a cautious rider that racing just wasn't for me. But the truth is that all it takes is work and dedication.
And trust me, if I, at nearly 40 years old, can become a motorcycle racer nearly anyone can. In the U.S., we need more people in this sport, so I hope that in sharing my story that maybe other people out there who have wondered or dreamed of what it would be like to race will finally give it a shot. As C.S. Lewis once said, "you're never too old to set another goal or to dream a new dream."