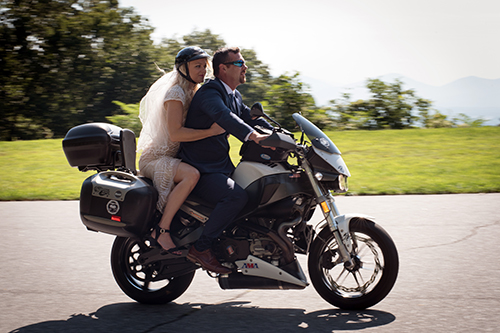 "It didn't take long; it didn't take long at all," Jesse Gray says describing how long it took him to realize he wanted to marry Heather Layton. The 35-year-old motorcycle mechanic went to West Henderson High School near Hendersonville, North Carolina, with his new bride, but he didn't ask her out back then. "I remember her from high school, she was one of those pretty girls that you didn't even talk to. She was just too pretty." I told myself, "No way, don't waste your time, you don't want to embarrass yourself, don't do that." Many years later, a romantic relationship commenced, "You finally just get old enough where you don't care about embarrassing yourself anymore," Jesse said.
Years before he met the love of his life, Gray discovered he had a passion for motorcycles. He was 4-years-old when his Aunt Tammy put him on her '47 Knucklehead. His mother's sister, Tammy Manley, still has the classic Harley-Davidson today. Starting at age 5, Jesse road a Kawasaki Mojave 110. He learned several valuable lessons on the four-wheeler. "Don't screw-up and be careful parking because it doesn't have reverse and you will have to push it or pull it to go backward."
He remembers at 6 years old being on his grandparents' motorcycle. Pete and Connie Gray had a 1974 BMW. They'd put Jesse up front and sandwich his 2-year-old younger brother Cody between them. "I remember going past Hendersonville High School, going down Church Street," he said. "I also remember coming out of Sunday school at Pentecostal Holiness (where the Hendersonville Theatre is now) and wondering if they'd be waiting on the bike. That's a nice little flashback."
Gray fondly remembers the day his dad brought home his first Shovelhead. "It was in the back of his blue pick-up truck, and we went to Aunt Tammy's to show her. It was a slab-side shovel, it had the Panhead bottom end. Four years later, my mom got her first Harley-Davidson, a '76 Shovelhead that I still have today. Mom had it for 14 years. She told me if I stayed out of trouble, stayed out of prison (he said with a grin), someday, I might end up with something. I have it today. In April, I'll have had it for 14 years. So, it's been in the family for 28 years. I just cranked it up a couple of days ago. It's in great condition, it's a great running bike."
An inquiry into his stable of motorcycles did not yield the total number of bikes in his possession. "Oh God, that's a sore spot. I just sold one yesterday I had for 14 years. It was very sad, very emotional," Jesse said.
"I thought he was going to have a panic attack," Heather Gray added.
"It's like putting a kid up for adoption," Jesse said. "I just sold a '78 BMW R100/7. It was an amazing running bike. I never had to do anything to it except buy tires or a battery from time to time. It never had any mechanical issues. I bought it in Sylva to keep the miles off the Shovelhead."
A little added pressure did result in specifics about Gray's current collection. His five motorcycles include two race bikes: a '06 and an '08 Buell, the Shovelhead and a Harley-Davidson V-Rod. The Grays took the 2008 Buell Ulysses XB12XT on their honeymoon, but that was not his bride's first experience with motorcycling.
Heather's grandparents, Max and Charlotte Layton, toured the country on their Kawasaki. "They were die-hard Kawasaki riders. They made fun of Harley riders," Heather said. "Grandpa would drive me up and down the road on this giant Kawasaki. Just in the neighborhood. They had a little group of friends they rode with everywhere. That was their fun time." Her grandparents sold their motorcycle and bought a lake house when she was 10, changing the toys to jet skis and a boat. Motorcycling would have to wait until she started dating Jesse.
The couple did not start dating in high school, nor did they start dating when Jesse came to Henderson Family Dental where Heather works. "He was my patient," Heather said. Jesse interrupted with, "I couldn't have a woman that good looking work on my teeth. I was so embarrassed, I didn't go back there for 10 years. It was 10 years before they met again at church.
In the interim, Jesse's passion for two-wheeling increased exponentially. In 2004, Jesse's family opened R&P Cycles on Asheville Highway in Fletcher, North Carolina. At the time, Gray was a welder but would go to the shop evenings to help his grandfather, Pete, his father, Ronnie, and his brother Cody work on bikes. By 2007, Jesse was also a full-time employee in the family business. They work on all makes of motorcycles but specialize in Harley-Davidson and Buell. The career change lead Jesse to motorcycle racing. "We wanted to do something with the sport. We thought we'd get into drag racing. Most of the Harleys go into drag racing. But I took the '78 BMW to Carolina Motorsports Park in Kershaw, South Carolina, for track day." Jesse had the Shovelhead and the V-Rod but only the BMW was eligible for vintage road racing. "I loved it. I had a ball! Everyone was on Yamaha R6s and I pull up on this '78 BMW. I got some looks, like 'what's this guy doing here' until we went out for our first 20-minute track session, and I smoked half of them. Then they all had a little more respect for the '78."
Fortunately, Jesse discovered Heather also loves racing, but first they had to "meet." Mr. and Mrs. Gray agree they met at Upward Christian Fellowship in Hendersonville. "It was hard to even say hello, but we smiled at each other a lot. I remember one Sunday, I smiled and said 'hi' to him three different times and thought, 'Heather, stop! You have to stop.'"
"I would sit behind her in church. I could see her, but every fourth Sunday we'd have communion and we'd walk around to the front. I'd have to pass by, oh gosh! She'd already got hers and was back in her seat and she could see me. I'd get communion and try to get back to my seat. I'd always get that smile. I'd get the prettiest smile. So, as I'm trying to repent of my sins (said with a laugh), I've got this other feeling on the other shoulder."
Finally, Heather discovered they had a mutual friend who invited Heather to come one night when a bunch of friends were getting together. Jesse learned she might be coming. "I was pretty nervous. Pretty nervous, but I was trying to play it cool. We were talking about motorcycles and then here comes this beautiful, blond bombshell through the door. Then I got really nervous."
"I was so excited, it was ridiculous," Heather said. "He talked to me the entire time, all his other friends just disappeared. We hung out a few times like that and then he asked me to come watch him race. I said, 'Well, we might want to go somewhere first." They went on their first date at Brooklyn Brothers Pizza. "Then I jumped into the racing world immediately. I went to his first race of the season and every single one after that," she said.
"She likes NASCAR, so when I threw her into motorcycle road racing, she fell right in. She loved it, she helps me in the pits, helps me set up. Everything," Jesse said. "She's my biggest supporter and biggest fan."
"Oh my gosh! I freakin' love it," Heather said.
When did you know you wanted to marry this woman? "Oh man, it didn't take long. It didn't take long at all. She is one of a kind," Jesse said. He waited for the perfect moment to pop the question, but the engagement ring was burning a hole in his pocket. Heather was doing laundry when he came in and said, "I need to talk to you. We need to talk right now. I told her how much I loved her and wanted her to be with me for the rest of my life."
"At first, I thought something was wrong," Heather said. Jesse said he was waiting for the perfect moment, how he almost asked when he won a race and was presented with the trophy, but he couldn't wait anymore. As if to confirm she is the perfect mate for the motorcycle racer and mechanic, Heather said, "That was two days before the Meltdown Vintage Motorcycle Show." The two 35-year-olds were married four months later on Aug. 12, 2017.
They planned to honeymoon in the Florida Keys, but Hurricane Irma detoured them. They decided to venture out on a motorcycle to Nashville then south through Alabama. "I loved flying by the seat of our pants. Go where you want to go, do what you want to do," Heather said. They planned on leaving Friday morning after a good night's sleep, but the storm was coming so they rode to Knoxville and spent the night. "It took us all day to get to Nashville. It was beautiful, we took our time, took back roads. Our plan was to have not have an agenda and no set place where we would stay each night," Jesse said.
"I'd never taken a trip like that, it was very freeing," Heather said. "Jesse makes me feel incredibly safe. Safe, secure and yet it's so freeing. We met the nicest people, and I believe it's because we were on the motorcycle. People were talking to us at stop lights. One of the first things I noticed were the smells. Everything smells different, you can smell life, nature," Heather said about being on the back of Jesse's bike. The couple would still like to ride to Key West, Florida, "but our anniversary will always be in hurricane season," she said.
The Ozark Mountains look like a nice place to go to me," Jesse offers.