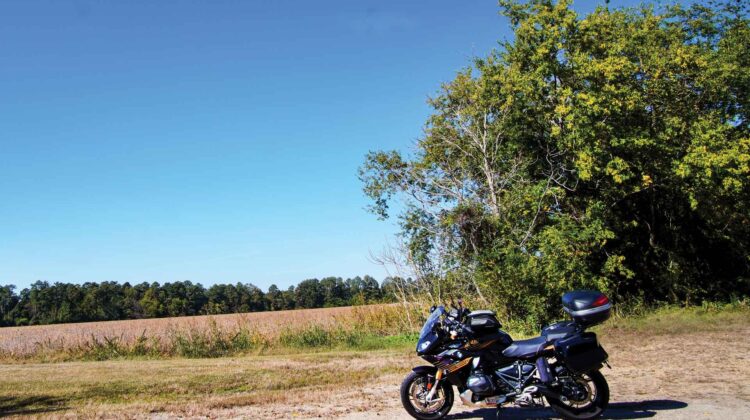 No-no-no. Not now. Not here. Not with nearby thunderstorms. Just over that mountain, on the other side of the interstate. Weather radar glowing orange and red.
Damn. Damn-damn-damn. 
Switch on. Bike in neutral. Clutch in. Press the starter switch ….
Clunk, cuh-Clank. 
Press the starter again. 
Clunk… cah-ah-ah-Clank. 
Switch off. Switch back on. "Ready to Race" fades in on the dash as normal. 
Press the starter switch. 
Clunk.
The dash paints a magenta swatch encompassing bold, white, all-caps: "MTC FAILURE."
I don't know what MTC means. All I know is, it has failed. And with it, so has my ability to proceed.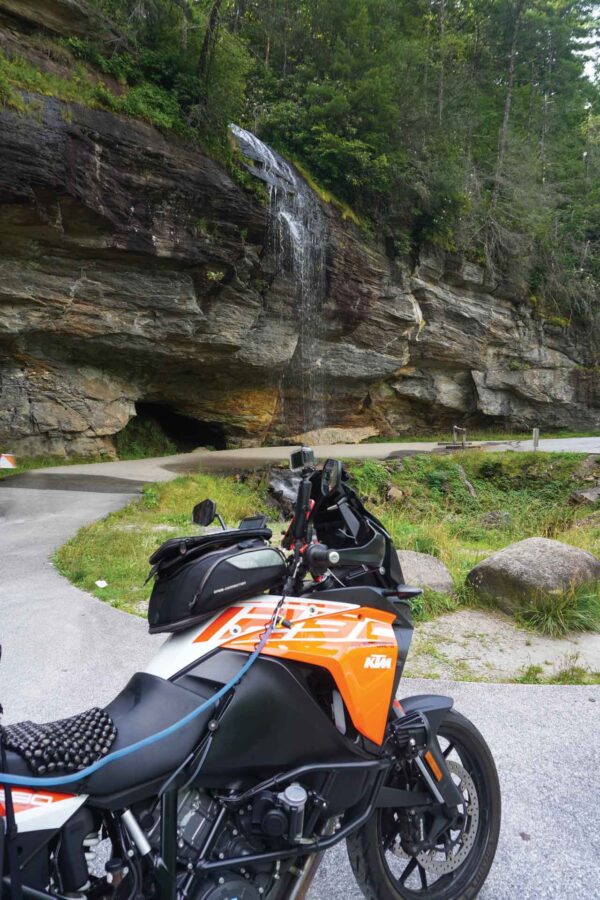 "Katie Em," my 2018 KTM 1290 Super Adventure S, rests six miles shy of 21,000 on the odometer. In two years, she's never left me stranded. Until now. In a gravel alley behind stores and restaurants in the hamlet of Black Mountain, North Carolina. 
The wind picks up, rattling leaves on nearby maple trees that provide scant shade. Above them, nastily charcoal clouds dance ahead of billowing cumulus. No rain yet, but the radar on my phone illuminates nasty green-to-yellow-to-red blotches south of me that move mostly toward my position.
Progress arrested. 
After 1,766.1 miles on this trip so far, and now no farther. Having just finished a stupendous meal of Jägerschnitzel with a side Weißwurst at the Berliner Kindl in Black Mountain, I'd hoped to jump on the bike for a quick jaunt back up the Blue Ridge to the Big Lynn Lodge — where all my stuff lay in a hotel room, where the rally was going on — and then travel home by late the next day. 
I'm hosed. 
I'd been on a nice trip, planned to last just about two weekends and 2,000 miles. 
The Sunday before I'd stopped on Lookout Mountain, Tennessee. My brother Ray lives there in our maternal grandparents' house, atop the plateau that overlooks Chattanooga. Though Ray would be gone that week, he told me to make myself to home, as they say in East Tennessee.
On the way there, I stopped at the Sgt. Alvin C. York State Historic Park, as I tend to do because of my history verve and my multigenerational veteran status. My grandfather fought in the First World War, same as York. He also led an Infantry platoon in the Meuse-Argonne. York famously was awarded the Congressional Medal of Honor for his own bravery in that battle and came home to Tennessee a hero. 
Family legend relates that my grandfather did some legal work for York in the 1930s. I wondered if perhaps they were friends, old soldiers never dying but fading into stories of glory. Or Gay Paree or the Armentièran mademoiselle.  
Wandering through the park and peering into the recreated WW1 trench behind York's farmhouse, memories from my childhood danced. My brothers and I would play Army with the German Mauser rifle my grandfather had brought back from France. We'd also sport the 1861 Enfield Tower musket that had been on the farm where my grandfather grew up. In the visitor's center museum, I saw a display of .30-caliber rifles that York might have used. I thought about the letter-opener souvenir my grandfather had, the one with the .30-caliber shell casing handle and scimitar blade inscribed "Montfaucon," in remembrance of the American assault there.
Back then, my brothers and I thought we were so cool with such cool toys. Now, we each have cool motorcycles to play with. 
Before dusk, I made it to the foot of Lookout Mountain. I ran up the scenic highway probably a bit too fast for safety's sake, but memory and muscle reaction led me well. Quickly I arrived at my brother's place, my grandfather's house.
After putting my KTM onto its center stand, deciding what needed to come off for the night, childhood memories wash over me. The placemaking scent of a moldering collection of National Geographics still stacked in the recesses of some corner filled my nostrils, mingling with the view of worn saws, hammers, augurs and mattocks. 
 I brought my gear though the musty basement, up the creaking stairs that groaned under our tread, and into the pantry just off the kitchen. I cannot walk through that basement or up those stairs or into that pantry without ghosts following me. Dup stands there by the bench-mounted vice grip, showing me how to properly sharpen a hatchet. Just to the left would be the tire chains my brother Ray and I helped him mount onto the Peugeot that famous snowy Christmas. Ray and I had trekked the mile from our house in a foot and a half of snow to surprise Nana and Duppy when they couldn't get out of the garage.
The house still retains the tracks and trails that memories leave — mental marks so fresh and visceral that I find myself looking out of the corner of my eye for Dup, changing out of his lawyer suit to go dig in his garden, his touchstone to his farming roots in East Tennessee.
The next morning, I rode southwest, wandering from Lookout Mountain to Alabama, then northeast through Georgia. I finally crossed into North Carolina to the Big Lynn Lodge in Little Switzerland, the main destination for a Motorcycle Sport Touring Association rally. Adirondack chairs set on expansive putting green-worthy lawns afforded breathtaking views of the hazy blue ridges ever-present in that part of the world.
I had all day Saturday to ride before heading home on Sunday. The weather promised a wonderful romp along the North Carolina highways and byways. From Little Switzerland to Mars Hill to Asheville, Katie Em and I ran grand roads with great pavement and well-cambered curves. In Asheville, I wandered the grounds of Old Kentucky Home, the Thomas Wolfe memorial, and then fired up Katie Em for a ride to Black Mountain for lunch.
And an appointment with an MTC Failure.
After several attempts to clear the alert message, I call Bryce Doyle, the service manager from Moto Richmond, where I'd bought Katie Em. Though 300 miles away, Bryce tries to diagnose the problem based on sound as I once again try to restart the bike. 
Clank. 
"I'm 90% sure it's a dead battery," he says.
That perks me up. A quick Web search finds that Eurosport Asheville isn't far away. I remember it as a reputable firm, a friendly place I'd visited a year or two before just to kick tires. They have a battery that'd work. All I have to do is get it towed there before they close at six.
It's now pushing two in the afternoon. It's been 45 minutes since I'd called my premium roadside service. Thunderstorms threaten.
Time ticks by and mounts the realization of how stranded I am. I call the roadside service again. "We estimate arrival at your location to be between 45 minutes and 90 minutes." Apparently "premium" refers only to the cost.
I place another call to Eurosport Asheville, begging them to deliver the battery. 
"I'm happy to pay extra, whatever it takes," I say, side-listening to the patter of big rain drops hitting leaves and ground. 
The dealer says, "No worries. Be there shortly and see what we can do." 
After only a 15-minute a friendly Sprinter van emblazoned with the dealership's logo arrives.
"Howdy! I'm J.T.!" 
J.T. Thompson introduces himself as he bounds out of the van.  Smiling, I call my premium roadside service and cancel their non-appointment.
J.T. switches out the battery and I start the routine: switch-on, in-neutral, clutch-in, breath held, press of the starter switch. 
Clank.
Mother of all — I think. J.T. says, "Ah, let's try bump starting it." We push Katie Em up a low gravel driveway from the alley behind the restaurant onto a street that points downhill. Rivulets of sweat snake down my spine under my leather Aerostich Transit jacket. 
I get on, tap the power button, put the bike in second, and hold the clutch in. J.T. pushes Katie Em as I gather speed and release the clutch lever.
Nothing.
"I'll just take you to the shop and let the team there take a look," J.T. says, calming my nerves a bit. We load the bike into the back of the van. It's after four in the afternoon. The shop closes at six and sunset looms mere hours away. I hate to ride in the dark. 
I hate to ride in the dark. I'm now fated to do so — assuming the fix is easy.
At the dealer, they unload Katie Em and wheel her lithe orange-and-white carcass into the nether regions of the dealership. I wander around, looking at the beautiful BMWs and KTMs on the showroom floor. I peruse tchotchkes adorning product trees and display cases. I drink a free "co-cola."
I sit. I wait.
I get up and reflexively wander over to the gear, looking at logo-encrusted garments. I wander through narrow aisles of riding gear, helmet displays, and glove racks. Then I wander over to the showroom floor, my boots silently shuffling along the immaculate, pale blue carpet where the motorcycles line up in front of massive floor-to-ceiling windows.
Here there's a 2020 KTM Super Duke. There there's a BMW K1600 GTL. There's even an R1250 RS in a color I'd never seen before — so dark bronze it's almost black. I gaze at it, noting the gold pinstripes and gold flake that sparkles in the streaming rays of the setting sun. I sit again, watching the shadows lengthen under the showroom bikes. I go get another Diet Coke.
I get back up again. Wandering in the showroom, I take another look at the RS. I'd considered purchasing this model before I'd acquired Katie Em. In 2018, I traded in my 2014 Yamaha FJR 1300ES ("Traveller") as well as my 2016 Triumph Speed Triple R ("Falkor"), and ended up with Katie Em, a great bike whose more upright riding position coupled with license-threatening power made for a fine sport touring machine. Still, I kept my eye on the RS.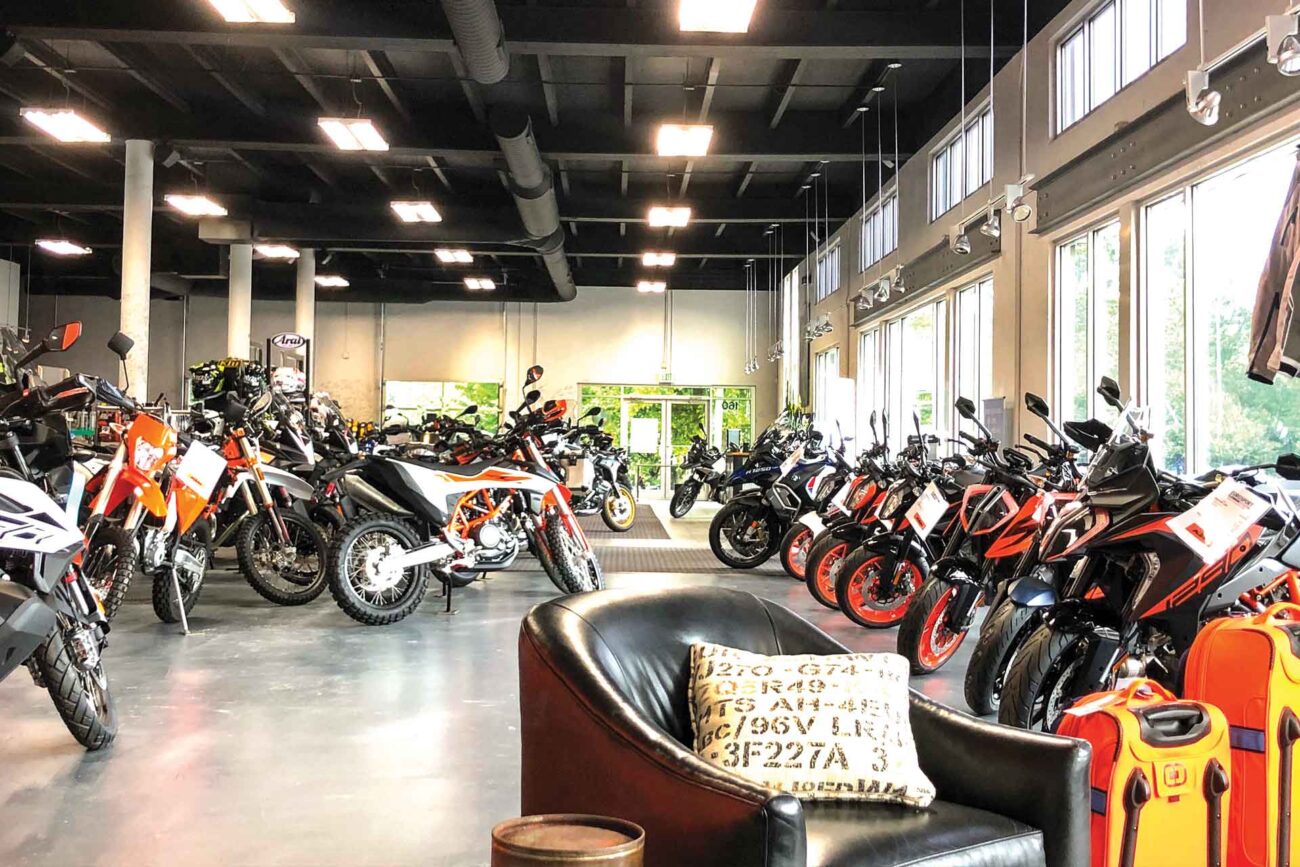 The sales manager, Justin Roberts, returns almost an hour later. His lack of smile telegraphs the news. 
"Well, I know this isn't what you want to hear," he begins, as my stomach churns. "We did the diagnostics we could, but there's something inside the engine that's causing it not to turn over."
I feel a lightheadedness that fractures light as it angles from the west.
"It could be one or more faults in one of the seven onboard computers in the bike that we can't access," he says, the empathy of a fellow rider coming through his voice. "Honestly, your best bet is to have your dealer Moto Richmond get into it, since you bought it from them. Sadly, we just can't fix it now. We can, though, help you get to U-Haul or something."
My head swims in disconnection. I'm lost, I'm adrift, I'm almost dizzy. I know they've done what they can. All this afternoon, ever since the first clank, I've hoped that, maybe was the battery. Or just an ECU reset. 
"Lemme think for a bit," I say, and barely hear his "Take all the time you need" as I pace. 
Three hundred and seventy-five miles from home. My gear and my computer and my clothes languish at the Big Lynn Lodge, 40 miles from here. I pace. How will I get my gear and get home? Should I rent a car, drive up to the Lodge, then drive home, then rent a U-Haul truck? I pace more. Maybe I should get the U-Haul, put the bike in it, drive up to the Lodge, get my stuff, and drive home tomorrow?
I look up. I see the R1250 RS. I stop. I think. I look at the RS again. Then I remember. I remember a family story about what my grandfather did that one time.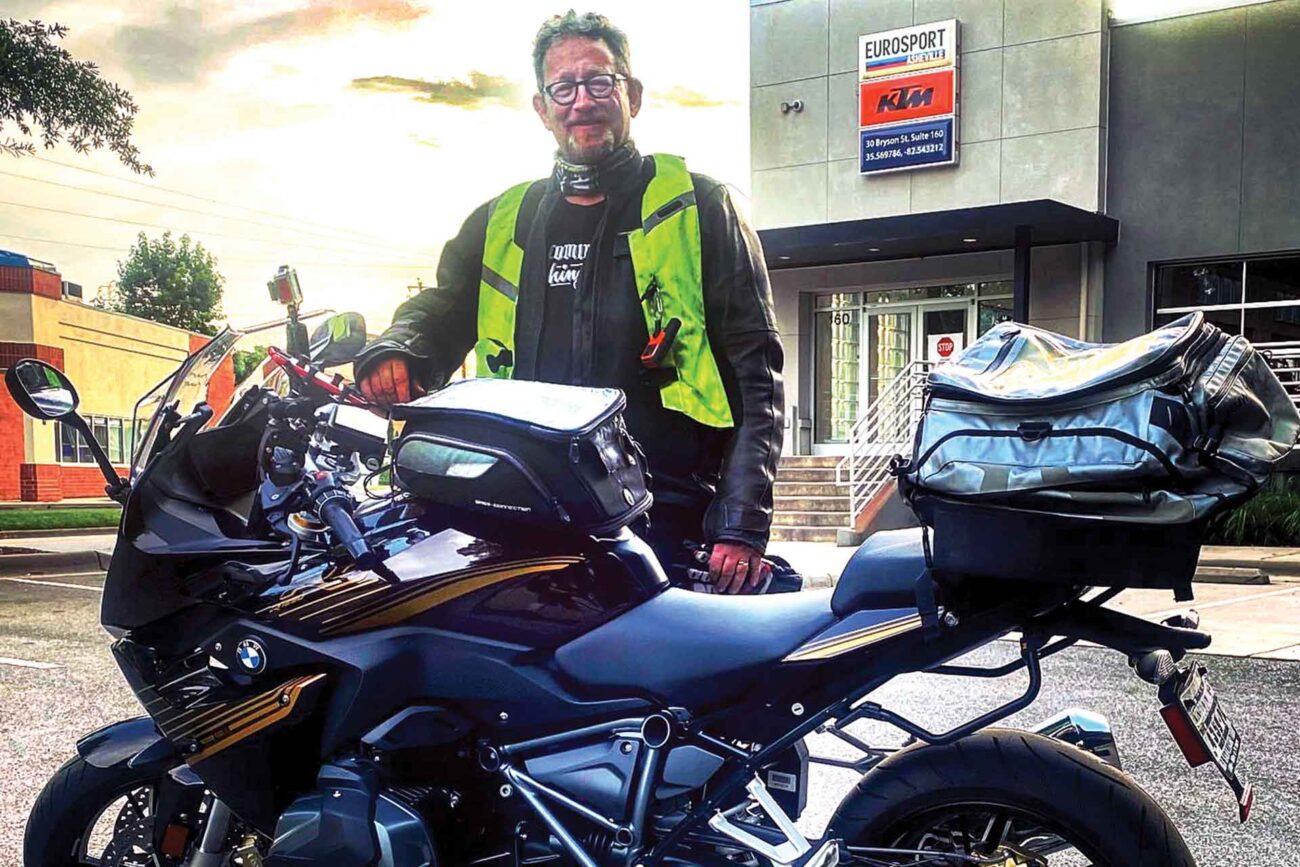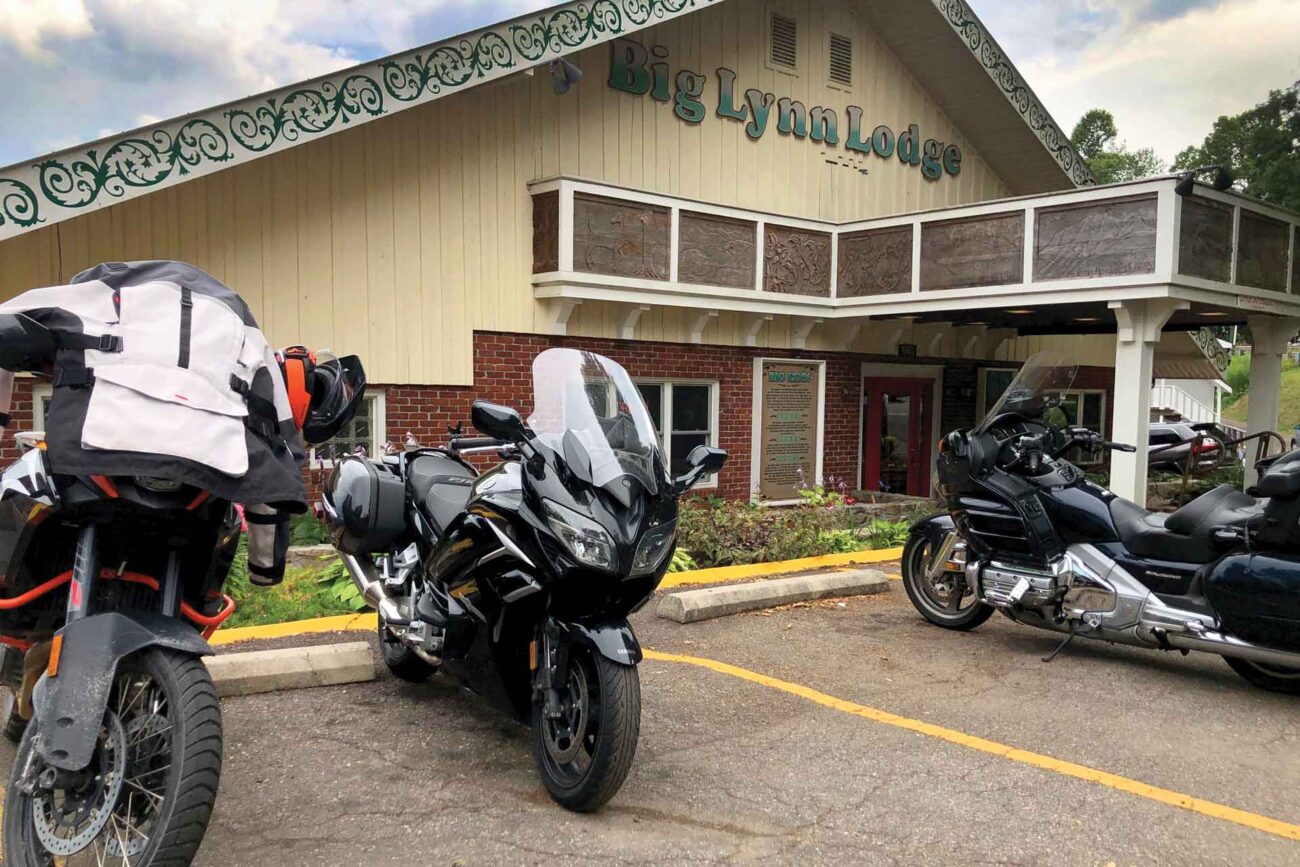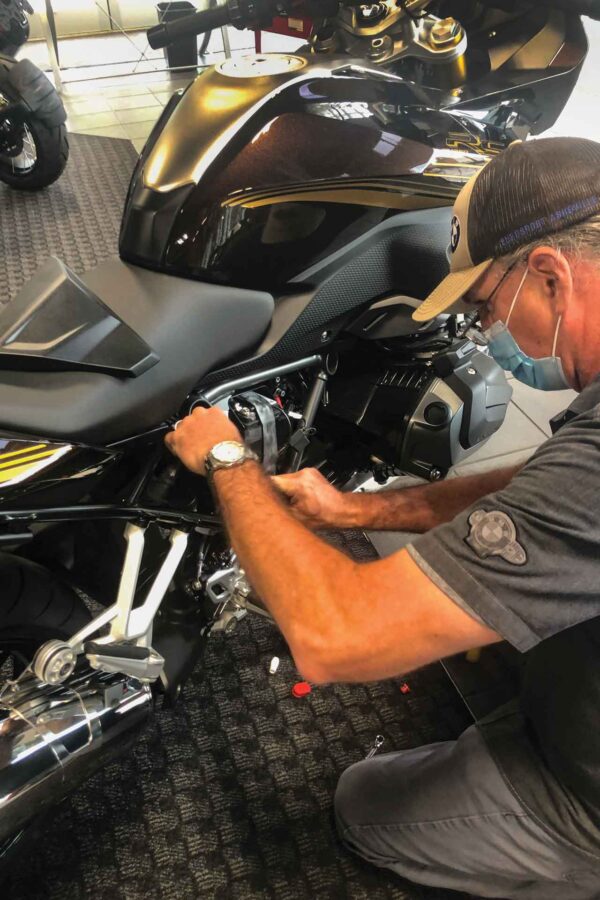 My grandfather loved Cadillacs. He always had one, perhaps as his way to signify that he'd made it, at least as that one element of richness. 
Late in the 1940s, Dup and Nana broke down somewhere south on Highway 41 near Valdosta, Georgia, just north of the Florida state line. He had the Caddy towed to the dealer. 
The service technician told my grandfather that he couldn't fix the problem right away. Parts needed to be acquired, shipments needed to be sent, and time needed to elapse.
As the family story goes, Dup eyed a brand-new powder-blue four-door Fleetwood at the front of the showroom. He said to the salesman, "What about that one?" 
For a moment, maybe the manager blinked. Maybe he smiled. I don't know. It's not every day that a person comes into a Cadillac dealership and buys a car on the spot. At some point, a check was written, papers were signed, and my grandparents were on their way to the Suwannee River fish camp.
So now I look again at the R1250 RS. Then I look at Justin and then to the deep bronze bike that caught my eye. I think. I ponder. Maybe … maybe, just maybe, I could sell the KTM once it's repaired. Maybe that sale could fund the RS, could help rationalize this rationale. 
I look at Justin and ask, "What about that one?" as my eyes turn to the RS. He blinks but doesn't say anything. I ask, "Can you get me on that one. Today? Before you close?"
No dealer ever turned down that kind of request.
Papers signed, electronic monies traded hands, items transferred from one bike to another, and in the waning of the west-falling sun, I suit up. 
I look back at Katie Em, sitting on the shop floor, looking abandoned. A pang shivers through me, but also a weight releases as I swing my leg over my new ride and eventually head up the now-darkened twisties on a brand-new bike. As I ride those twisty mountain curves back to Little Switzerland, a peace washes over me.