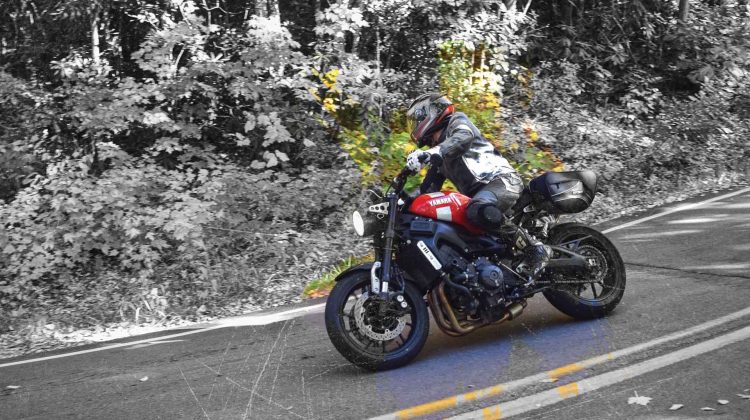 Just as we began to descend around a blind right-hand corner, a sizable bear lumbered down out of the woods from my right, directly into my path. The bike stopped as if hitting a furry wall from about 35 mph. I distinctly remember saying, "Oh shit," out loud an instant before impact.
On the week of the summer solstice this year, my 17-year-old son and I decided to motorcycle camp for a few days near Deals Gap, on the North Carolina, Tennessee border. Lucas had taken the Motorcycle Safety Foundation's Basic Rider course as soon as he possibly could upon receiving his driver's license, and we've been riding together since last fall. 
He's an excellent rider — aware and safety conscious, with much more poise than most riders regardless of age. We both wear full leathers for most rides, though occasionally I choose jeans and boots under my leather jacket. The youngster only owns a one-piece racing suit, purchased for him when he started doing track days at age 14. We also wear gauntlet-style gloves, motorcycle boots, and full-face helmets. 
I also took the MSF course at age 18 — after totaling my first new bike, a Kawasaki EX500 Ninja that met with an oncoming Ford F150. I had been afraid to lean the bike over and crossed the centerline as I failed to finish the corner. I had a helmet, gloves and jean jacket on, which spared me from any serious road rash. I understood that I had been very, very lucky to have not been killed.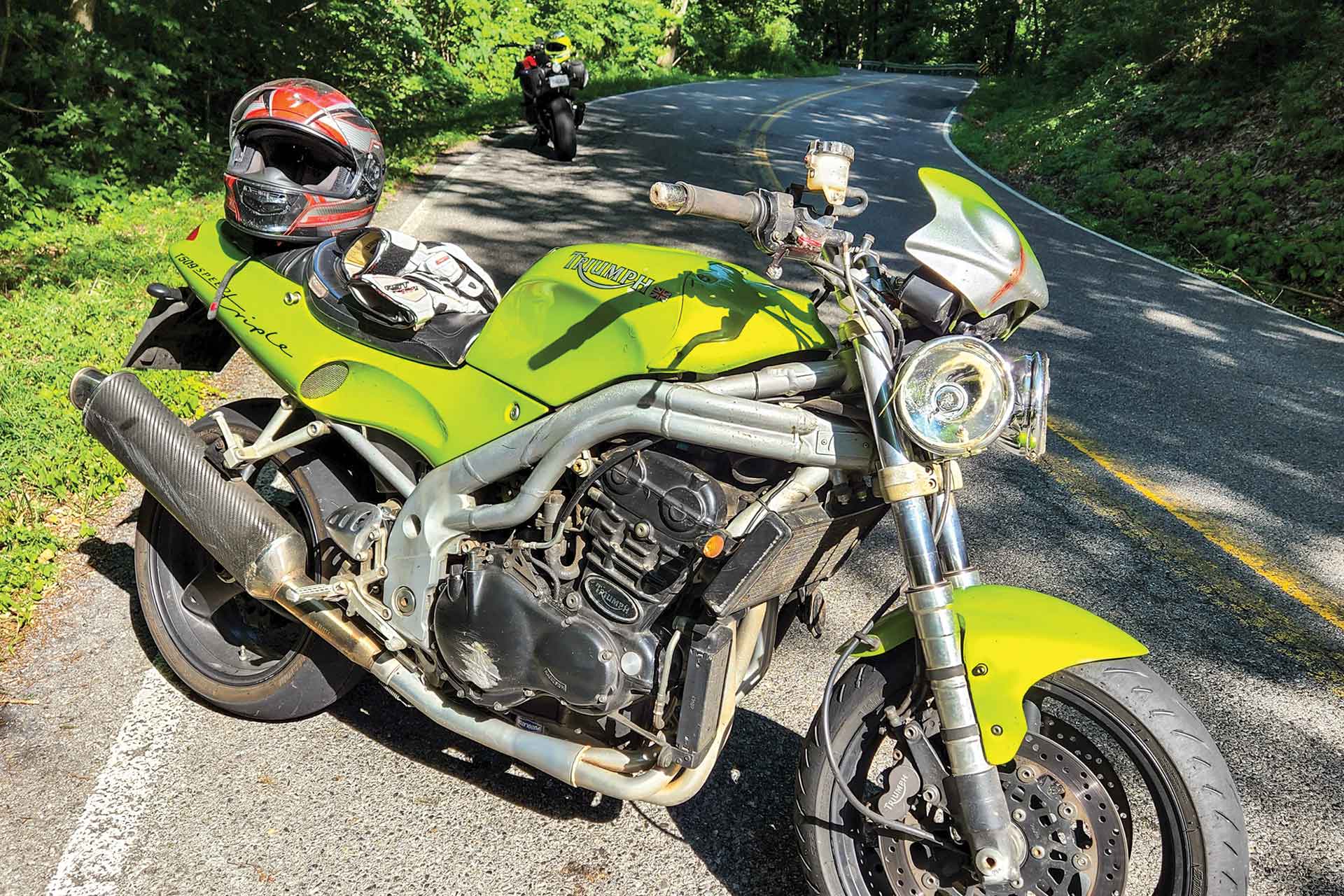 It was also the proof to me that good gear is an absolute necessity, and I've worn it ever since on every ride. I've been fortunate to have used it less than a handful of times in 35 years of street riding. (Ahem, we'll be excluding the large number of track day slides and tumbles here). I did not know I would end up using this gear again before this trip was over.
Tuesday was the solstice, as we set out with two loaded motorcycles and a small backpack full of clothes with a hydration bladder. We had just backpacked in the mountains for three days, so the camping gear was sorted. We looked at the weather for the week and gambled on just hammocks and warm clothes for the nights. I had a small lantern and a small camp stove, a water filtration system, along with a small mess and a boiling pot. We would be eating out for the entire trip — a biscuit and coffee at Deal's Gap in the mornings, lunch on the day's trip, and dinner at whatever Robbinsville had to offer. We ended up eating dinner at the Historic Tapoco Lodge every single night because it is delightful, situated overlooking the Cheoah River and offering reasonably priced food that was delicious after a long day on the bikes.
Our best plan was to ride to Lake Santeetlah and find a camping spot adjacent to the lake, suitable for hanging a couple hammocks. We left our home in Candler via N.C. 151 and the Blue Ridge Parkway. I am riding a 2018 Yamaha XSR900 and Lucas is riding my spare bike, a 1998 Triumph Speed Triple with 63,000 miles on the clock. 
Aboard are two full Cortech Saddlebags with a sleeping bag and sleeping pad strapped on the pillion seat. Lucas has the backpack, with his sleeping bag similarly attached to his bike. The Yamaha is basically a 20-year newer version of the antique Triumph. Both feature 900cc engines split among three cylinders. Riding a triple is a unique experience, as they are remarkably smooth and deliver a long, flat torque curve that can punch off the apex in even the wrong gear. At full song, they deliver an otherworldly wail like nothing else. I've been hooked for 20 years.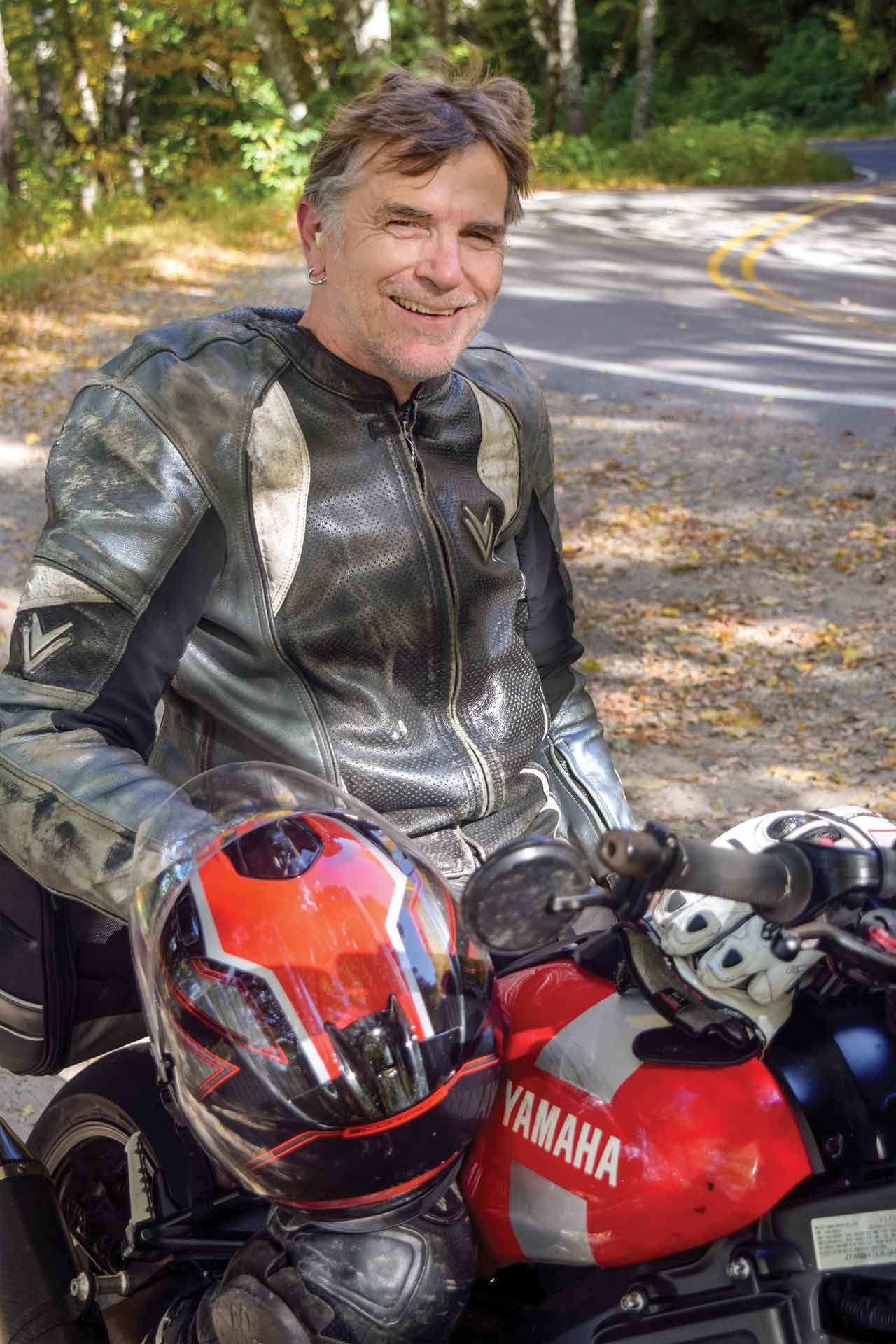 It had been over a decade since I'd ridden the Blue Ridge Parkway from Devil's Courthouse at mile 422 all the way into Cherokee, the end of its 469 miles. The weather was perfect, and traffic on the far reaches of the parkway on a summer Tuesday was quite light. We wound our way through Cherokee on U.S. 441, gassed up in Bryson City and rode N.C. 28 from U.S. 74 north to Fontana Dam. 
We had time to take in the atmosphere at the Deal's Gap Motorcycle Resort and make our first run before turning back toward Lake Santeetlah. All the free lakeside camping spots were taken, but we managed to score a beautiful creekside spot at Horse Cove Campground, just outside Joyce Kilmer Memorial Forest. As darkness fell, I noticed a fellow motorcyclist searching for a camping spot, so I waved him down and offered to share ours. The rider was grateful, and we ended up talking well into darkness. The cool air and boisterous creek gave me some of the best sleep I've had in years, my slumber intact until after 8 the next morning.
On our third day of the trip, the plan was to do a sightseeing ride through the Great Smoky Mountains National Park, Cades Cove and return via U.S. 441 out of Gatlinburg into Cherokee. The views of the mountains and geological formations from this sweeping stretch of highway through the Smokies are unique and majestic. If all went to plan, we'd repeat our route from Tuesday when we passed the terminus of the Blue Ridge Parkway.
All did not go to plan. We had switched bikes at breakfast, so I was leading us out on my old Nuclear Green Triumph. After months on the new bike, I was flabbergasted that Lucas had been able to ride it as quickly as he did. She is a heavy, obsolete version of a hyper-naked bike. In comparison, it was clunky and hard to stop, so I was setting a touring pace. 
The bike spun around the bear and slid off down the road as I went straight to my right shoulder and head. I slid to a stop facing the opposite way. Leather has an amazing quality of low friction when in contact with asphalt, which is why it's my protective gear of choice.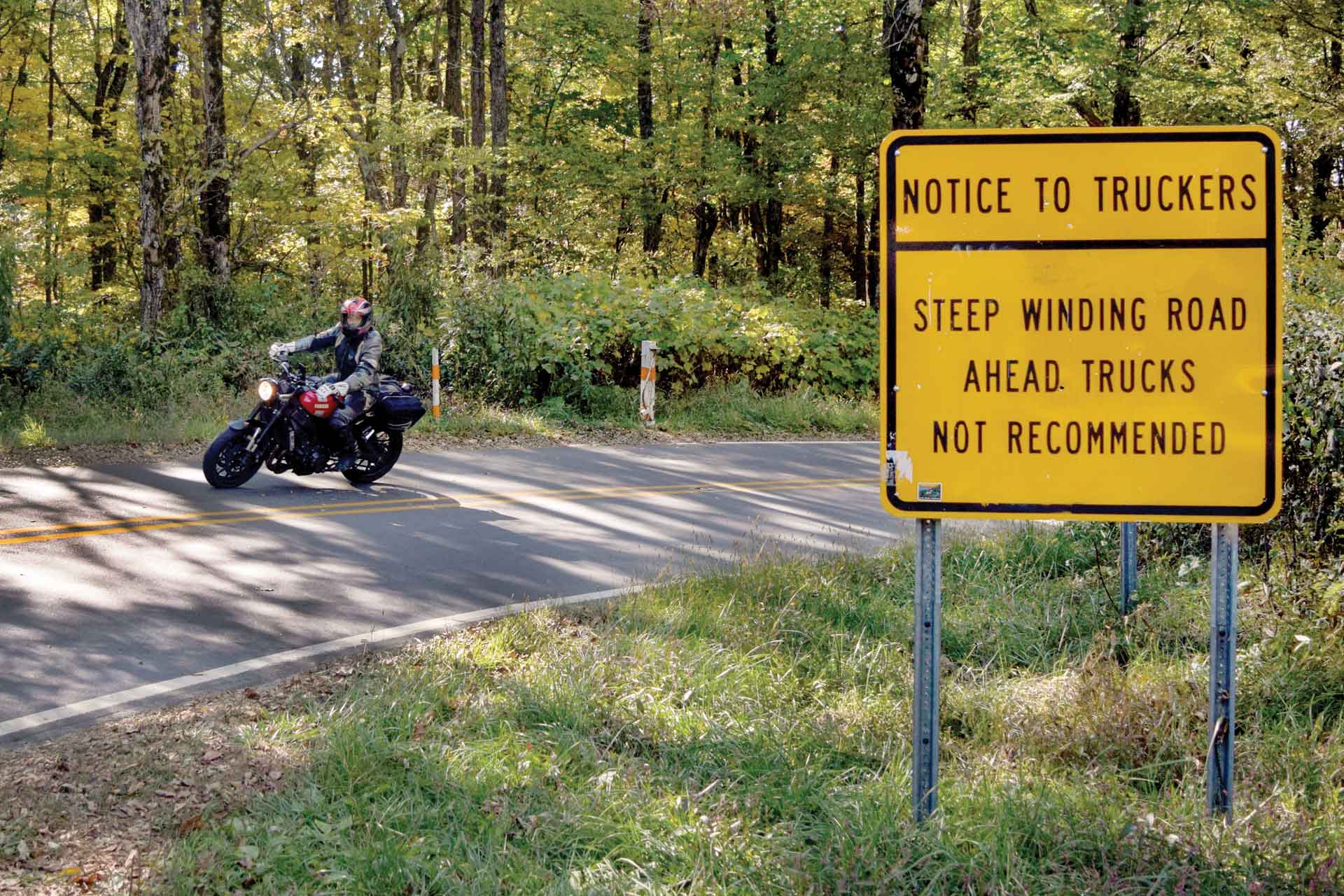 I got up and surveyed the damage. The bear had just kept on lumbering. He had to have weighed 600 pounds or more, and I hit his flank at headlight level. Hopefully, he survived. We were the ones invading his habitat after all. Both headlight lenses were shattered, the bracket broken as well. Both brake levers had taken damage, the front broken in such a way that it flopped away from me if I didn't keep a finger on it. The frame slider had taken most of the damage, and the motor mount stud had broken when the slider itself had collapsed (told you she was heavy). The muffler was also scuffed, its carbon wrap scarred but still intact. The bike was rideable, especially with one headlight bulb remaining functional.
As for myself, my gear had done a good job. The inside of my jacket had abraded the top of my right shoulder. I don't dare contemplate what that might have looked like in just a T-shirt. My ribs hurt just under my pectoral muscle, but I can take full breaths. My helmet features a big, replacement-time gouge out of the right side. With a short stop at Deals Gap, the front brake lever was rigged with some parachute cord to keep it within reach. Heading back along the Cheoah River solo to salve my wounded, sore body in the creek by our camp was my only aim. 
Lucas took his old man's more modern naked triple back through the Dragon a couple times, finally getting that knee-down Killboy shot he'd been dreaming about. I'm certain that he now understands that it's not a matter of if, but when you'll have a crash. 
Anybody who rides a motorcycle would be wise to wear all the protective clothing they possibly can, because there are factors beyond the control of even the most experienced riders.