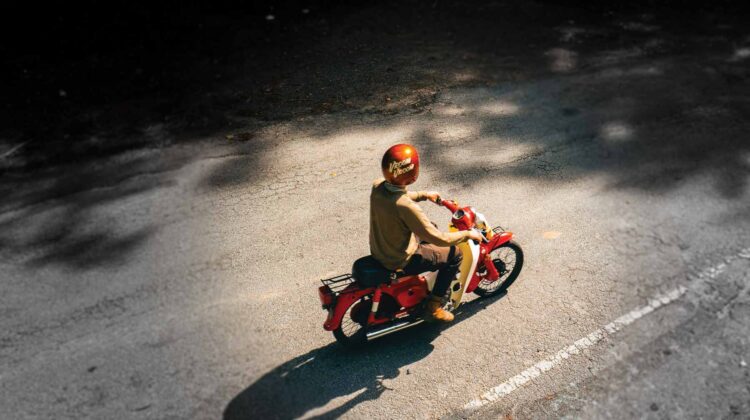 I used to think 650cc and a single cylinder was all you needed. Now I'm sure the answer is 100cc. Maybe even 70cc …. 
Recently we threw some tiny bikes in the van and headed for the southern edge of the Blue Ridge Mountains. Our weapons of choice were a 1971 Honda CB100 and a 1981 Honda C70 Passport. While they may be small, they're also slow! We weren't in search of anything particular, just the cool mountain air, twisty roads, and beautiful views. 
The tiny motorcycles were no match for the mountainous roads that had steep climbs with even steeper descents. Uphill at 10 mph, down at nearly 50 mph. Nothing says adrenaline rush like the instability of a 70cc bike flying over fallen leaves, hugging the curves over the steep drop-offs. 
We had started the morning early in Atlanta, hitting the highways north, bikes loaded in my '88 GMC Rally Wagon. As of late I've been quite into small displacement engines, which is a big difference from my '82 GoldWing 1100. One tiny cylinder, one tiny carburetor — the simplicity and reliability of these old Hondas is bar none. I'd ride one anywhere, though when it comes to getting them up to the mountains, I would much rather just throw them in the van to save time. Even better part is I can fit like five tiny bikes in this van. 
Our first destination was the top corner of South Carolina, where Georgia and North Carolina meet. Nestled in the foothills of the Pisgah National Forest are a multitude of lakes and rivers, as well as bridges that cross these bodies of water. We parked the van, unloaded the bikes, and hit the road. We followed above Twelve Mile Creek, every now and again catching glimpses of the water below from our vantage on the mountain. We dipped through a valley and soon crossed over the creek via an old iron bridge. I love bridges. I've written about covered wooden bridges in the area, but a metal bridge was a new encounter for me. We pulled off the road and down to the waterline for a quick pit stop to enjoy the soothing sound of the running waters.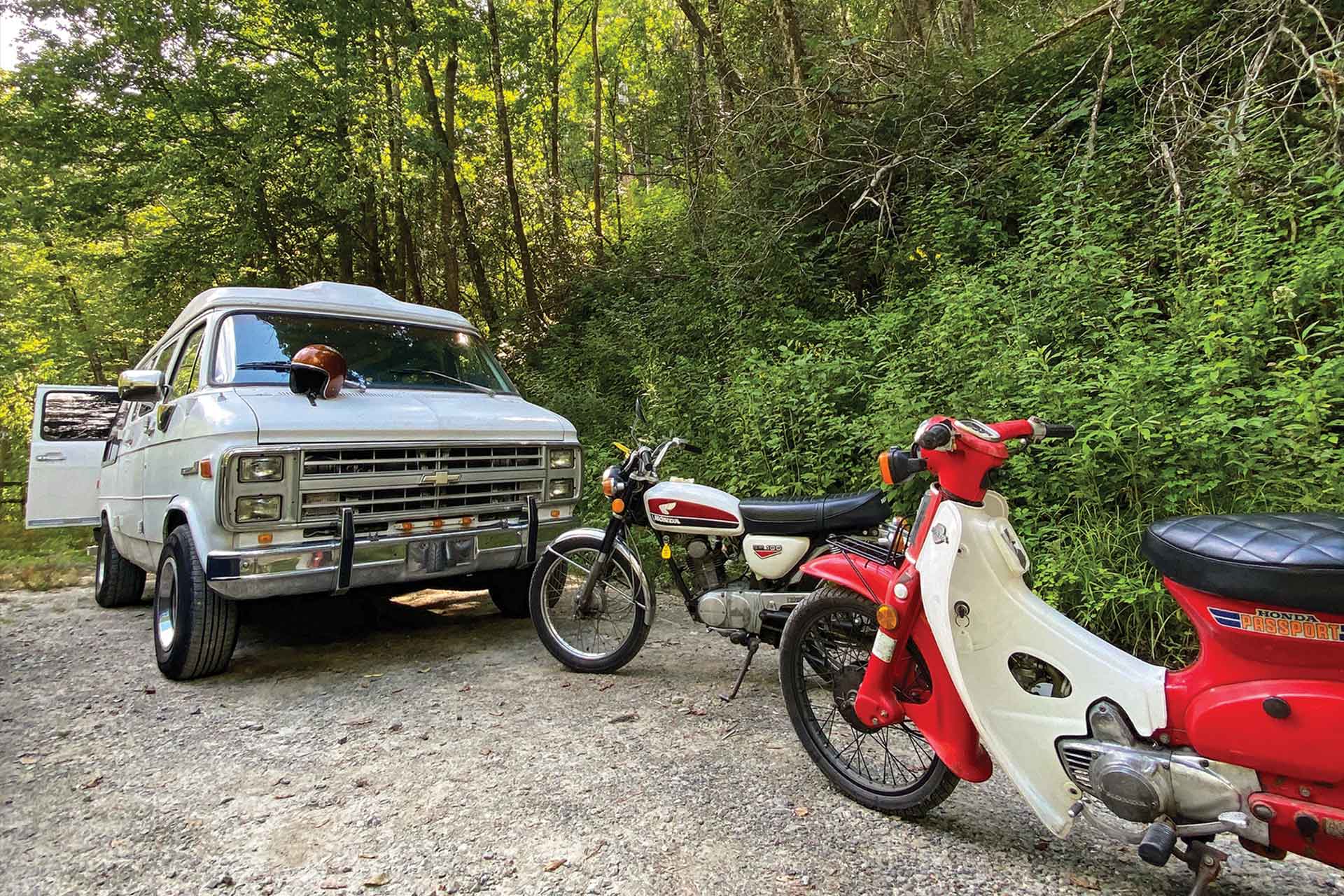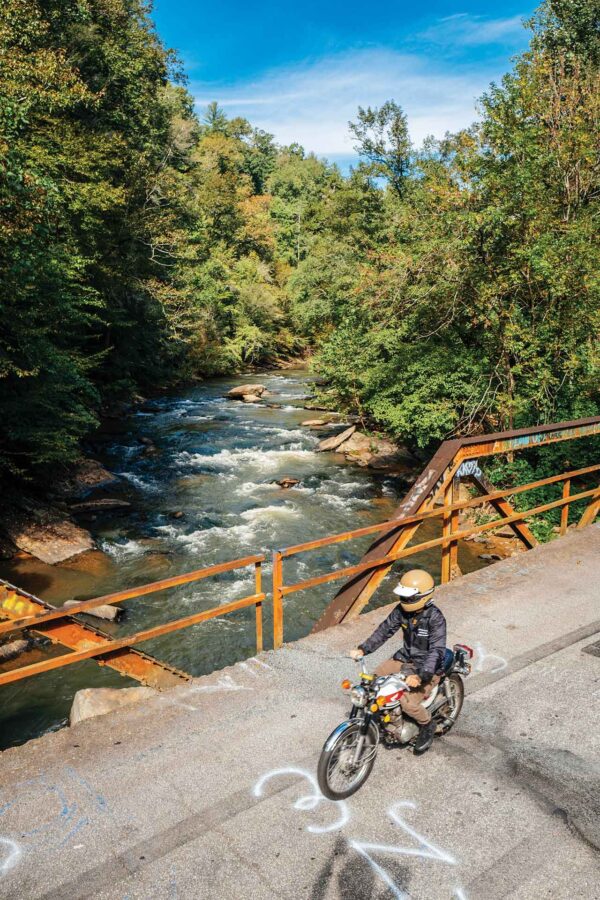 Hours later we found ourselves further north and further west, now higher in the mountains outside of Highlands, North Carolina. Tiny bikes, big adventures: that was the motto for today. There's something unique about experiencing this terrain on sub 100cc motorcycles. It probably had to do with the fact that we we're pinning it, throttle wide open, zipping around the winding curves, all at a blistering 30 miles an hour. It was midday as we came upon our second destination for the day, the smallest post office in the United States. It's a whopping 5-by-6 feet and sits atop a grassy hill around the bend of a turn. Go any faster than 30 mph and you'll miss it. It operated as the Grimshawes office from 1878 until 1953 and the building resembles the trees that surround it, wood and all. 
About 50 miles later, we found ourselves back in Georgia. We had crossed over the mountains, now near Rabun Gap riding in the valley below. There's a multitude of rivers, creeks, and streams up here, nearly all eventually feeding into Lake Burton.
Itching to get off- road, we were in search of dirt and I had just the trail in mind. There's a 15-mile gravel road that runs parallel to the Tallulah River. It's a single lane that hugs the mountains it cuts through, often crossing over the river with steep drop-offs. It rises and falls through the Appalachian terrain and the trees above allow just enough late afternoon light through that the whole forest glows. The road continues on and leads through Tate City.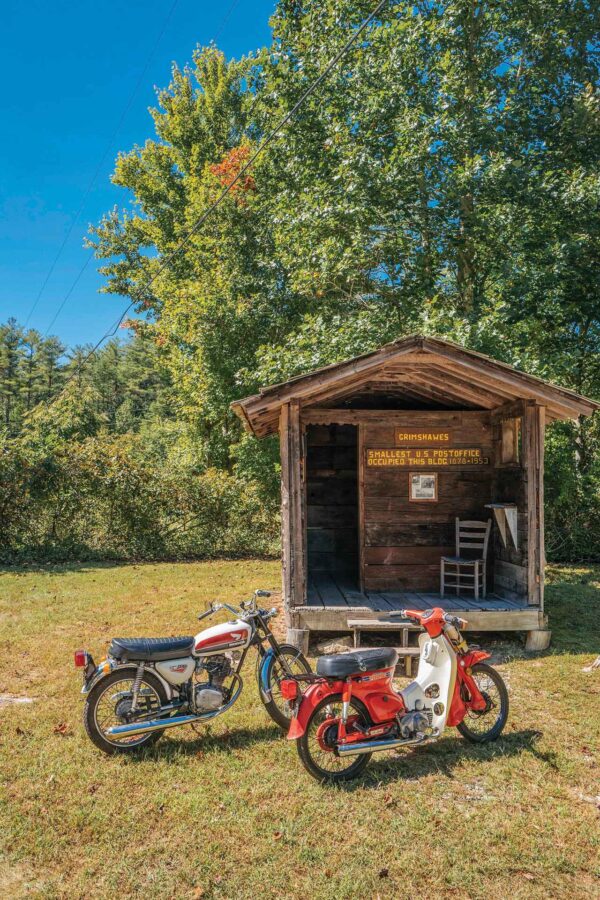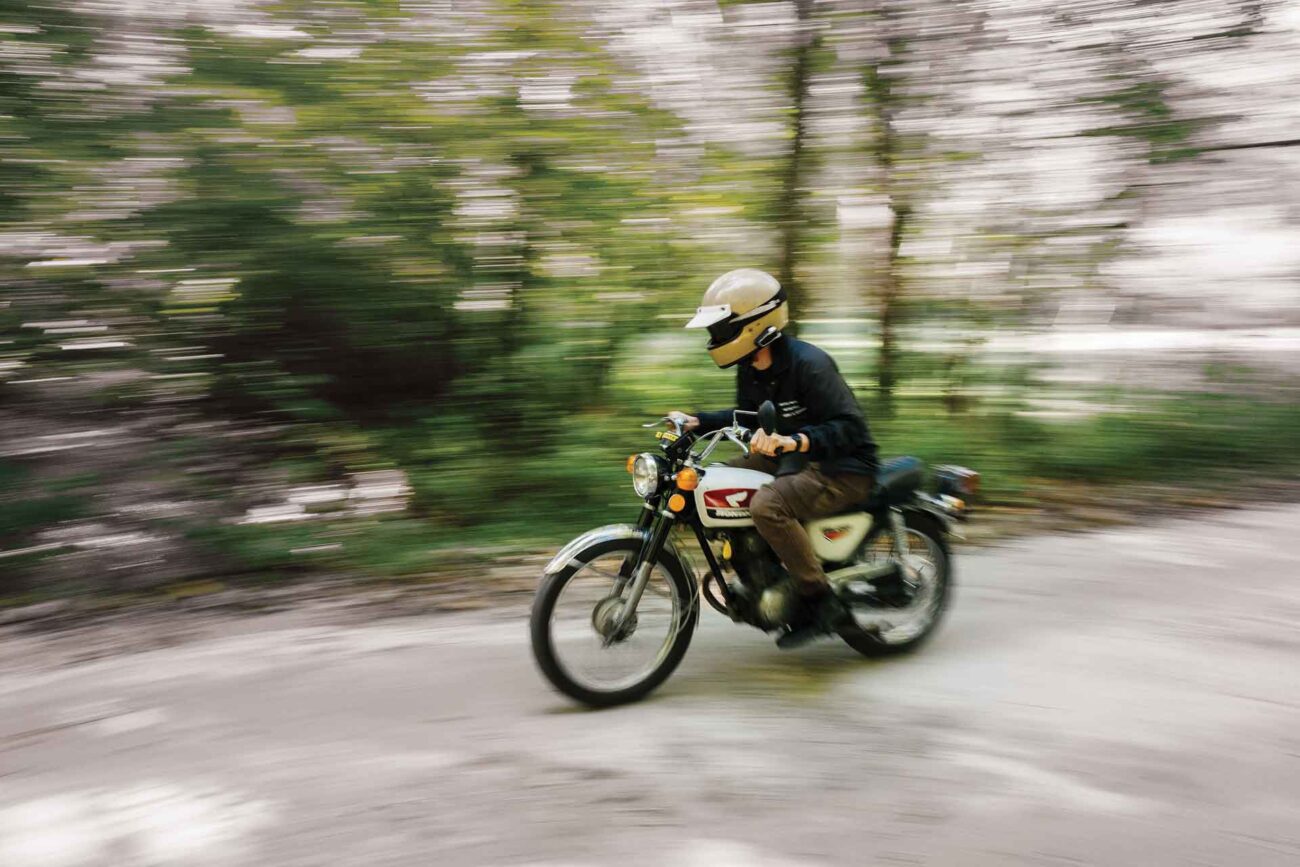 There's a small sign that reads "Population 32+" and that's about all that greets you. It's a charming place nestled in the mountains, filled with nature. If you keep going north on the dirt road past Tate City, you actually cross state lines back into North Carolina. We spent the remainder of our day going up and down the mountain trails, really putting our bikes to the test. Both equipped with road tires, the tiny Hondas didn't bat an eye at the gravel climbs. 
The C70 and CB100 motors are notoriously bulletproof, and they exist in so many different model bikes. After an adventure like today I'd be convinced I could ride one of these cross-country. Might take a year, but it'd also probably only take one tank of gas. Could also easily carry an entire spare motor on the back. Now that gives me an idea …. 
We stopped every so often to dip our toes in the river and to watch the occasional leaf turn, but the sun was soon starting to set so we headed back to the van. The day filled with only a 170cc's — and coincidentally nearly 170 miles — made big fun out of a small adventure.